Blog post
How London's Boroughs Strategically Apply the City's Infrastructure-Financing Mechanism
March 9, 2015
This past fall I travelled to London as an Urban and Regional Policy Fellow of the German Marshall Fund to study the Community Infrastructure Levy (CIL) – an infrastructure financing mechanism – to determine its potential applicability to New York City. Despite the many similarities between London and New York, the two cities greatly differ in fiscal policy and governing structure. This came to light in my research, as I learned that each of London's 32 Boroughs and the City of London Corporation are empowered with local governing and taxing authority, ostensibly resulting in 33 unique local governments across all of London. London Borough Councils are also responsible for the provision of most local and social services, such as education, housing, and waste collection, in addition to strategic and local transport planning and revenue collection for the Borough. This is in great contrast to New York City, where its five boroughs have limited governing power and taxing authority is enabled only at the city and state levels. The provision of local and social services are also authorized and provided at the city or state levels, as is the case with New York City's public transportation system.
CIL was introduced into legislation in the United Kingdom (UK) in 2010, and it enabled all local planning authorities throughout the UK to adopt CIL to help fund their infrastructure needs, including community facilities and schools, open space and recreational facilities, and transportation. To date, 16 of the 32 Boroughs across London and the City of London Corporation have adopted their own CIL. The remaining 16 Boroughs are expected to adopt CIL by April 1, 2015, when the Section 106 Planning Obligations system – the process by which a development proposal is made acceptable by the local planning authority based on the promise of site specific mitigations of the impact of the development – will be altered and largely limited in order to reflect CIL.[i]
The process to adopt CIL is lengthy and arduous, typically taking between 18 months to two years to complete. As part of the process, local planning authorities must complete an infrastructure plan that identifies projected infrastructure funding gaps and a pipeline of potential future development projects. Through this evidence-based approach, the local planning authority develops a draft charging schedule, which outlines the proposed levy categorized by land use and geographic area. Planning authorities may draw as many sub-areas as they wish and specific rates may be set per type of development within each sub-area (i.e. residential, commercial, hotel, student accommodation, and senior living arrangements). An independent examiner is hired to conduct a viability analysis, which investigates whether the proposed charging schedule would have any impact on development within the area going forward. The public is able to review and comment on the draft charging schedule and backup viability analysis as part of a public consultation process. Depending on if any comments are received during this period, the charging schedule may be altered to reflect this and a final charging schedule is released and ultimately voted on by the full council of the local planning authority.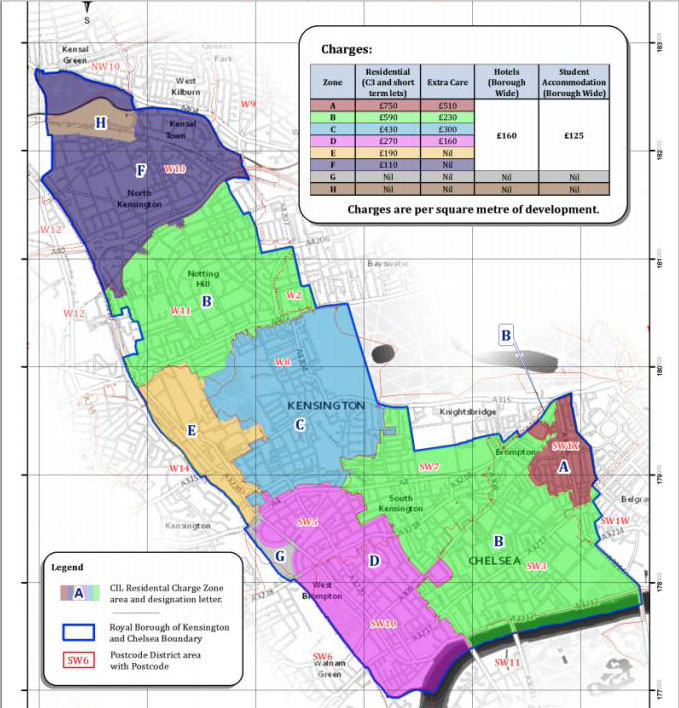 The charging schedules set by many London Borough Councils reflect the highs and lows of the real estate market across Greater London. The highest price per square meter currently being charged by CIL in London can be found in the Royal Borough of Kensington and Chelsea, where new residential development is assessed at £750 per square meter. This exorbitant charge is only confined to a subarea of the entire borough, which is primarily comprised of the neighborhood of Knightsbridge (see map). Recognized as one of the toniest neighborhoods of London, just last year Knightsbridge experienced luxury residential sales valuing over £7,000 per square foot.[ii]
Conversely, lower rates can be set by London Borough Councils to incentivize development within a more economically depressed area. For example, the Greater London Authority, which identifies larger planning schemes for all of London, has identified 33 Opportunity Areas across London that are targeted for redevelopment. Opportunity Areas largely align with London's large swaths of brownfield land and can accommodate large-scale mixed-use development schemes, typically at minimum 5,000 jobs and 2,500 new homes.[iii] The Opportunity Area of Earl's Court is also located in the Royal Borough of Kensington and Chelsea, in fact, just two miles away from Knightsbridge. In this subarea, the Royal Borough of Kensington and Chelsea has set a £0 charge rate for any type of development built within this strategic area's boundaries.
As more London Boroughs adopt CIL into the spring of this year, it will be interesting to see how charging schedules are set across London to reflect divergent real estate markets and a propensity for certain types of development (i.e. residential and office over student housing and assisted living). Despite an evidence-based approach to drafting charging schedules, it appears that this infrastructure funding tool can also be used to deter certain types of land uses by setting unviable charging rates and thereby rendering certain types of development infeasible as they no longer "pencil out" with the addition of an onerous CIL charge.
Julieanne Herskowitz is vice president for the New York City Economic Development Corporation in New York, New York. In October 2014 she traveled to London to study that city's infrastructure levy and assesses its transferability to New York City as an 2014-2015 Urban and Regional Policy Fellow. This is the second of two blog posts by Julieanne on her research.  The ideas expressed above are Julieanne's alone and not those of the NYCEDC. 
---
The views expressed in GMF publications and commentary are the views of the author alone.