Blog post
Nations Talk, Cities Act
May 4, 2015
COPENHAGEN, Denmark – "Nations Talk, Cities Act" has varyingly been attributed to four different mayors on three continents. It has, however, become a key part of Copenhagen's green marketing.
I am interested in and focused on the unique challenges facing small-and-medium-sized cities, especially postindustrial and shrinking cities. Although many things do not scale down, some of the stories I heard in Manchester, UK and here in Copenhagen are absolutely applicable to small cities, including my own, Northampton in the United States.
Manchester had gone into an economic free fall with the collapse of its industrial base, aggravated by the devastation of part of its downtown by the largest bomb set off by the IRA. Initial redevelopment efforts were not especially sensitive to the sense of place. What excited me, however, was a city which is now capitalizing on its unique industrial heritage, buildings, canals, and water. Manchester is becoming a city that embraces its past as the key to its identity. The best of Manchester's revitalization, the story that is not just another shopping mall, is what builds on Manchester's existing unique assets. The United Kingdom talks about supporting its post-industrial north, but Manchester is making it happen.
Cathy Parker of Manchester Metropolitan University shared with me her work on much smaller post-industrial cities and towns in the region and introduced me to a practitioner working in those areas. Those communities often start searching for the generic silver bullet, deluding themselves that they have market strength that is not there. Eventually, the successful ones figure their unique opportunities and how to transform them into strengths. Those cities and towns will not command the strength they once had and they will not transform into retail power centers, but they may be able to make themselves into more interesting communities that build a sense of pride and retain and attract investment, as Manchester has learned to do.
Copenhagen has different challenges and a mission for itself. While the Copenhagen metropolitan region is gaining about 1,000 people a month, smaller cities and towns in Denmark are shrinking. As a result, growing Copenhagen has focused on rebuilding its formerly obsolete waterfront and warehouse districts into vibrant new parts of the city. Now it is reaching beyond that redevelopment and becoming a leader in climate mitigation, reducing its carbon footprint and adapting its city to the inevitability of climate change. The world, and my own city, has a great deal to learn from Copenhagen.
On the day I return from my URP Fellowship travel, my day is full of meetings to advance Northampton's climate adaptation strategy. The need for such a strategy is as important for post-industrial and shrinking cities as it is for rapidly growing cities. After all, although my community has backfilled jobs lost by industrial decline many years ago, we are still dominated by buildings and infrastructure from the industrial era, some in floodplains and mostly not well suited to more expensive energy, increased localized flooding, and other climate adaptation needs. Our best strategies will build on what makes us strong and unique, our heritage, our buildings, our environment, and our people. Nations talk and cities act.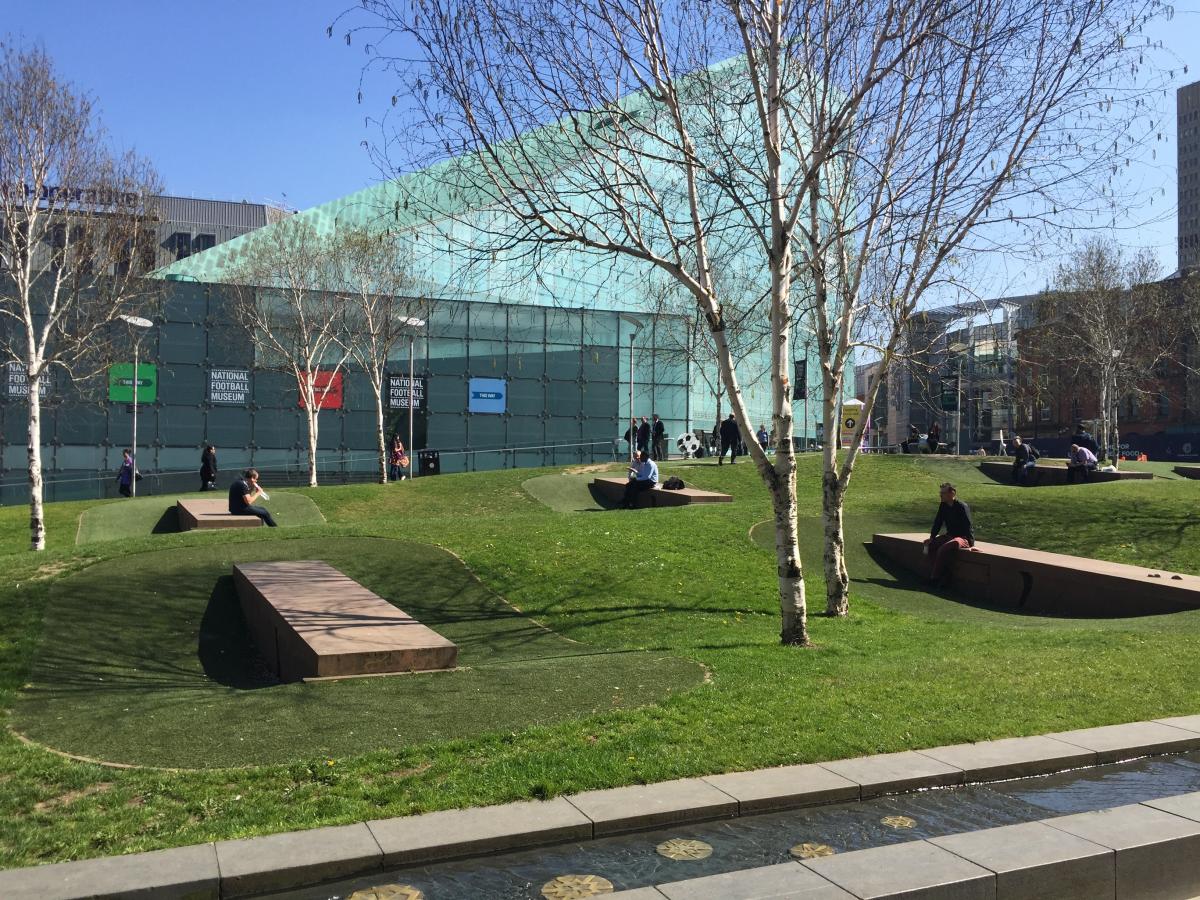 New parks in Manchester's urban core incorporate green infrastructure. Every bench pictured here holds stormwater after big storms.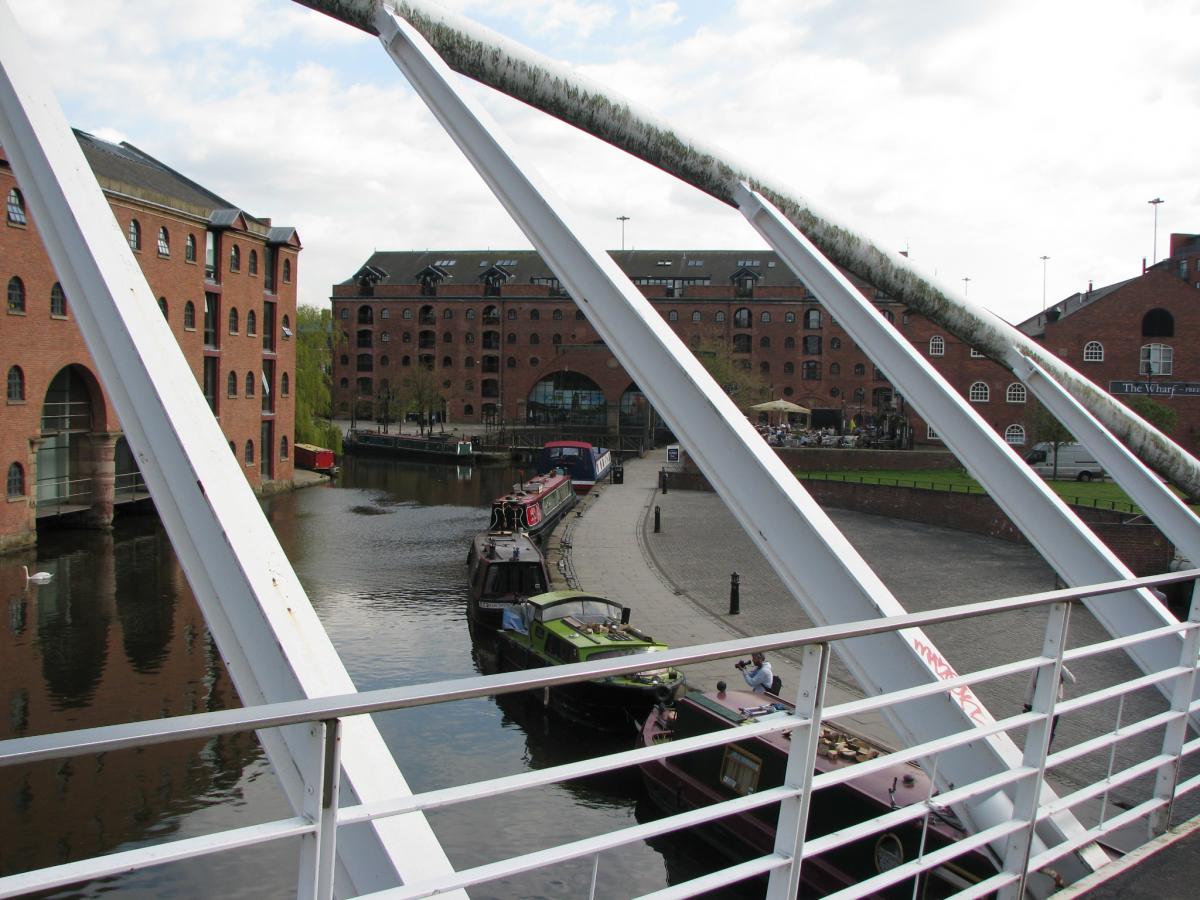 Manchester's best revitalization is that based on its unique heritage.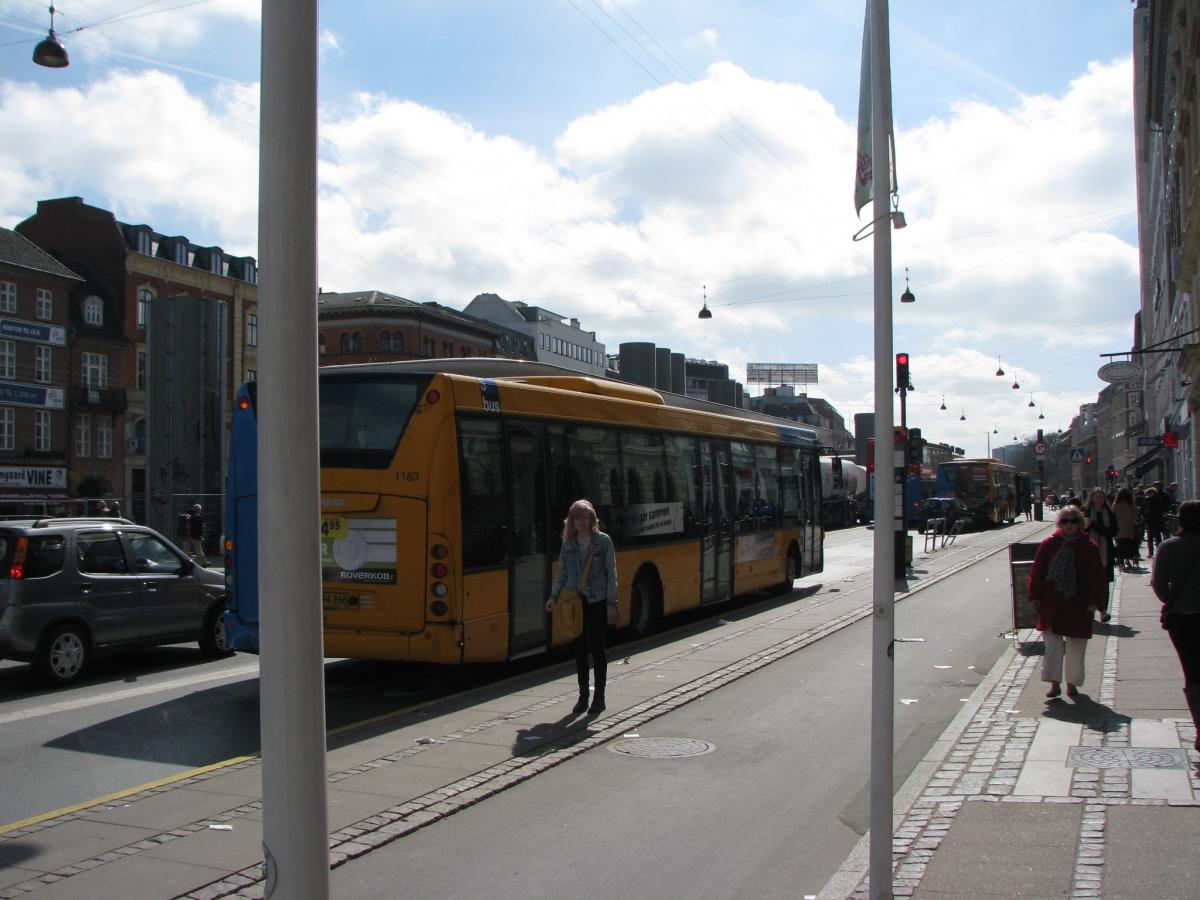 Everyone talks about Copenhagen's amazing bicycle network and the decades it took to build it. Unlike a previous trip to Amsterdam, where so many of the components of the network seemed complicated and expensive, in Copenhagen I was struck not by the expensive parts (the dedicated bridges and traffic signals) but by the simple parts that can be developed relatively easily and make such a change in what a community is all about.
Wayne Feiden is the director of planning and sustainability for the city of Northampton, Massachusetts. He is currently researching revitalization efforts in smaller European legacy cities as a 2014 Urban and Regional Policy Fellow, focusing on Vejle, Denmark, York, United Kingdom, and Londonderry/Derry, United Kingdom. This is the third of several blog posts on his travel and research.
The views expressed in GMF publications and commentary are the views of the author alone.