Past Event
Dialogues for Change Final Workshop
March 23, 2015
to
March 25, 2015
Ludwigsburg
The Urban and Regional Policy Program's Dialogues for Change initiative (D4C) held its sixth and final workshop from March 23-26, 2015 in Ludwigsburg, Germany, a suburb of the city of Stuttgart. After working together as city groups and as a mixed- city cohort for two years, participants spent the final workshop summarizing their learning from the entire initiative, distilling examples of good practices from their work, and taking note of lessons learned from the practical application of their knowledge. The final deliverable for the Dialogues for Change initiative will be a short learning guide for policymakers and practitioners from the D4C cities and from as well as other cities in the United States and Europe.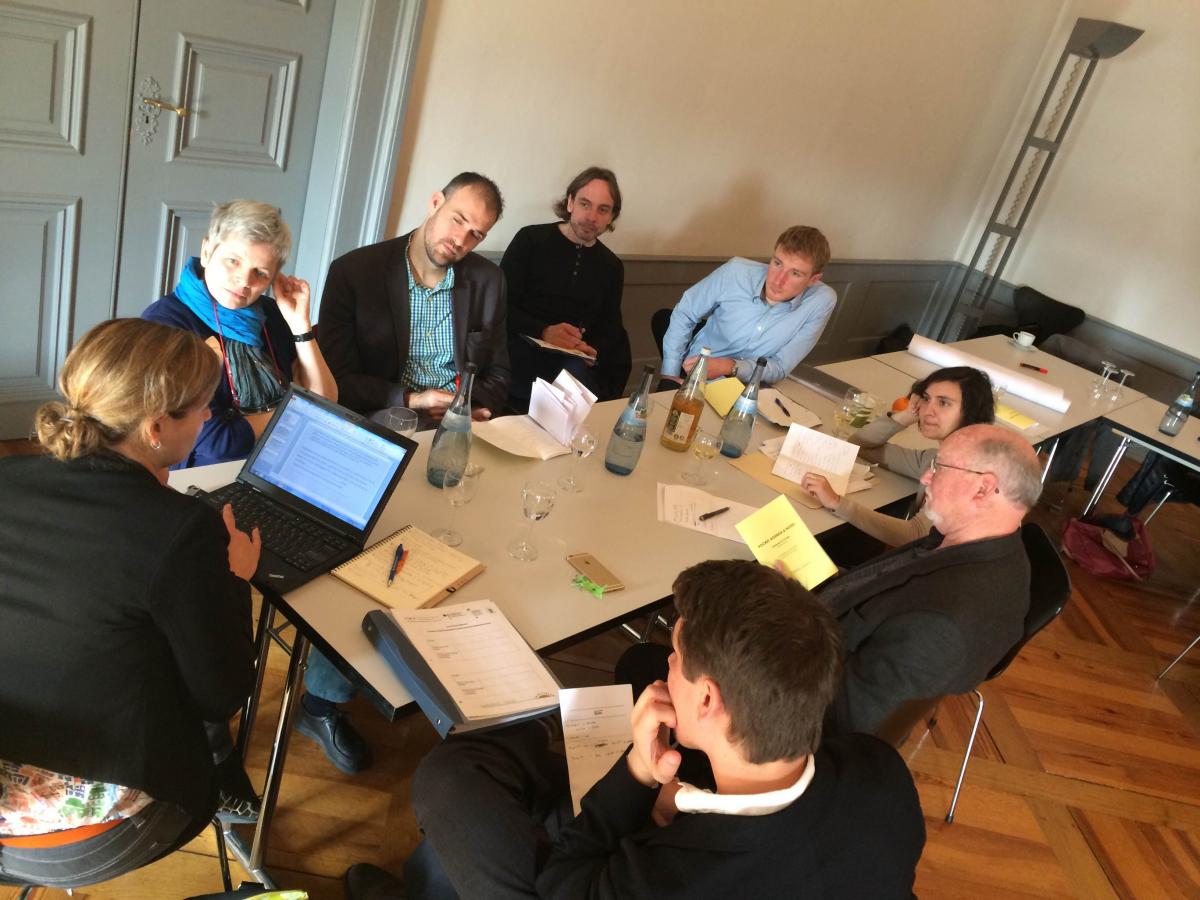 One of the main priorities of the Dialogues for Change initiative was that it had a project focus. Each city group selected an ongoing project or developed a new project at the first meeting in January 2013, and has worked on their selected project throughout the last two years of the initiative. Participants continued to work on project implementation, and since it had been three months since the last D4C workshop, participants spent time reporting out on their successes and ongoing challenges for their current project work. Fundamental to the success of the initiative was peer-to-peer problem solving, and participants worked together in pairs to troubleshoot challenges using design thinking techniques learned at the last workshop.   
A reoccurring challenge among the network cities was the difficulty of productively engaging politicians in conversations around the importance of public participation. Facilitators from TMI Consulting offered a short training module on structuring effective dialogue, during which participants were exposed to the concept of asking questions that were not leading, suggestive, or judgmental. Even though participants have had great success in their civic engagement processes, they welcomed the opportunity to reflect on their facilitation style and what they might do differently in the future. Working in small groups, program participants applied their skills to problem solving situations to help resolve challenges or broaden the ongoing conversation. 
The crux of the workshop was centered on intensive group work where participants divided into teams around the three main themes of the initiative: process design and the community engagement toolkit, inclusion and equity, and engagement during implementation. Through a series of small group exercises, teams summarized the D4C learning around each theme and revisited the core principles for engagement that were derived during the first year of the initiative. Participants also had the opportunity to document and share examples from their D4C project work around good practices that illustrate the application of each theme in practice and lessons learned through the application of each theme. Capping off the reflective session, participants had the opportunity to divide into German and U.S. groups to think about the impact of their unique political and social contexts on the implementation of the three main themes.

As evidence of their D4C learning in practice, the city of Ludwigsburg offered participants a tour of their city. Ludwigsburg has an integrated approach to planning through the Department for Sustainable Urban Development. Department Head Albert Geiger gave an overview of the department's framework and mission, as well as a conference the city hosts every three years to gain citizen input on the city's future. The city is also known for its strong focus on decreasing energy consumption and increasing renewable and sustainable energy sources. Participants enjoyed a bus tour (on a hybrid bus), where they visited several pilot projects and developments. At Hahn + Kolb GmbH, participants saw a modern business complex that was part of an industrial energy pilot program. The group also visited a wood-fired biomass CHP plant that supplies 70% of the district's heating needs. Other sites of interest included a BOSCH start-up location that inspires corporate entrepreneurship, and a visit to the Oβweil district to see inner-city housing developments and learn more about the distrit's cooperative planning process.
At the conclusion of the workshop, participants spent time in city groups documenting their city's Dialogues for Change story and the impact of the transatlantic learning component in their experience. City groups also spent time documenting several recommendations that they would like to share with federal government officials as to changes that could be made to support the development of more integrated plans and improve civic engagement processes. Before leaving, each participant filled out a commitment sheet documenting their individual approach to civic engagement, its importance to their work, and how they would like to apply their learning moving forward. It was an important opportunity for introspection and to encourage practitioners from the six cities to lead through the development of a sustainable culture of civic engagement in their cities. Although this phase of the Dialogues for Change initiative is complete, GMF will collaborate with the German Ministry for Environment, Nature Conservation, Building, and Nuclear Safety to launch a new initiative in fall 2015 based on the same intensive peer learning model.