Kosovo Center for Policy and Advocacy Encourages Public Debate on Labor Law
The Center for Policy and Advocacy (CPA), Kosovo, a grantee of the Balkan Trust for Democracy, engaged the public in dialogue to facilitate civic participation in the decision-making process regarding labor policy. The project resulted in the approval of a new labor law in the last session of the Parliament. The new law includes six amendments recommended by the CPA process, such as the extension of maternity leave from ten weeks to six months with the possibility of an additional six months unpaid leave, and the establishment of paternity leave.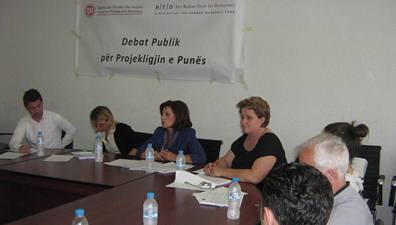 As part of the project, CPA analyzed the draft labor law, conducting comparative research with the laws of other countries in the region and with the conventions and documents of international institutions. CPA organized seven roundtables in Kosovo's largest cities to encourage public debate and dialogue between members of the parliament and representatives of business associations, trade unions, employers, and civil society on the draft labor law. The roundtable debates were covered by the media, including radio and television. The proposals and recommendations generated by the debates, addressing issues such as written contracts, bereavement leave, probation lengths, and minors' work, were compiled by CPA and submitted to members of the Parliamentary Committee on Health, Labor, and Social Welfare and to all heads of Parliamentary groups. CPA also met with members of Parliament and established close cooperation with the Union of Trade Unions.
In the next phase of the project, CPA will monitor the drafting, adoption, and implementation of the sub-legal acts pertaining to the law.