BUILD 2014, 2015, 2016 Recap
The report for the 2016 edition of BUILD is now available for download. You can find the link below to learn more about the most recent BUILD. Further below you can find additional highlights from BUILD 2016.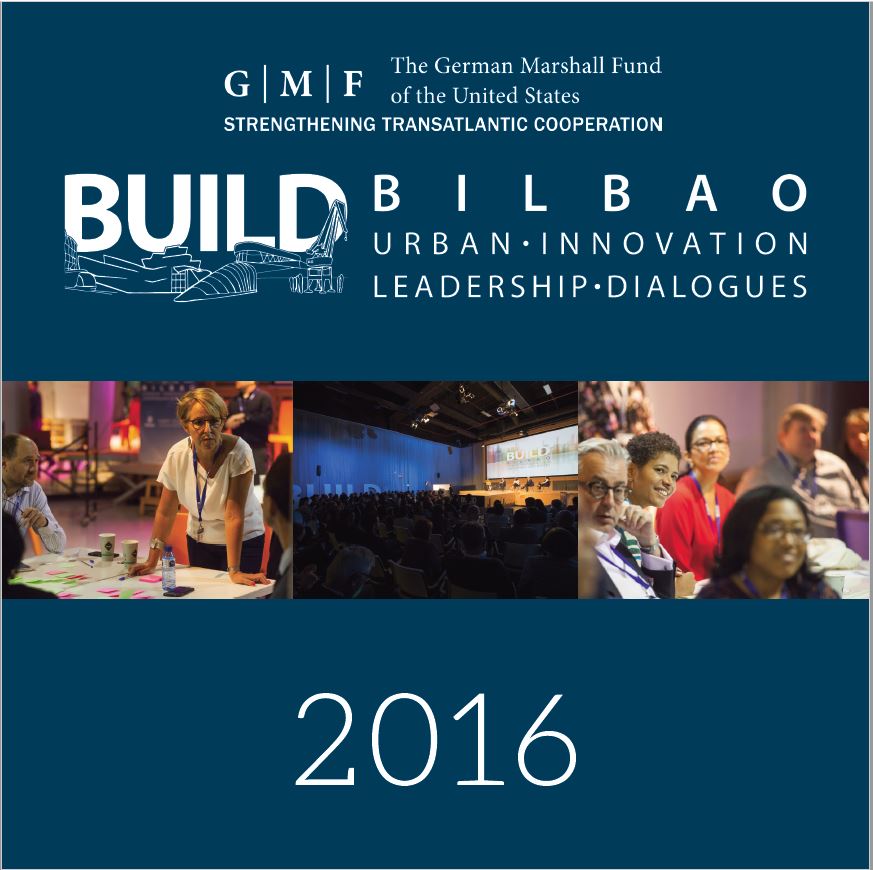 The reports of the 2014 and 2015 edition of BUILD are available for download. Please follow the links below to get to the respective report and a short description of each event.
BUILD 2016 - Highlights
On October 26, 2016, GMF and its partner, the City of Bilbao, Spain, launched the third edition of Bilbao Urban Innovation and Leadership Dialogues (BUILD).  BUILD adds a new dimension to the exploration of urban transformation – the impact of the digital age on the people, places, and economies of transatlantic cities.  The ability for transatlantic cities to be sustainable, inclusive and globally engaged is simultaneously shaped and challenged by the reality of our interconnected, digital age. 
BUILD 2016 continued to utilize GMF's transatlantic urban and regional policy framework that calls for an integrated, cross-sector agenda to activate people-place-economy for sustainability, inclusion and global engagement.  As such, BUILD focused on three policy themes that will be our primary lenses to explore the complex topic of urban transformation in the digital age:
People: The future of work in our cities is rapidly changing - are we prepared or behind the curve? 
Place:  How can technology build better cities for people, and not just better cities for data?  
Economy: The new economy is here to stay, but does it offer any hope for inclusive and equitable growth?
Over two and half days, participants unpacked the trends pushing urban transformation to the next level and discuss ways local leaders can leverage the digital age to lead a change agenda in their cities.  Follow the dialogue online via Twitter, Facebook and Instagram #GMFBUILD #Bilbao.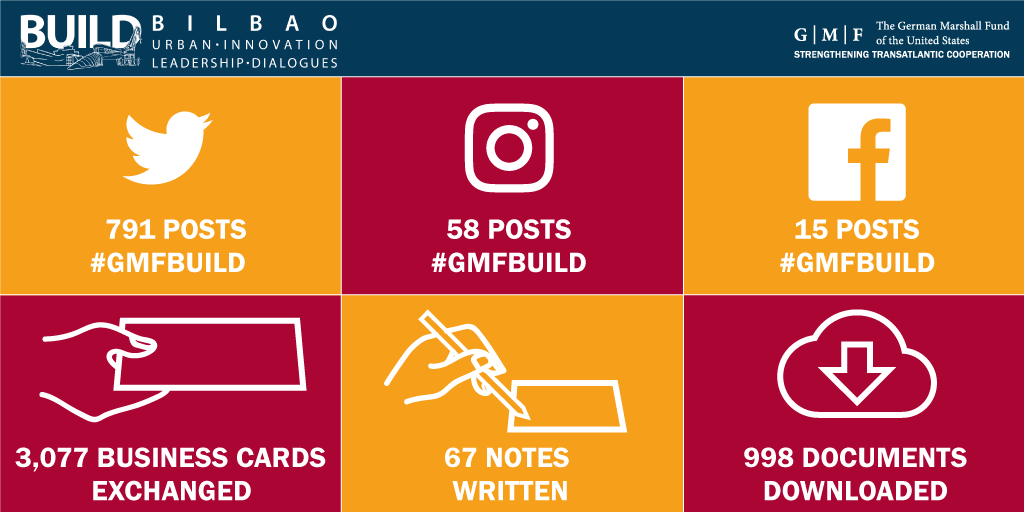 A graphic from BUILD's opening panel featuring Harriet Tregoning: Principal Deputy Assistant Secretary, Office of Community Planning and Development HUD, Tonya Allen: President of The Skillman Foundation, Xabier Ochandiano: Councilor for Economic Promotion, Trade and Employment Bilbao Ekintza, Ansgar Baums, Head of Governmental Relations EMEA at HP, Jaana Remes: Partner at McKinsey Global Institute, and moderator Richard Lui of MSNBC.

A display from BUILD's Pivot to Place: Anchoring Smart Cities in Communities breakout session. The session concentrated on how cities can utilize the creation of smart communities to become drivers of social inclusion.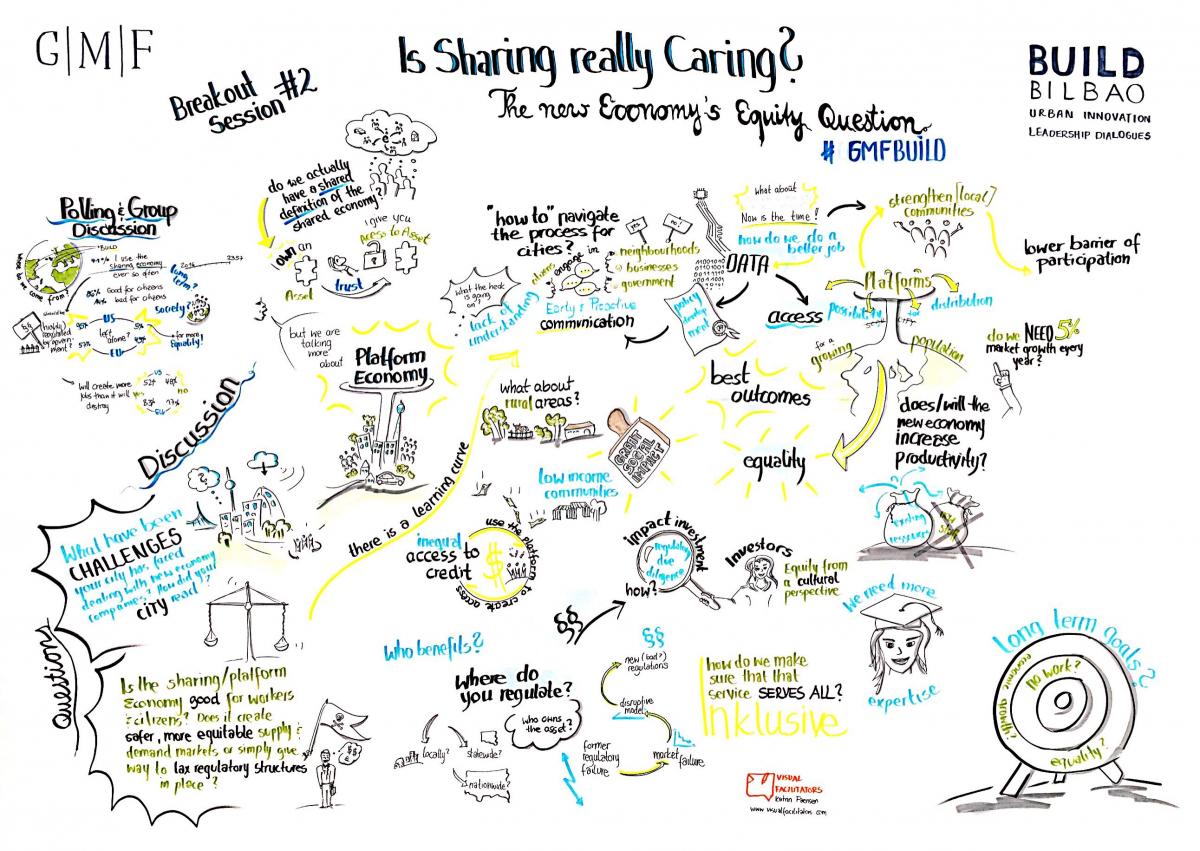 A graphic showcasing BUILD's Is Sharing Really Caring? The New Economy's Equity Question breakout. This session focused on the issue of equity in the context of the digital sector economy.

A presentation of BUILD's Future of Work breakout. The breakout focused on how digitalization is revolutionizing our societies and is reconfiguring the world of work in urban economies.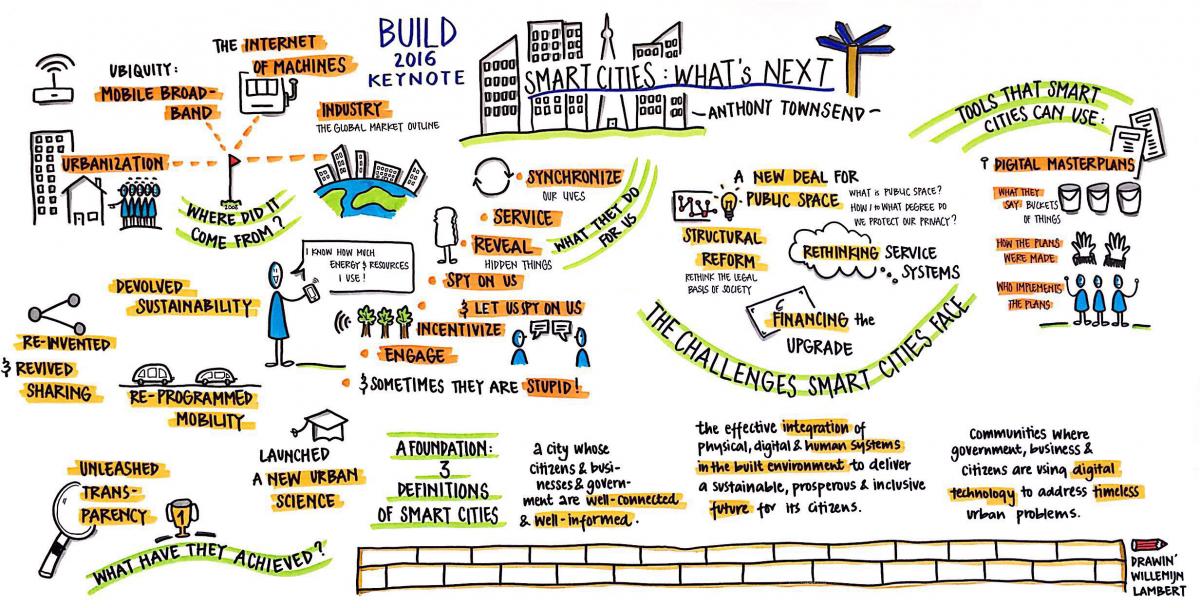 A graphic representation of BUILD's Keynote, Digital Master Planning: A New Strategic Toolkit for Aspiring Smart Cities featuring Dr. Anthony Townsend founder of Bits and Atoms.