Blog post
On High-Speed Rail, City Building, and a Visionary French Mayor: The Case of Lille
March 30, 2015
In January, I took advantage of the fact that I was traveling to Paris for a conference in order to visit one city that I had not been able to visit during my travel as an Urban and Regional Policy Fellow in fall 2013: Lille. A city of 200,000 within a larger metropolitan region of 1.2 million people, Lille is located in the north of France, not far from the Belgian border. Since the introduction of high-speed rail (HSR) service in 1994, the city has sat at a strategic crossroads in the northern part of Europe's HSR network. As shown in the map below, it is less than 40 minutes from Brussels by HSR, one hour from Paris, and one hour and forty minutes from London via the Channel Tunnel ("Chunnel"). But it was not always destined to be so. Were it not for visionary local leaders who understood urban design and were willing to take risks, Lille—or at least the city's center—would not have a station today, and it is unlikely that the city and region would have benefited from HSR as much as it has.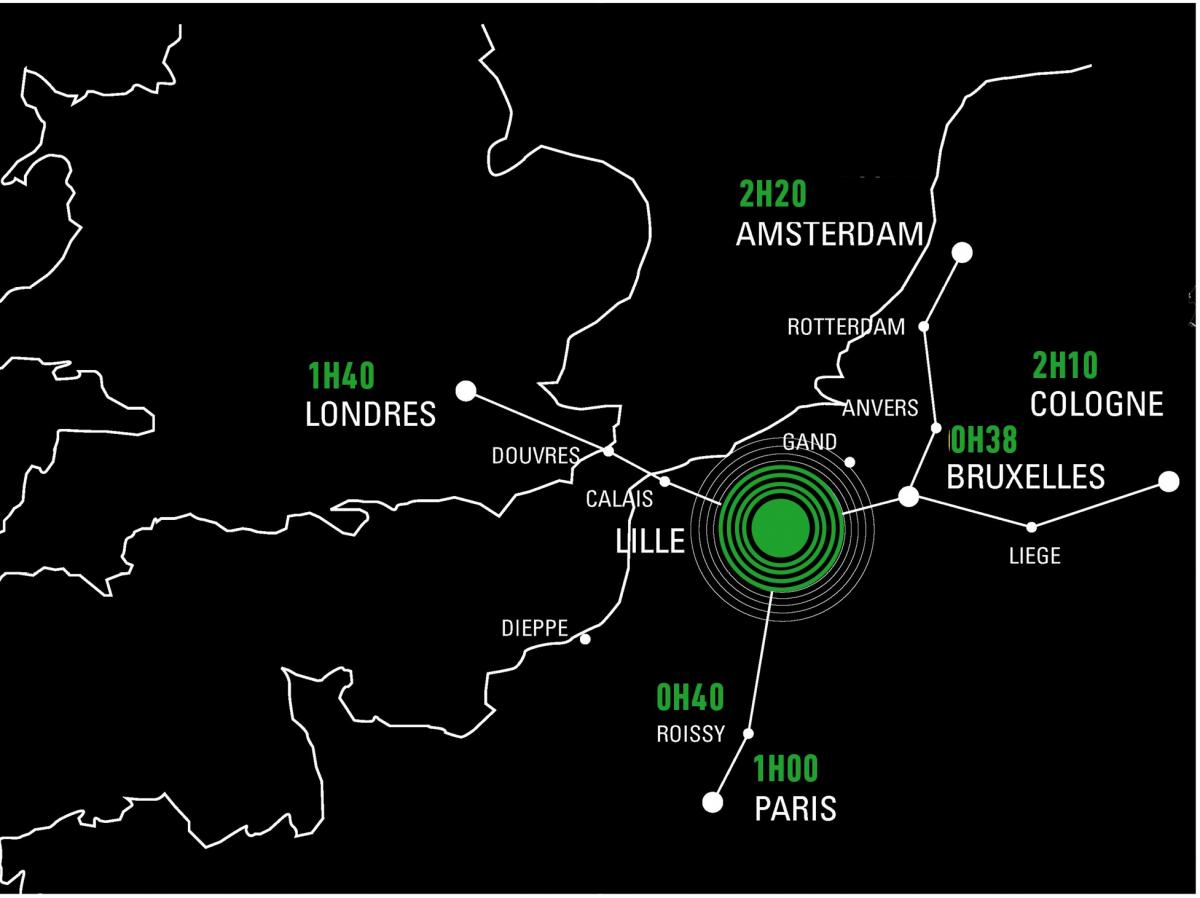 Figure 1: Lille: A crossroads in the Northern European HSR Network (Source: SPL Euralille)
In the 1980s, Lille was a city in the heart of France's industrial north that was in the midst of a wrenching period of economic decline. The city's main industries—textile production, steel manufacturing, mining and shipyards—were flagging in the face of stiff international competition. With the advent of the Channel Tunnel ("Chunnel") in the mid-1980s, local political leaders in Lille, led by the city's powerful mayor Pierre Mauroy, saw an opportunity to set the city on a new economic path by making the city a nodal point in the emerging European HSR network. Seeking to take advantage of the city's future privileged location on the northern European HSR network, Mauroy championed a master plan for a new HSR station that would identify the land uses that would most benefit from proximity to a station and that would generate ridership for the HSR system itself. He also wanted to promote world class architecture and urban design for the station and district, so he launched an international design competition to select the master plan team.
The concept that emerged was that of a triangular-shaped train station district that would be designed by Dutch architect Rem Koolhaas and the Office of Metropolitan Architecture (OMA). The new HSR station, Lille-Europe, would be located approximately a quarter mile from what was then the city's main station, Lille-Flandres.  Both stations were to be connected by a brand new shopping mall, with a number of high-rise office towers to be built around and on top of the stations. Importantly, Lille-Europe would be built on the site of a former military base, a site that could accommodate significant new development without the concerns relating to historic preservation, density, and construction noise that constrain development in most European central cities. In order to make the site available for development, a crosstown highway needed to be moved several hundred feet to the east.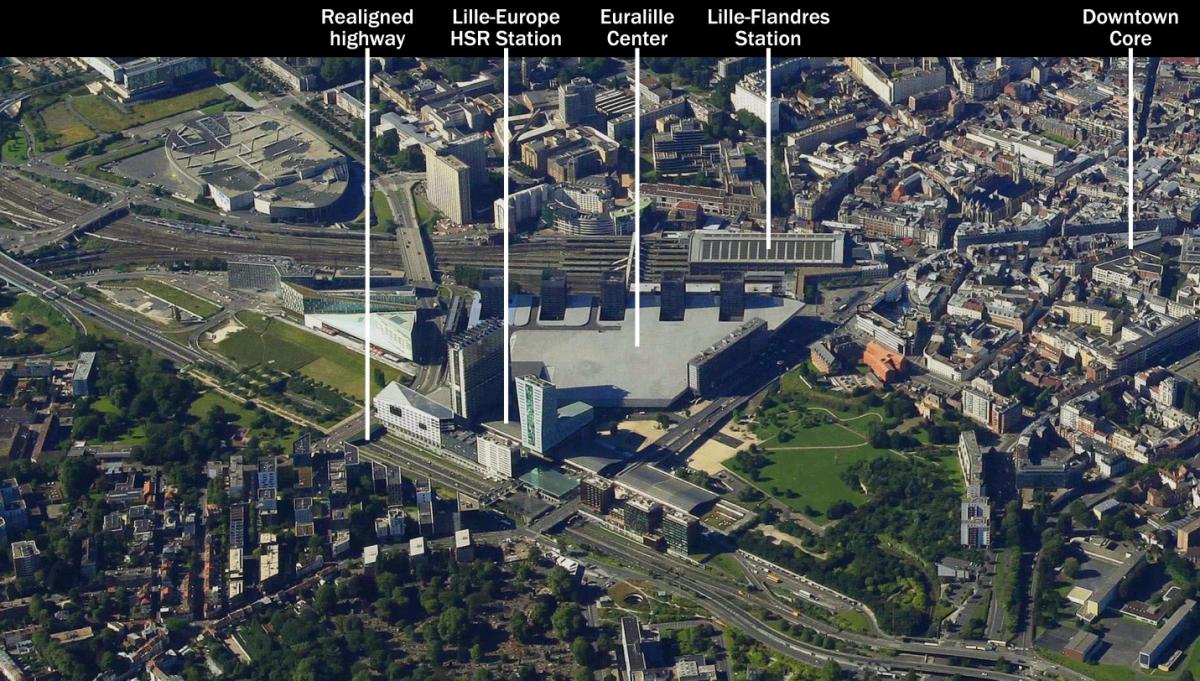 Figure 2: Lille "Station Triangle" with Lille-Europe HSR station in the foreground, the city's historic dead-end (or "stub-end") central station Lille-Flandres in the background, both connected by the Lille-Europe shopping center. (Graphic by author, imagery from SPL Euralille)
Mauroy's role in the development of the station and station neighborhood was noteworthy in at least three respects:
First, he insisted that Lille's station be built in the heart of the city. He argued this point against the wishes of the French Railway, which, as I discussed in a previous blog post, often preferred to build so-called "beet-field stations" outside urban areas on undeveloped "greenfield" sites. The appeal of beet field stations from the French Railway's standpoint is that they are simpler and cheaper to build than central city stations.  However, as Mauroy realized, beet-field stations fail to capitalize on a key benefit of HSR compared to other modes of intercity travel: its ability to be integrated into densely developed urban neighborhoods, thereby bringing people closer to and from their ultimate trip origins and destinations.
Second, Mauroy insisted that the master planner for the station district be chosen through a design competition. This was crucial for the mayor because he saw it as an important way to stimulate bold thinking and public debate on the physical form of the future station district
Finally, Mauroy got involved in many aspects of the design of the station and station area. He made sure that the master planner for the station district would also be deeply involved in the design of the station itself.  This was in contrast to the customary model of station and station area development in in French cities. Under the typical model, the French Railway's architecture firm had almost total control over the architecture of station buildings, but little involvement in the design of the station district.
According to David Wauthy, an urban designer who works for SPL Euralille, the public agency that is in charge of redeveloping the station area, the hand of Rem Koolhaas and his firm is most evident in the following ways: first, the station is fully integrated into the neighborhood that surrounds it. Indeed, the Euralille shopping center that links the Lille-Europe and Lille-Flandres stations is the heart of the station district, and several office towers were built directly atop the HSR station. Second, while the French Railway had initially planned to submerge the HSR station underground, Koolhaas advocated instead for a landmark station that would be visible. The design that he proposed and that ultimately prevailed was of a station that sits slightly above the surrounding grade level, but that has a two-story glass façade on the mall/plaza side of the building.  This façade is referred to as the "window on HSR."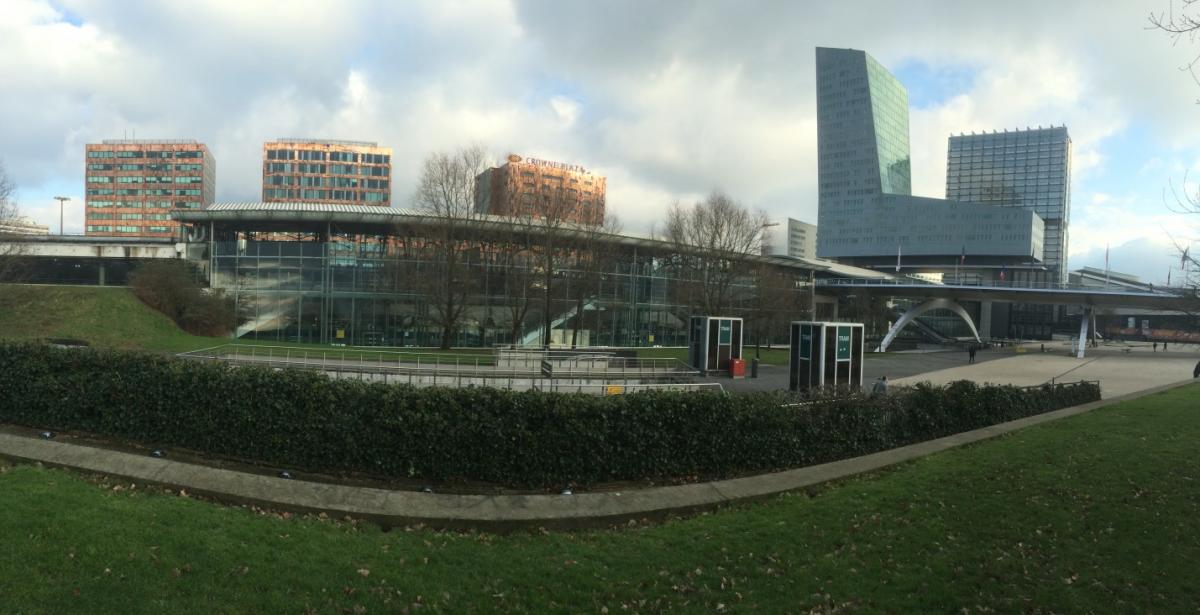 Figure 3: the Lille-Europe HSR station with the iconic Euralille tower, which is often likened to a ski boot.  This photo shows the "window on HSR" concept that Rem Koolhaas envisioned in his initial station designs, as well as the public open spaces that were developed as part of the project. (Photo by author)
The result of this master planning effort is impressive. Lille-Europe station is a striking structure with a wave-shaped metal roof and glass facades, while the signature office buildings that were built as part of the project are diverse in style and contribute greatly to the city's new skyline. The most important of these is the iconic Lille "L," or the "ski boot," which has become a symbol of the city. HSR and the Euralille master planning effort were also central factors in Lille's ability to earn the distinction of European Capital of Culture in 2004, as well as in the city's ability to put forward a bid (ultimately unsuccessful) to host the 2004 Summer Olympic Games. However, for all of the expense and effort that went into building the station and station district, the vast plaza located between Lille-Europe and the Euralille shopping center, Place François Mitterrand, feels barren and sparse, perhaps even unfinished. Similarly, the large Parc Henri Matisse that is adjacent to this public square feels amorphous and, according to Philippe Menerault, a planning academic and HSR expert from Lille who gave me a walking tour of the Euralille district, poorly used.
Un bilan positif: A positive assessment overall, but more for the city and region than for the station district itself
Menerault told me that Lille and the Lille region had benefitted enormously from HSR and from the Euralille master planning effort. The steep economic decline that gripped the city and surrounding region in the 1980s and early 1990s has been reversed, in large part because of the introduction of HSR and the Euralille project.  However, the station district itself has not thrived in the way local officials had hoped. The Euralille business district, which was initially envisioned as a concentration of high-rise buildings with private sector tenants, has failed to attract many private businesses. Also, demand for office space has been lower than projected. Today, the towers are mostly occupied by public sector entities such as the French Railway. Also, only two of the proposed six towers were ultimately built.
As for the Euralille shopping center, though by no means a failure, it has failed to attract the high-end retail tenants that local leaders had thought would want to locate there. To emphasize his point, Menerault walked me past the brand new Apple store that opened up in Lille's historic core in a location about a quarter-mile from Lille-Flandres (and a half-mile from Lille-Europe). According to Menerault, Euralille would very much have liked to attract an Apple store to its shopping center.  However, most of the shops in the mall are middle-to-low-end, consisting largely of inexpensive and unremarkable clothing and shoe stores, and Apple preferred to set up shop in a more prestigious central city location.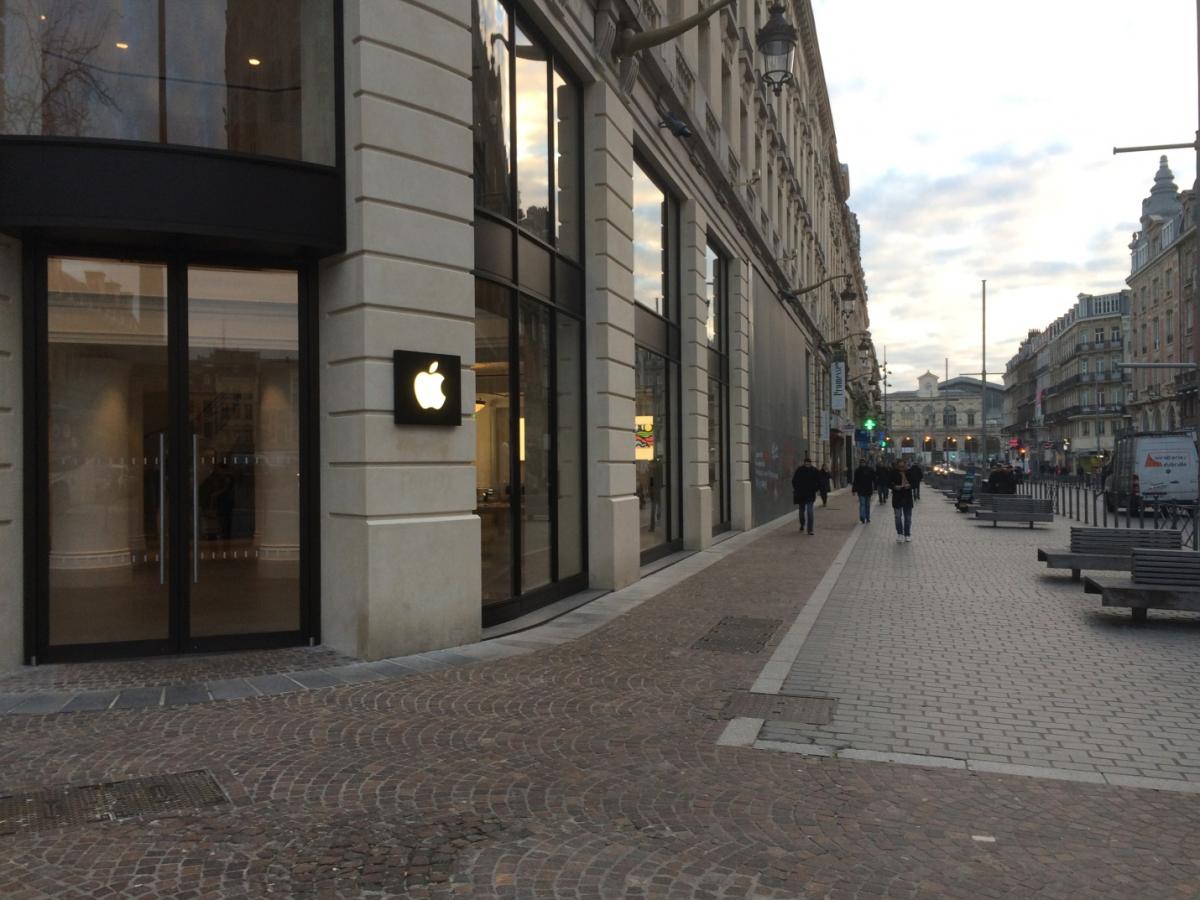 Figure 4: Lille's newly-opened Apple store, located in the city's historic core, about a five minute walk from the city's train station complex. Gare Lille-Flandres, the city's historic train station, which is connected to the Lille-Europe HSR station, can be seen here at the end of this street. (Photo by author)
The mall is currently undergoing a large redevelopment effort to correct some of its perceived shortcomings, chief among which are insufficient natural light and poor wayfinding. This effort also seeks to better connect the mall with the downtown core. To be fair, the Euralille represented a major redevelopment undertaking for a previously undeveloped part of the city that was formerly bisected by transportation corridors, and so knitting it into the surrounding urban fabric was no small task. However, thanks to the bold design decisions that were part of the initial station triangle master plan and the mall redevelopment effort, the station district appears poised to become better integrated into Lille's urban fabric as the area experiences continued job and population growth.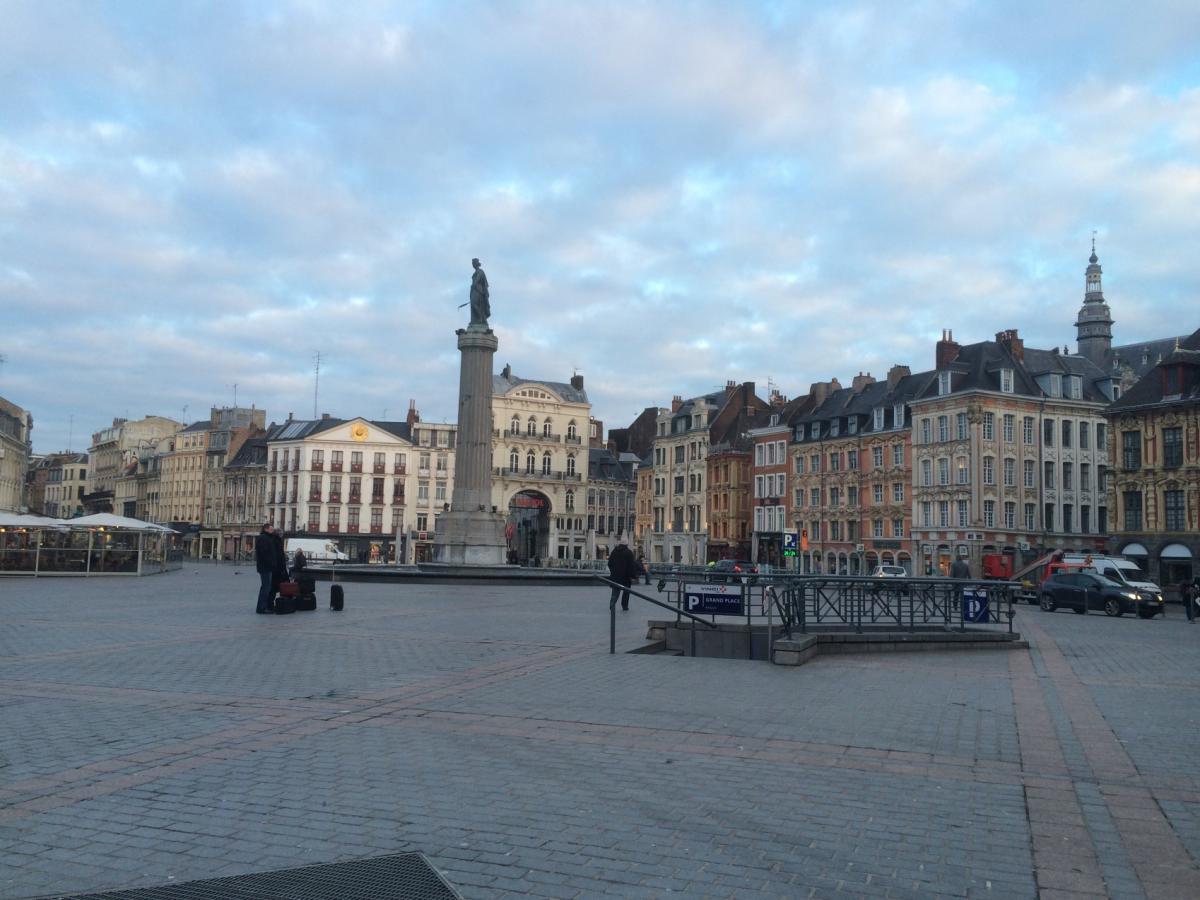 Figure 5: Lille's picturesque city center has been an important tourist draw for visitors to Lille since the introduction of HSR service in the mid-1990s. It is located approximately ¼- mile from Lille-Flandres and ½-mile from Lille-Europe. (Photo by author)
Lessons Learned
Lille is an important case study for cities along the California HSR route that want to make the most of HSR, especially for a city such as Fresno. This is for a number of reasons beyond the simple fact that both cities are the centers of urban regions that are roughly the same size. First, just as Lille became a mid-way point along HSR lines connecting Paris, London, and Brussels when HSR service began in 1994, Fresno will occupy a strategic mid-way point along the California HSR route between San Francisco and Los Angeles. Second, like Lille in the mid-1980s, Fresno is the largest city in a region that has struggled economically, and the city's leaders have been working hard to improve the city's economic fortunes by pursuing strategies that are not unlike those employed in Lille in the 1990s. Specifically, as was the case in Lille, Fresno's leaders have been trying to attract industries to the city that will create higher paying jobs for the city. Also as in Lille, Fresno city leaders—particularly Mayor Ashley Swearengin—have championed a number of land-use planning efforts that seek to make Fresno a more livable, walkable, and generally attractive place to live.These efforts have focused especially on revitalizing the city's struggling downtown core, which is where Fresno's future HSR station will be located.
I see a few main lessons that can be drawn for California from Lille's experience:
HSR station area planning efforts need powerful champions who understand the importance of good urban design and who are willing to take risks. 
The master plan that Lille developed and adopted could not have been built without the involvement of a powerful political champion like Mayor Mauroy, who had a deep understanding and appreciation for good urban design, and who did everything in his power to make the Euralille master plan effort a success. As discussed, Mauroy played a key role in articulating and advancing the vision for the station area. Train stations and station districts are complex, and many diverse constituents representing a wide array of interests and concerns have an interest in the way in which they are designed and built—from historic preservationists, to biologists, to air and water quality specialists, as well as affordable housing groups, among others. It takes a charismatic individual like Mauroy who is able to communicate a compelling vision for the station and who is able to broker compromises among these groups if a station area planning process is going to achieve the desired results.
Big and bold visions for HSR stations and station districts are essential.
The construction of a new HSR line represents a significant investment that needs to produce big benefits in order to be justifiable. In order to bring these benefits, cities must put forward big and bold proposals for their stations and station areas.  Daniel Burnham famously said: "Make no little plans. They have no magic to stir men's blood and probably will not themselves be realized." I am saying something slightly different here.  As one of the largest infrastructure projects in state history, California's HSR project is no little plan.  The danger, as I see it, is that we may build stations that fail to live up to the size, scale or import of the project. The project is inherently expensive, and there is a big risk that we will seek to cut corners on the parts of the project where passengers will have the greatest amount of interaction – the stations. This is not to say that stations need to be excessively large or ornate. But they should include the necessary design features to ensure that they are more than mere places for train passengers to buy tickets and board trains.  In Lille, the Euralille shopping mall serves both as a destination and district center for the station district, and serves as a vital physical connection between Lille-Europe and Lille-Flandres stations for pedestrians. On a related note, where bold decisions about infrastructure need to be made in order to make a station and station district function optimally, those decisions need to be made early, and they should be funded as part of the station construction effort. In Lille, for example, a portion of highway needed to be moved in order to create a development parcel large enough to accommodate the Lille-Europe station and Euralille mall.
Successful train stations function both as efficient transportation facilities and as attractive public places where people enjoy spending their time.
Successful train stations are the hearts of the neighborhoods that surround them, and both should be designed in concert with each other. If conceived through a robust visioning process, stations can serve as neighborhood centers and as catalysts for economic development.  In many cases, they can also serve as pieces of connective urban tissue that link neighborhoods that would otherwise be divided by tracks and rail yards. In short, train stations are extremely complex.  They are complex from a design perspective because they must accommodate many different user groups – train passengers, pedestrians using the station as a passageway, as well as perhaps shoppers and even tourists.  They are complicated from a political and financing standpoint because the transportation agencies that provide the funding for the tracks and platforms may find it difficult to provide money for walkways that will serve as many pedestrians who will not board trains as train passengers.  These transportation agencies may also be reluctant to build stations that include commercial spaces that are not necessary for the basic functioning of the station from a transportation perspective because of limitations—either real or perceived—on the use of the public funds that are used for the construction of the stations. This challenge may be more significant in the United States than in France because transportation investments do not seem to be as well coordinated with urban development and placemaking efforts here. 
HSR service can sometimes benefit neighborhoods adjacent to station districts more than the station districts themselves.
In the case of Lille, the historic core benefitted more than Euralille. Now, in hindsight, it appears that Lille may have been able to build a smaller mall between its two stations.  Similarly, Euralille might have been able to do with less office space. That the historic core benefitted more than Euralille may be because people—and especially visitors to Lille—prefer older and more "authentic" places to newly manufactured shopping malls. In Fresno, a similar scenario could play out.  But this should not be viewed as a negative thing. Given that Fresno's Fulton Mall, which has attractive and underutilized historic buildings located within a stone's throw of the HSR station, it may wise to consider parts of the Fulton Mall that are closest to the HSR station as de facto extensions of the HSR station itself that will serve rail customers and draw people to the station district. One might even argue that the station should not compete with Fulton Mall in providing the types of businesses and services the Mall can provide to rail passengers. This might mean a smaller station or other uses for the station space. 
Eric Eidlin is a sustainability lead and community planner for the Federal Transit Administration and a 2013-2014 Urban and Regional Policy Fellow. As part of his travel, he studied the ways German and French cities have facilitated non-auto access to high-speed rail stations. Using the Innovation Centre for Mobility and Social Change in Berlin as a base, he traveled to cities such as Hannover, Erfurt, and Lyon.
The views expressed in GMF publications and commentary are the views of the author alone.