Blog post
In New York City, a Focus on Resilience and Equity
April 22, 2015
New York was one of the first cities in the United States to start working systematically with climate change adaptation. Former Mayor Michael Bloomberg put it on the agenda together with his ambitious goals for reducing CO2 emissions. Current Mayor Bill de Blasio is continuing the work while incorporating a significant equity component into the agenda.  
The approach has also evolved in other significant ways, mostly because of Hurricane Sandy, the destructive and deadly hurricane that hammered New York City in 2012.  Pre-Sandy adaptation work in the city involved a systematic approach that covered all aspects of climate change. Post-Sandy, the focus has shifted to recovery and resilience to mainly coastal flooding. This is similar to what we have seen in Copenhagen, where the cloudbursts in 2010, 2011, and 2014 focused our work on reducing storm water flooding. In New York, the efforts are focused on the protection of lower Manhattan, Staten Island, and Rockaways/Jamaica Bay.
The Mayor's Office for Recovery and Resilience is currently overseeing a $20 billion investment program on resilience that covers costal protection, storm water management, and a host of other infrastructure upgrades and investment. Working on climate change adaptation in New York is not easy. The city is huge and is home to millions of people, and different city agencies are very much their own entities (some might even say small kingdoms). This makes coordination between agencies really difficult.
Although the storm water management is included in the total resilience program, the Department of Environmental Protection (DEP) is focused on reducing combined sewer overflows—just like all the other cities I have visited. And just like those, DEP works with small local projects in an effort to take out storm water from the sewers wherever possible. But inside the DEP there is a growing concern that this might not be enough, and that they need to start thinking on linking up the system and to take into consideration infrastructure challenges wrought by climate change. This becomes very obvious in the areas of the city where coastal protection collides with storm water management, such as on Staten Island where the building of a coastal artificial dune will make it difficult to discarge storm water into the sea unless it is integrated in the project.
During my visit, I also managed to set up a joint workshop between the main city agencies to discuss the challenges of collaboration, and also to discuss specific possibilities of transferring knowledge from NYC to Copenhagen and vice versa.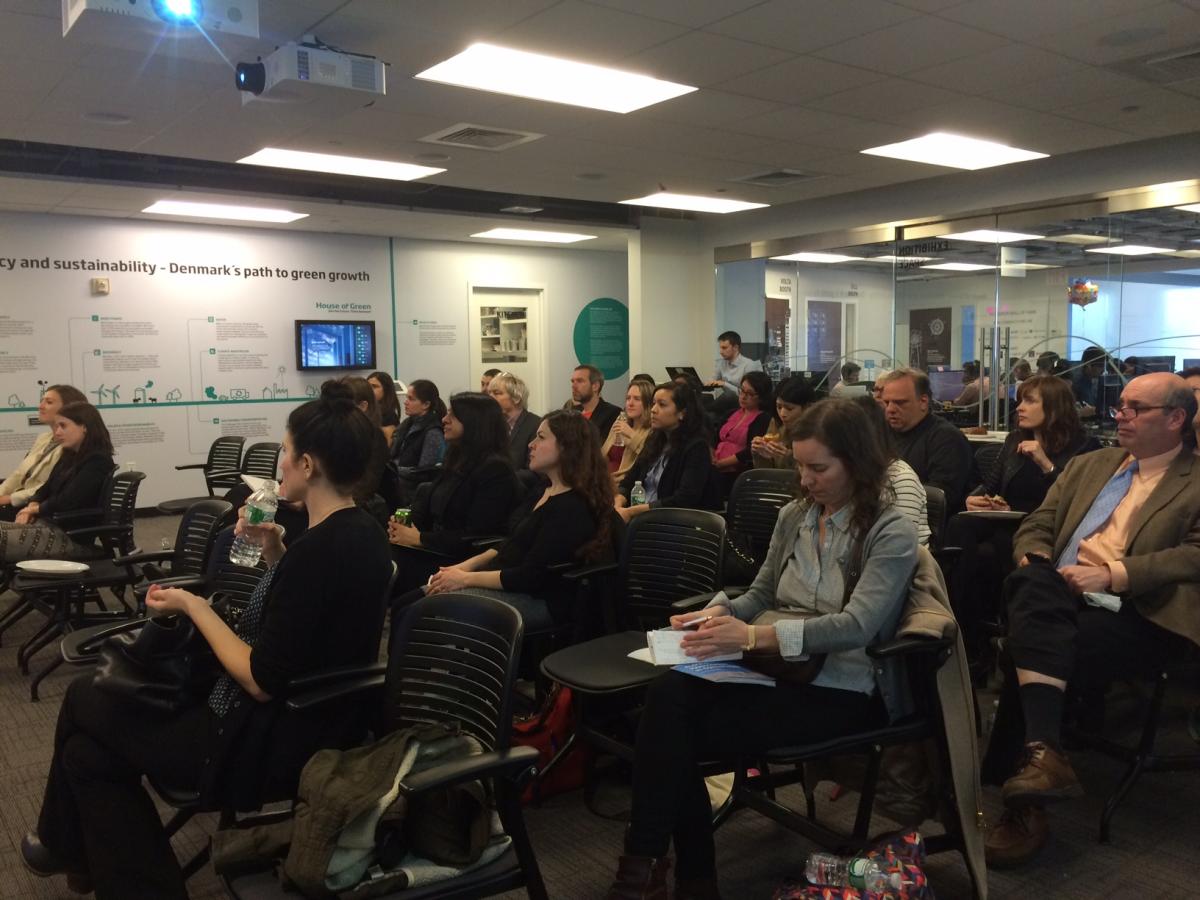 Presentation of NYC and Copenhagen climate adaptation strategies at the Danish Cleantech Hub
This workshop gave me real insight into the difficulties of this kind of work in the city. Coordination between agencies becomes is especially difficult when there is a time pressure and also when federal agencies are involved in the resilience work within the city. The grants from FEMA have to be spent before a given date, for example, and some of the coastal protection measures will be built not by the city, but by the Army Corps of Engineers.
Another issue that I found really interesting in NYC was the way the city works with planning and zoning. The Department for Planning works both on a citywide scale with zoning and building codes, but also on the neighbourhood level. They have selected 10 neighbourhoods with special challenges, and through the planning, they are trying to turn the development of these neighborhoods toward a more resilient direction. And in NYC, the whole issue of resilience is very broad. A major issue for the city is the food system and access to supermarkets for many of the city's poorer neighborhoods. If these neighborhoods flood, then getting food to the people living there can become a real issue. This is something that I have not heard adressed in the same way in other cities that I have visited on my trip, and it is not something that we have adressed at all in Copenhagen.
Pictured above: tree planters and swale in Queens, New York. 
Lykke Leonardsen is head of the City of Copenhagen's Climate United within the Technical and Environmental Administration and a 2014-2015 Urban and Regional Policy Fellow. As a fellow, she is currently researching emerging best practices for climate adaptation measures in four U.S. cities. She will travel to Portland, OR; Seattle, WA; New York City, NY; and Philadelphia, PA, focusing specifically on what these cities are doing in the fields of storm water management and costal protection. This is the last of several blog posts from Lykke on her travel and research.
The views expressed in GMF publications and commentary are the views of the author alone.