Blog post
Learning to Change our Urban Mental Images
April 27, 2015
YORK, England – York is a thriving and vibrant city, consistently reviewed as an extremely popular tourist destination and place to live. The city is anchored by a historic downtown and several universities, and is blessed with low unemployment. This is the extremely positive mental imagery of York that is held by residents, visitors, and investors alike—a view that has persisted in spite of the major contraction of its small but significant industrial sector and several other ongoing economic challenges.
I previously wrote about how Derry/Londonderry, Northern Ireland, is changing its own and the world's perception of a community in industrial decline and civil unrest to one that is at the birth of peace and a thriving future. I am fascinated by how critical mental imagery and perceptions are to determining how people view a community, how they act on that vision, and how those perceptions even influence their own self-image. The mental imagery is based in reality, but the hope or despair that community storytelling and imagery brings is inseparable from the reality and can be a self-fulfilling prophesy, for better or worse.
Some of the lessons I hope to learn from Derry/Londonderry and York to bring back to my own practice in Northampton, Massachusetts, is how small and large investments and actions can move the gauge of how we view ourselves and create that positive self-fulfilling prophesy. 
First, cultural activity is fundamental to building positive mental imagery. I listened to Shona McCarthy, CEO of the 2013 Derry/Londonderry UK City of Culture, tell stories about how culture brought a sense of civic pride and tolerance to the city, and as even playing a role in reducing the role of parades and cultural displays as flash points for violence. I heard Dr. Philip Bolland's and Dr. Brendan Murtagh's research on the challenges of the "City of Culture" actually creating a thriving arts economic engine, but I left confident that it is promoting sustained dialogue and tolerance across sectarian and political divides. The Tour de France's journey through York in 2014 followed by the upcoming 2015 Tour de Yorkshire may not be healing civil unrest, but it is helping build community excitement and interest. I have never underestimated the ability of cultural activity, homegrown or imported, to build community, and I am fascinated by how relatively small interventions change the words we use to describe ourselves.
Second, I have always believed that vibrant downtowns are fundamental to community sustainability and sense of place, but it is fascinating to see how much can be done simply through healthy dialogue.  Watching Jim Roddy, director of Derry/Londerry's City Centre Initiative, figure out how to make a downtown hollowed out by bombings and violence stronger by building trusted community policing, changing people's mental maps about downtown, and removing the fear of violence gives me a new respect for the building blocks to vibrant downtowns. York has among the most vibrant downtown areas I have ever experienced, but even activities as small as its integrated wayfinding is helping create that positive mental imagery, even as the economic center of gravity for local residents moves away from the city's center. 
Finally, fundamental to planning is building community wellbeing, but sometimes that is a hard story to tell. Hearing about work of individuals such as Geraint Elias to quantify the health benefits of cycle tracks and bicycle paths, and seeing how quickly those are being developed in both northern England and Northern Ireland, is inspiring to me given that developing such transportation alternatives have been a major part of my own practice.
Creating positive imagery isn't a sales job, and residents quickly see through inaccurate promotion. It is, however, worthwhile to think about how creating imagery can reinforce the hopes and aspirations of a community and create a positive change.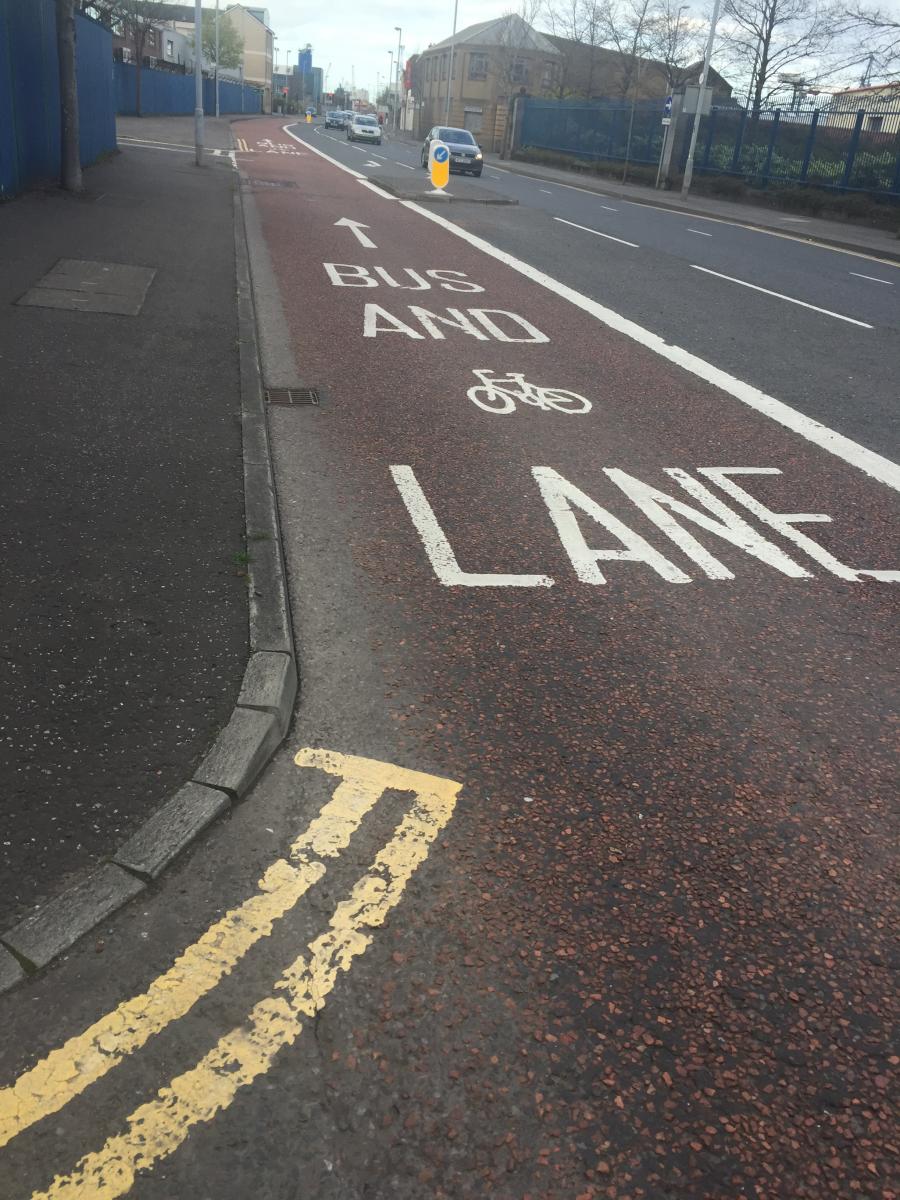 Adding a bike symbol to a bus lane creates a new option, and creates a powerful image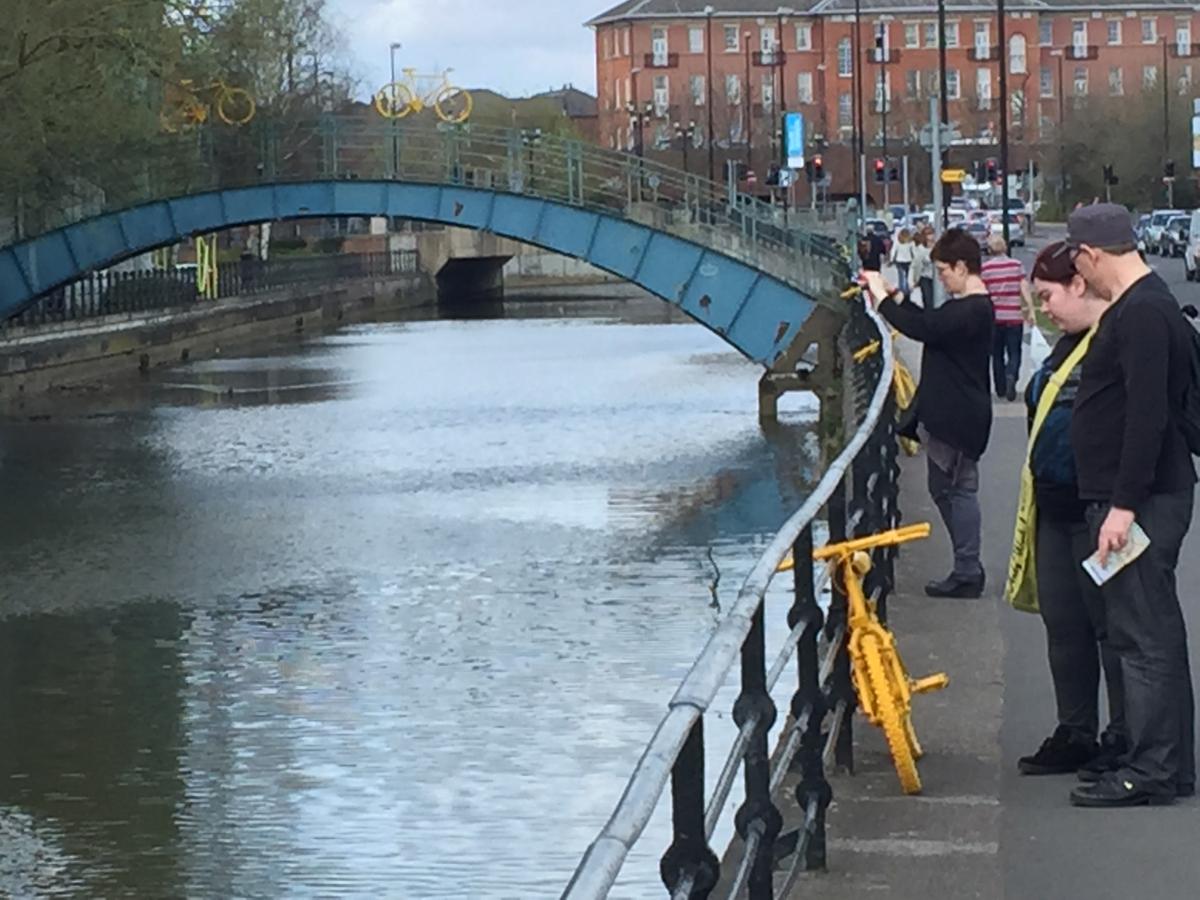 The yellow bikes, as the symbol of the Tour de France, have created a mini-legacy, continuing to build excitement in the community
Wayne Feiden is the director of planning and sustainability for the city of Northampton, Massachusetts. He is currently researching revitalization efforts in smaller European legacy cities as a 2014 Urban and Regional Policy Fellow, focusing on Vejle, Denmark, York, United Kingdom, and Londonderry/Derry, United Kingdom. This is the second of several blog posts on his travel and research.
The views expressed in GMF publications and commentary are the views of the author alone.