Blog post
Manchester: From Industrial Revolution to Aging Revolution
April 29, 2015
I came to Manchester to examine the city's revolutionary work as the first city in the United Kingdom to join the WHO Global Network of Age-Friendly Cities and Communities in 2010. WHO's program is the first major global policy response to the rise in worldwide life expectancy and aging in cities. As an early adopter, Age-Friendly Manchester is also the catalyst behind the UK Urban Aging Consortium and the UK Network of Age-Friendly Cities.  It is estimated that by 2050, the UK will have the largest population in the world of people over age 65. My home city, Philadelphia, has the highest percentage of those over age 60 of any of the ten largest U.S. cities, and that is estimated to double by 2035.
How can cities better plan for housing, transport, and public space to address this demographic imperative?  "Age-friendly" describes places where older adults, defined as anywhere from 50+ to 65+, can "age actively." Active is defined as a physical environment that supports older people, and this can often make the difference between independence and dependence. Perhaps most importantly, it also refers to a place that allows adults to engage with social, economic, and civic life.
A plaza in Manchester
A new field around urban aging is emerging in the UK, backed by a consortium of talented government, academic, and design professionals, among them the city of Manchester's Valuing Older People Team, University of Manchester Institute for Collaborative Research on Aging (MICRA), and the University of Manchester School of Art. Central to my interviews are questions on whether the city is the optimal place to age, whether the infrastructure for age-friendly cities is already there or whether it is really attitudes and ageism that mainly needs to change, how to best construct the narrative of age-friendly, and whether an age-friendly "region" is possible.
Cities are generally optimal places to age, given their access to medical services, cultural and leisure opportunities, and the daily necessities of life. Crime and feelings of vulnerability, however, can be barriers. Manchester, like Philadelphia, has high numbers of older adults living in poverty. The WHO model may not go far enough in addressing the economic challenges cities face, particularly ones experiencing deprivation or rapid gentrification.
My interviewees disagreed that most cities have the existing physical infrastructure to cater to an aging population. Clearly, many western cities have extensive transit systems, home standards, and quality parks, and public spaces. That does not mean that there is no room for improvement or radical rethinking, especially around housing. Other cities, especially those experiencing population loss or accelerated urbanization, may face acute age-friendly infrastructure challenges. In others, ageism too renders many older adults invisible in city policy and urban planning, perhaps even more so in "hip" and "young" Manchester and Philadelphia.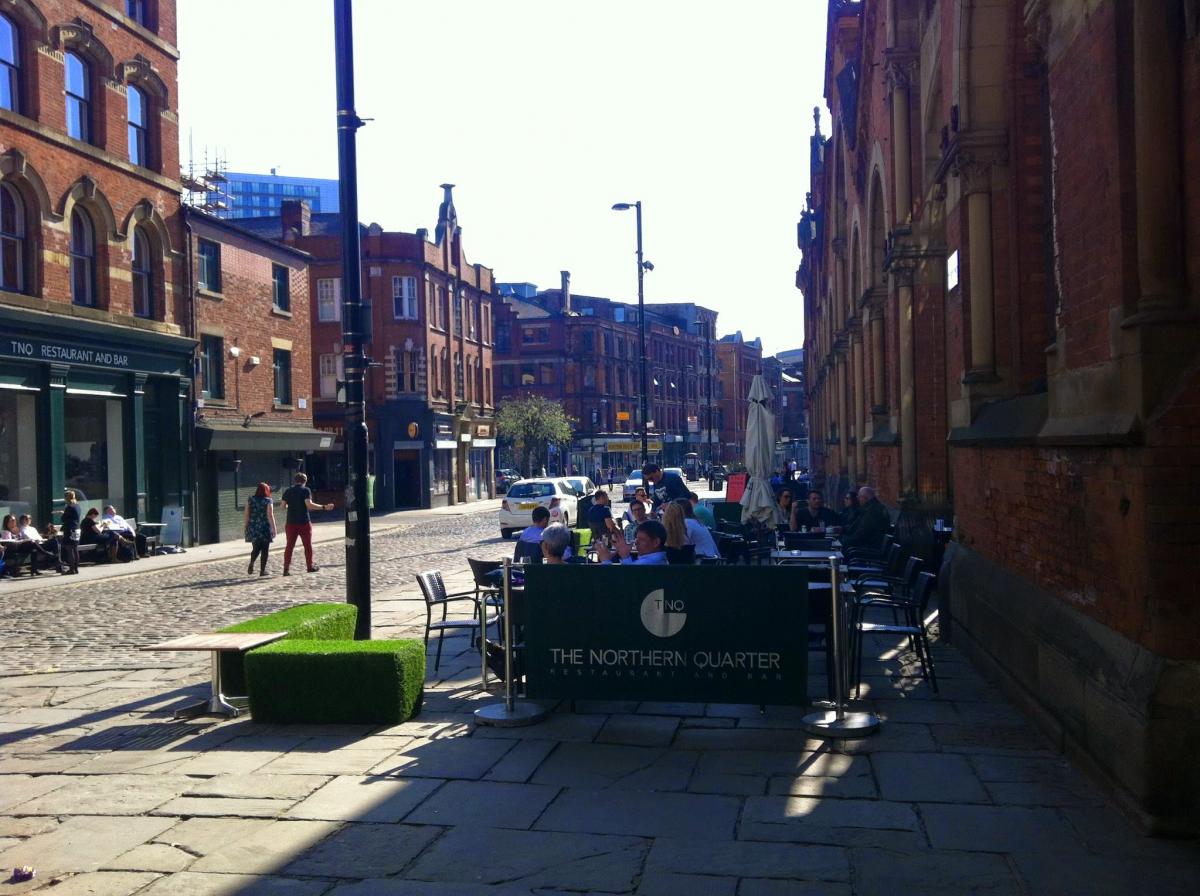 A street scene in Manchester
For its part, Manchester has done remarkable work in conceptualizing "age-friendly." Perhaps because of Manchester's radical history, their narrative centers on "rights to the city" and older adults as equal citizens. Despite the fact that the Valuing Older People Team is housed in the city's Public Health Department, the city does not embrace a medical or health model which views older adults as "deficits" or those needing more services. I believe this spatial rights angle would resonate more with city planners. It would emphasize how to improve the "places" in "aging in place," rather than assuming that every planner will become an expert on aging or health issues.  The spatial justice frame could also link to narratives about sustainability. Planners could then argue that sustainable communities are those that support people across the life course and across generations, not just through greener buildings and better land use practices.
A still-emerging definition is what it means to be an age-friendly region. The wildly creative Alternative Age-Friendly Handbook: For the Socially Engaged Urban Practitioner (by Sophie Handler for UK Urban Ageing Consortium and MICRA, 2014) examines modes, methods, and small actions that can be scaled up to a regional level. Likewise, A Research and Evaluation Framework for Age-Friendly Cities (by Handler for the Consortium, 2014) defends rigorously the research and strategies that urban and regional planners should find very useful.
Karin Morris is the manager for the Office of Smart Growth at the Delaware Valley Regional Planning Commission. She is currently traveling in the United Kingdom studying how cities have integrated age-friendly concerns into urban planning and design, specifically in housing, transport, and public spaces. This is the first of several blog posts from Karin. 
The views expressed in GMF publications and commentary are the views of the author alone.