Blog post
London: Will You Still Need Me, When I'm 64?
May 5, 2015
The upcoming national election is all the talk this week in London. Both the media and those I'm interviewing talk about economic policies, and austerity in particular. Recent budget cuts to local authorities and feared future decreases can pit generations against each other in a competition for resources and can legitimize ageist attitudes. This can make moving an age-friendly city approach forward a difficult task. Indeed, in London, the age-friendly movement has waxed and waned, often due to political or leadership challenges.
Policymakers and researchers in London agree that to be successful, age-friendly must focus on "ageing better" rather than on "being old," and that the near-universality of aging is good for policy. Age UK's campaign to "love later life" presents positive images of aging and of those pushing boundaries and confronting fears. This week I was struck by how much the other WHO age-friendly domains, particularly respect, social inclusion, and social participation, influence the built environment. I heard about Age UK and Age UK Camden's work on developing indices to rate places on isolation and loneliness using census data, and their work to link social isolation to broader public health concern.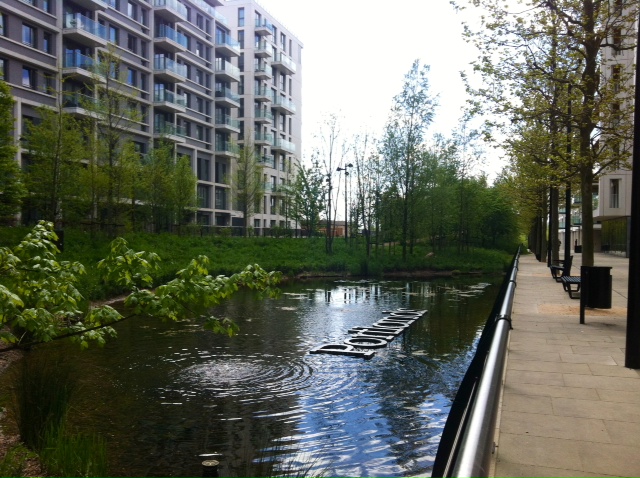 East Village in London
But what can planners like myself do with this information? The WHO domains are useful lenses with which to review policy and planning decisions. Thus, the Transport for London Freedom Pass, granting free travel for those age 60+ on all buses, trams, underground, and overground transit in London, is viewed as a great economic benefit. But just as importantly, it allows older people to maintain their connections to the world, and thus their sense of self. Planners can sometimes discount older people's trips as "non-essential" as they are often non-commute trips, but this misses an enormous number of trips essential to wellbeing, inclusion, and independence. Many London Boroughs' adoption of new 20mph zones have been shown to cut collisions and deaths by 40%, while one could also argue that these zones make a neighborhood more walkable, which is a proven "buffer" against depression in old age.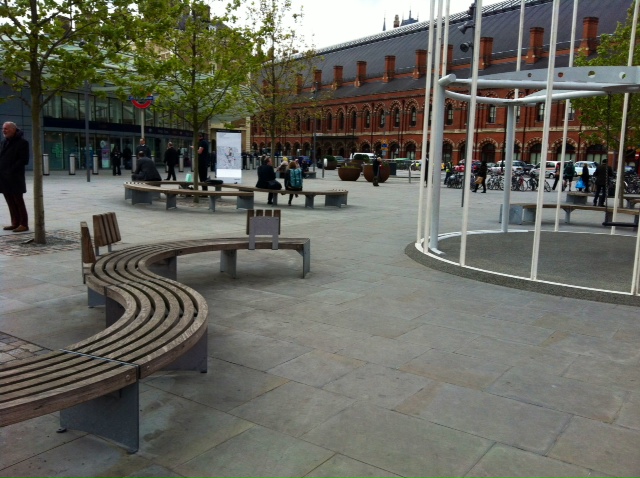 Kings Cross Plaza Redevelopment in London
In housing, London now requires that all new homes meet Lifetime Homes standards, which enables general needs housing to provide from the outset (or through simple and cost-effective adaptation) design solutions that meet the changing needs of diverse households. This is a major step forward, though there is some discussion that developers have found ways around the requirements, particularly in times of austerity. These lifetime homes, likes ones I toured at the former Olympic Village, now a major regeneration site in east London, will enable those residents to age in place if they choose and not be forced to move and give up neighborhood and social ties.
Hugely concerning are the other enormous housing challenges a global city like London faces, namely in supply, affordability, and lack of alternative options. All of this is exacerbated by foreign investors buying "to let or leave" homes, under-occupation of some housing, and a lack of social and specialist housing.
The UK Cohousing Network is introducing cohousing as one alternative, incremental, small-scale option. Cohousing combines independent living with intentional community, with common facilities designed to encourage neighborliness around shared meals and activities. It relies on mutual support and allows residents to depend less on outside care. Cohousing can be mixed ages and genders, or some choose intentionally to be for older adults or women. The Older Women's Cohousing Network (OWCH) has spent 16 years planning a 25-home cohousing development in north London for women age 50+. Now under construction, New Ground Cohousing will be the first cohousing for seniors in the United Kingdom.

AgeUK Mantra
Given that the optimal size of most cohousing is 24-30 units, how could this meet the massive housing needs of older adults in London and in U.S. cities? Either local governments and developers make it easier or a hybrid approach is needed. If we took the enormous number of age-restricted communities in the U.S. and grafted on the cohousing community development model, the naturally occurring retirement communities (NORCs) supportive service programs, or the Villages Network model, you would create communities that combine mutual support and age affinity, and places where people are included, respected, and able to live independently.
Karin Morris is the manager for the Office of Smart Growth at the Delaware Valley Regional Planning Commission. She is currently traveling in the United Kingdom studying how cities have integrated age-friendly concerns into urban planning and design, specifically in housing, transport, and public spaces. This is the second of several blog posts from Karin. 
The views expressed in GMF publications and commentary are the views of the author alone.