Blog post
London: The Infrastructure of Small Things
May 13, 2015
What struck me most this week is the progress London has made in the last decade in both big infrastructure and what I'm calling "small infrastructure." The Mayor and the Greater London Authority are committed to build on London's world city status as a dynamic business center by investing in large impactful projects like Crossrail, Europe's largest infrastructure project and the most ambitious transit project in London since the original Underground opened in 1863. However, the Mayor is also committed to ensuring that London is among the best cities to live, and often this takes the form of small infrastructure but writ large.
The London Plan is the Mayor's spatial development strategy and policy framework for the development of London over the next 20 years. Among the many goals are to "make London more age-friendly." So how have they done? And how has small infrastructure supported aging?
Beyond the successes I wrote about in my last post, improvements to the public realm have benefited older Londoners (and indeed all Londoners).
Legible London is a citywide wayfinding scheme created by Transport for London that has added 1,300 signs to encourage walking. It was created because London's non-grid is notoriously confusing, yet infinitely walkable if one has good information and clear signage. The maps also show pedestrian crossings, pavement widths and steps encountered to help those who are disabled or aging, as well as walking distance expressed as minutes. They also show some public bathrooms within public buildings, though other public toilets run by local boroughs are notably missing.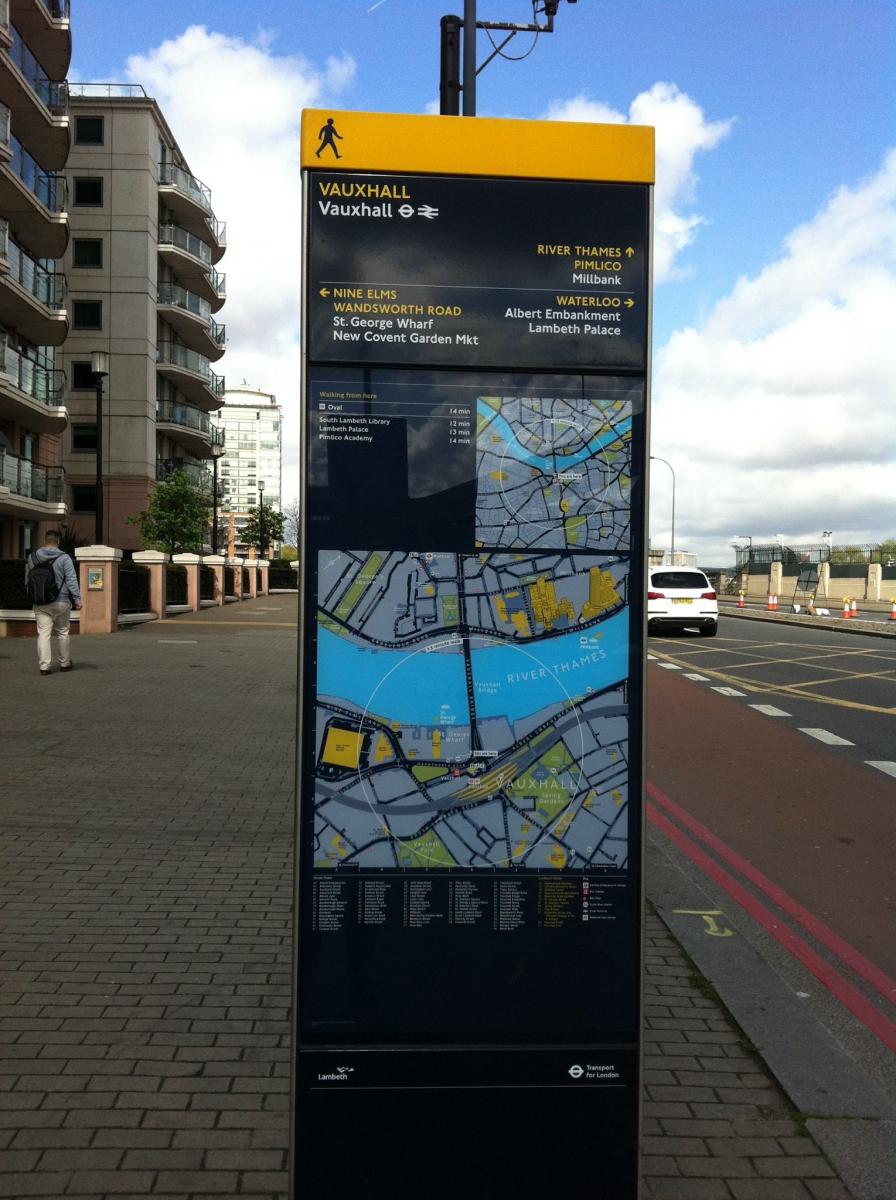 London's Wayfinding Signs
Something as simple as a public toilet is remarkably hard to find, and for older people and others can be the difference between confidently going out or staying in. (I benefited from the wacky and wonderful walking tour called the Loo Tour, where we "plunged into the history of public toilets in Britain"). Sadly many London Boroughs have cut back on providing public toilets because of their cost or have sold them off to private companies that often charge small fees to use. An innovative solution that several London Boroughs, such as Richmond, Lambeth, and the city of London have adopted is the Community Toilet Scheme. Boroughs pay local businesses, often retail shops, a yearly fee to allow the public to use their toilets. Locations are advertised on local signs as well as in business windows.
A Public Toilet in London
London has introduced some shared space streets, such as Exhibition Road in Kensington, that are curbless streets that minimize the demarcations between vehicles and pedestrians. These streets are designed to calm traffic and curb the dominance of the automobile, and change the behavior of all road users. It will be interesting to see how these perform long-term in London, as some aging and disabled advocates worry about their effectiveness in safely separating pedestrians and vehicles.
The Hyde Park Senior Playground is London's first senior playground, a free outdoor facility designed with older people in mind that features low-impact exercise machines designed to improve balance, flexibility, and core strength. It is a way for seniors to remain active while also socializing, and turns the idea that older adults don't want to "play" on its head.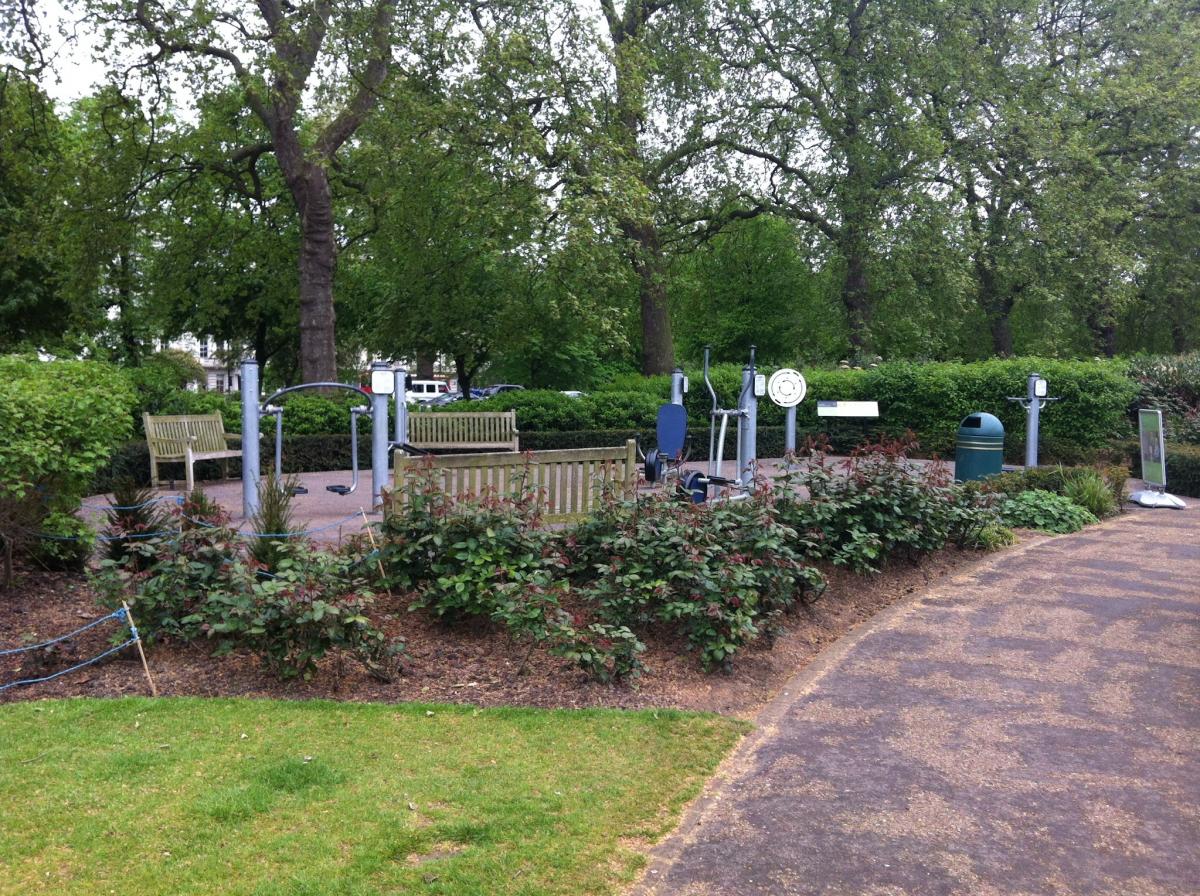 A Senior Playground in Hyde Park
Like many other major cities, London has invested heavily in bike infrastructure, including bike hire and cycle superhighways that segregate bike traffic on main roads. Less well known but debuting in 2016 will be seven "quietways"--a network of well-signed radial and orbital routes following backstreets with less traffic. These will be for less confident cyclists or for those who just want to travel at a gentler pace. They follow tree-lined streets, often passing through parks and by waterways. These routes might attract more older people who otherwise might not choose to cycle, thus changing the culture of cycling in London.
These are just some of the small improvements that collectively make a big impact on older adults. While many challenges remain, there is an awareness and commitment to plan for aging populations in both London and Manchester. I will bring these lessons and ideas home to supplement the excellent work of Age-Friendly Philadelphia and one day an age-friendly region.  
Karin Morris is the manager for the Office of Smart Growth at the Delaware Valley Regional Planning Commission. She is currently traveling in the United Kingdom studying how cities have integrated age-friendly concerns into urban planning and design, specifically in housing, transport, and public spaces. This is the last of several blog posts from Karin.  
The views expressed in GMF publications and commentary are the views of the author alone.