Blog post
Adaptive Reuse Begins with Adaptive Planning: The Virtues of Strategic Opportunism
July 15, 2015
The first reaction to the Navy Yard foreclosure in the 1970s was to oppose it. The city of Philadelphia tried any possible legal and political action to prevent the Navy – and the economic benefits of the associated jobs– from going away. These efforts failed.
Yet today, the Navy Yard is a vibrant and lively place where high-tech research – private, as GlaxoSmithKline's brand new headquarters; public, with Penn State and Carnegie Mellon joining forces on a clean energy campus – meets lifestyle and fashion with the startling adaptation of the Dry Docks area for a new headquarters for Urban Outfitters that communicates to the world the company's branding of creation and design. If twenty years ago the idea of making this distant, southern end of Philadelphia's Broadway into a site that attracts businesses and people, counteracts delocalization and suburbanization, and keeps taxes within city boundaries sounded daring if not crazy, today it is sound reality: more than 11,000 employees and about 145 companies have moved in or are planning to. Of the total 13 million square feet of the area, 6.5 have already been redeveloped. Success.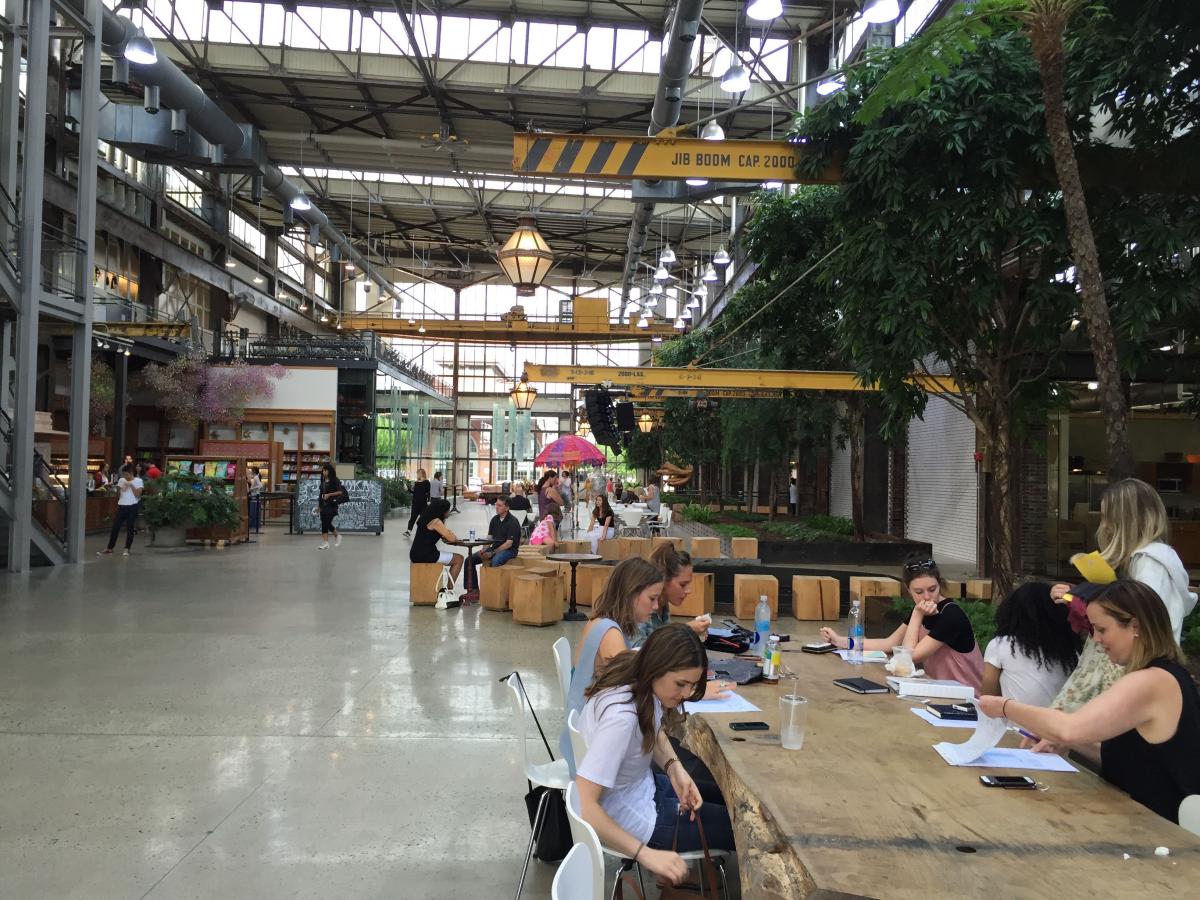 At the Philadelphia Navy Yard
This success results mainly from the capacity to draft a bold but relatively loose vision that can be adapted in time to meet market demand and life and work style changes in order to seize opportunities and avoid false moves. Driving through the area, you meet recently completed areas and buildings, reused historical sheds skillfully adapted for new businesses, set-aside areas that will be developed only as they reach their full potential, sites being prepared for development – building roads, planting trees, opening parks – and you can still see Navy-related industry at work. Will Agate, senior vice president of real estate of PDCI, the private-public partnership steering the process, explains that the 2004 first masterplan release included plans for a marina with high-end housing. But the final 2013 version instead called for a Canal District for new corporate buildings, while the so-called "Historic Core" – the area with the greatest concentration of historic buildings scheduled for reuse – became so attractive that PIDC is now planning to include housing units that target urban loft-lovers and reuse early adaptors. Sitting in the gorgeous cafeteria in the Urban Outfitters Campus, I can see around me who they mean: millennials that no longer desire the suburban American dream, and who would instead probably appreciate the possibility to connect to a less time-consuming and more sustainable way of life, work, and leisure, or to explore new ways of city living.
It is the same breed I meet in Pittsburgh at Bakery Square: urban professionals, passionate makers, young designers, and junior researchers. The original redevelopment scheme drawn in 2007 for the old Nabisco factory on Penn Avenue – as Todd Reidbord,  president of Walnut Capital, the private developer partnering with Pittsburgh's Urban Redevelopment Agency (URA) for Bakery Square, explains during my site visit – was concentrated on the old factory main building and its immediate surroundings. However, the interest of businesses in the project surpassed all expectations, and the site, reopened in 2010 after a LEED renovation, currently hosts a Google campus, a UPMC research center, a techshop, a gym, a hotel, restaurants, coffee shops, and retail. Bakery 2.0 is already under construction, thanks to the acquisition of an abandoned public school on the opposite site of Penn Avenue, that will host the expansion of Google' campus to comprise a total of nearly 3,000 high-quality jobs in the area and a new residential mix of flats and townhouses that complete the urban mix of the area. Moreover, the walkways and road system – designed to maintain soil permeability and water retention – will in the future build a physical connection integrating neighborhoods that have for more than a century been separated by factory walls and train tracks. Together with the impressive transit-oriented development that URA is supporting around the new public transport station of East Liberty, and the myriad of local initiatives and neighborhood activities that burst all along the way, you can bet that soon Penn Avenue will no longer be the invisible limit separating wealthy neighborhoods from poor ones.
Again, at Bakery Square as at the Navy Yard, public and private partners cooperate in pursuing a strategic long-term scheme that they constantly adapt and modify to improve its effectiveness, speed up its building and expand benefits for investors, local communities, and, eventually, the whole city. The intrinsic flexibility of this strategic opportunism is a good lesson for our European planning tradition: too often burdened by a regulatory top-down mentality that considers a change in the plans a vicious infraction of the rules of the game, instead of assuming that plan are tools to change the way things are, and that changing the plan is necessary to make visions real. In an adaptive way.
Pictured above: Bakey Square
Matteo Robiglio is the CEO & senior designer of TRA architecture and a professor at the Politecnico di Torino in Torino, Italy. He is currently traveling through the United States to study the adaptive reuse of industrial buildings and property as an Urban and Regional Policy Fellow. This is the second of several blog posts from Matteo. 
The views expressed in GMF publications and commentary are the views of the author alone.