Blog post
Adaptive Geographies and the Potential of Linear Reuse
August 12, 2015
We all love abandoned factories. Their undeniable charm is the contemporary version of the ruin aesthetics that once led young poets, painters, and architects to explore southern Europe in search of classic beauty. But you will not understand the scale and power of industrial age—and thus of its built legacy and the potential of its reuse--if you do not look at it in geographical terms. And no place is better to experience it than the Monongahela Valley in southwestern Pennsylvania.
It was a suggestion by Don Carter of the Remaking Cities Institute at Carnegie Mellon University that led me to leave the Interstate to reach Pittsburgh from Washington and instead follow the Monongahela River along its downstream trajectory. It is by riding along its meandering course that you can experience the bundle of lines, pipes, wires, rails, channels, bridges, and cranes that made industrial production possible at a previously unknown scale. This infrastructure connected places where resources were extracted to places where workforce was available, places where power was produced to places where it was needed, and places where products were made with places where they could be packed and delivered. This extended over miles of man-made industrial landscape, outscaling nature and permanently reshaping the geography of the region.
And you might wonder if the sheer size of it precludes any possible reuse strategy. In places like Braddock, where the end of the industrial age can be measured by foreclosed lots, boarded buildings, and a population that has declined from 25,000 to 2,500, there might just not be enough people left to reuse the industrial legacy that has been left behind. However, by looking at the larger picture you can quickly become more confident about the future of the region. The networks that made these places may also help revive them--supporting the struggle of people like Braddock's bold mayor to shape a new identity for the city and inject new life in the community.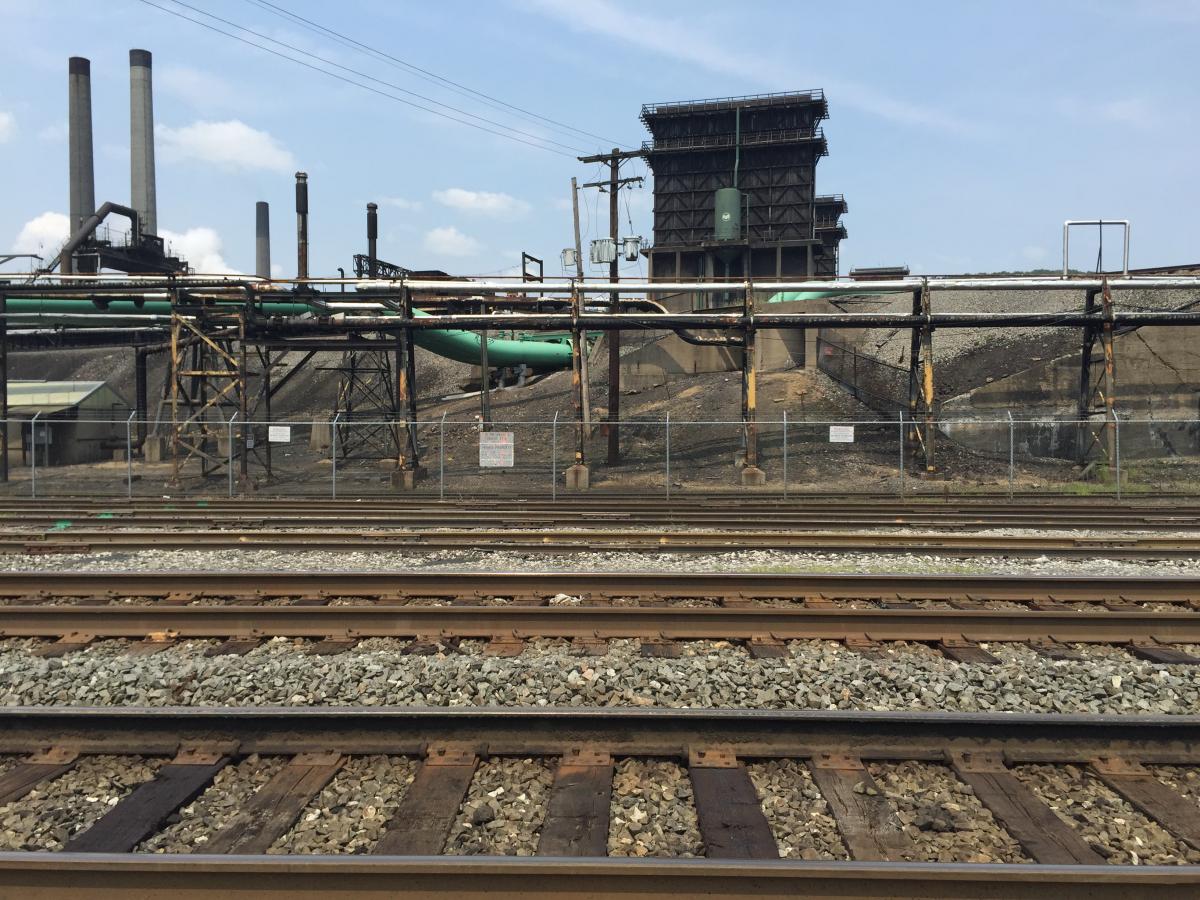 Scene Along the Monongahela 
Reusable places can be connected by reused networks, promoting mobility both for leisure and for daily use. So when you count bikers crossing the Youghiogheny in Ohiopyle over an award-winning pedestrian bridge of the Great Allegheny Passage that was rebuilt over the pillars of the Western Maryland Railway Low Bridge, you are still in an industrial geography but one that has been reused for leisure and tourism. To boot, these networks tend to go through particularly distressed places such as Braddock. The biking path on the former railway is an obvious solution, but it seemed not so obvious only ten years ago before a renewed interest in urban biking, bike sharing, hiking, and short-term holidays.
The 606 trail reusing the Bloomingdale railway line in Chicago is a good example of the full potential of linear infrastructure reuse, turning a former barrier into a chain of carefully landscaped public spaces linked by 2.7 miles of trails that could easily be extended at both sides. Even though it just opened, the 606 is already bursting with users and injecting investment around the surrounding neighborhoods. Here you count bikers, walkers and runners not by tenths, as in Ohiopyle, but by hundreds. Real estate advertising along the trail show that gentrification has softly started, townhouse by townhouse, while restaurants and cafés upgrade and cool bike shops open at entry points.
Along the 606 in Chicago
The 606 in Chicago is representative of a new kind of mobility infrastructure and a new kind of public space called the linear adaptive reuse park. The celebrated New York City High Line, where you count users and tourists by thousands per day, is perhaps the most famous example of this type of adaptive reuse, and it might be the first original contribution of the 21st century to the toolbox of good city making.
These developments are a possible clue for remaking "rusty" places like the Monongahela Valley. What if long distance trails were connected to local networks of public spaces, walkways and bike lanes, the same way long distance railways that were once connected to industrial sites by local junctions and branches like the Bloomingdale? And what if on some of these lines light public transport on rails was added, carrying people instead of freight, making long distance mobility even more effective? European and U.S. industrial cities have a lot to learn from each other's' experiences, and have to be as daring as the industrial age was in reshaping large-scale geographies. It would prove eventually to be a winning bet. In any of the mentioned examples and in many others that I can recall, the response of users to reuse projects is often beyond even the most optimistic expectation, proving that people are craving for new ways of experiencing cities and their landscapes.
Matteo Robiglio is the CEO & senior designer of TRA architecture and a professor at the Politecnico di Torino in Torino, Italy. He is currently traveling through the United States to study the adaptive reuse of industrial buildings and property as an Urban and Regional Policy Fellow. This is the third of several blog posts from Matteo. 
The views expressed in GMF publications and commentary are the views of the author alone.