Blog post
In Austin, Planning for "Complete" Communities
November 12, 2015
Austin, Texas is one of the fastest growing city in the United States. Between 2010 and 2015 alone, more than 100,000 people moved to the capital of Texas. The city is well known for being a liberal city and is especially popular among young people due to its large university, its music and art scene, and its many attractive job opportunities.
For a long time, the city was - in comparison to many other metropolitan areas in the U.S. - an affordable place to live. But as a result of rapid population growth because of the perceived desirability of the city, housing costs have rapidly increased. The pressure is still lower than in San Francisco, but a displacement of lower-income groups in central neighborhoods is nevertheless of concern. Beside a concern of a lack of affordable housing, connectivity, traffic, and transportation costs were seen by many interviewees as a major issue for Austin. This has translated into an intense focus on transportation issues as a strategy to improve quality of life.
One way to steer the city's future development is the Imagine Austin Plan, a comprehensive plan for the city. Adopted in 2012, it aims to create complete communities that are "natural, sustainable, prosperous, livable, mobile and inter-connected, educated, creative, " and that value and respect all inhabitants. The plan includes six core principles for actions like compact and connected growth, housing affordability, health, integration of nature, prosperity for all, and creativity.
The term complete community describes "areas that provide amenities, transportation, services, and opportunities that fulfill all residents' material, social, and economic needs" (Imagine Austin Plan, A-17). This includes, for example, a variety of housing types, affordable housing, transportation choices, and a growth concept map.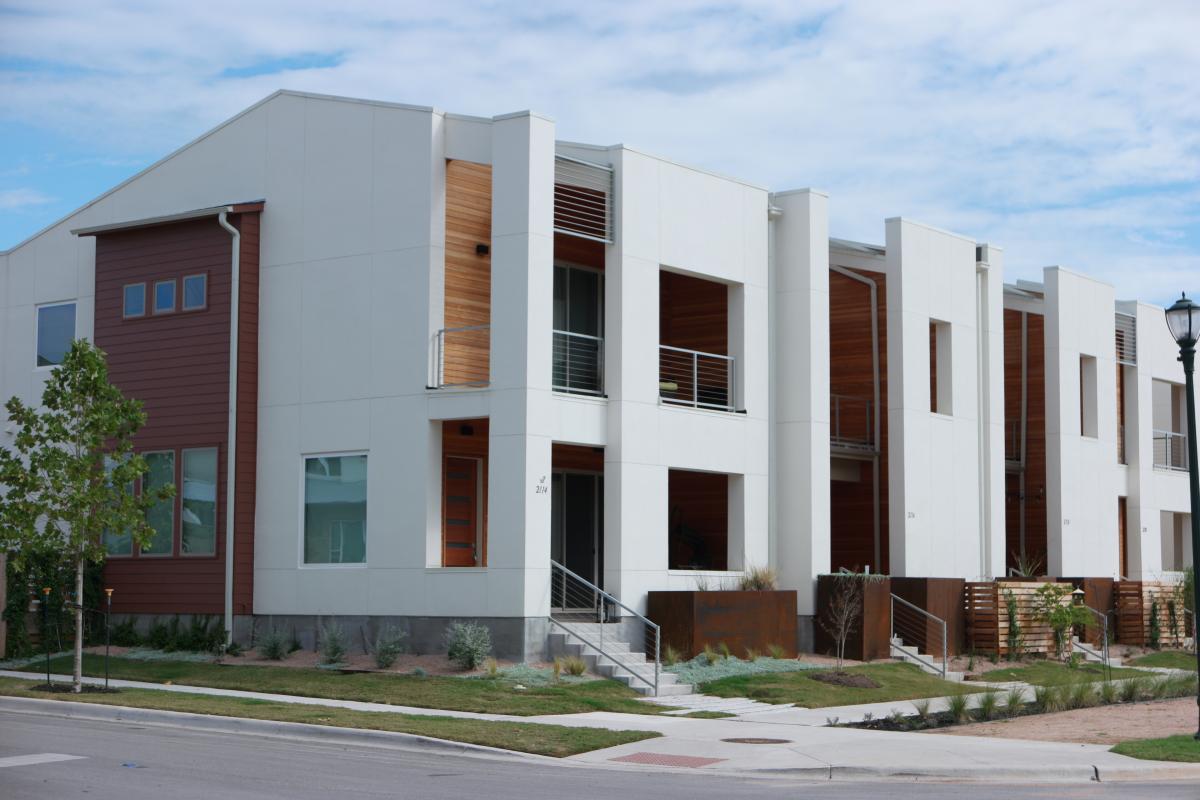 Scenes from the Muller Development, a "complete" community
To build complete communities, Austin promotes, among others, complete streets that are safe and friendly to a variety of transportation options. Ways of Implementation are traffic calming, street trees, wide sidewalks, bike lanes, safe streets for people of all ages or more transportation options. (Imagine Austin Plan). In 2010, the city's first commuter rail, Capital MetroRail, opened. Since 2013, a citywide bike-rental system has started that provides reduced fares for lower-income residents (http://austinbcycle.com).
Furthermore, transit-oriented development (TOD) can be seen as a step to build complete communities. TOD call for mixed-use residential or commercial areas which are built close to commuter rail stations and are mostly of relatively high density. Around 160 affordable housing units have been built in Austin within transit-oriented development (see this report by crossroads housing by Housing works Austin). Some critique was expressed, as TOD is often focused on smaller housing units that do not necessarily serve the needs of families. The preservation and extension of affordable housing in all parts of Austin were seen as an essential part of the complete community idea. Instruments used in Austin to provide more affordable housing are, among others, a density bonus program and affordable housing bonds.
What has been the outcome of all of these efforts? One example for a new planned and built complete community, and perhaps a model for further developments in Austin, is the award-winning Mueller redevelopment that was located on the site of a former airport. It is located in East Austin, a traditionally lower-to-middle income neighborhood that is vulnerable to the gentrification processes. The redevelopment of the former airport includes a mixed-used and mixed-income development with a variety of housing types and objectives that include fiscal responsibility, sustainability, economic development, diversity, and affordability, East Austin revitalization, and compatibility with its surrounding neighborhoods (muelleraustin.com). The project is implemented by a public-private partnership and is based on new urbanism principles. Around 25 percent of the housing units have to be affordable and are built in the same way as market rate units, thus making them barely differentialable from each other.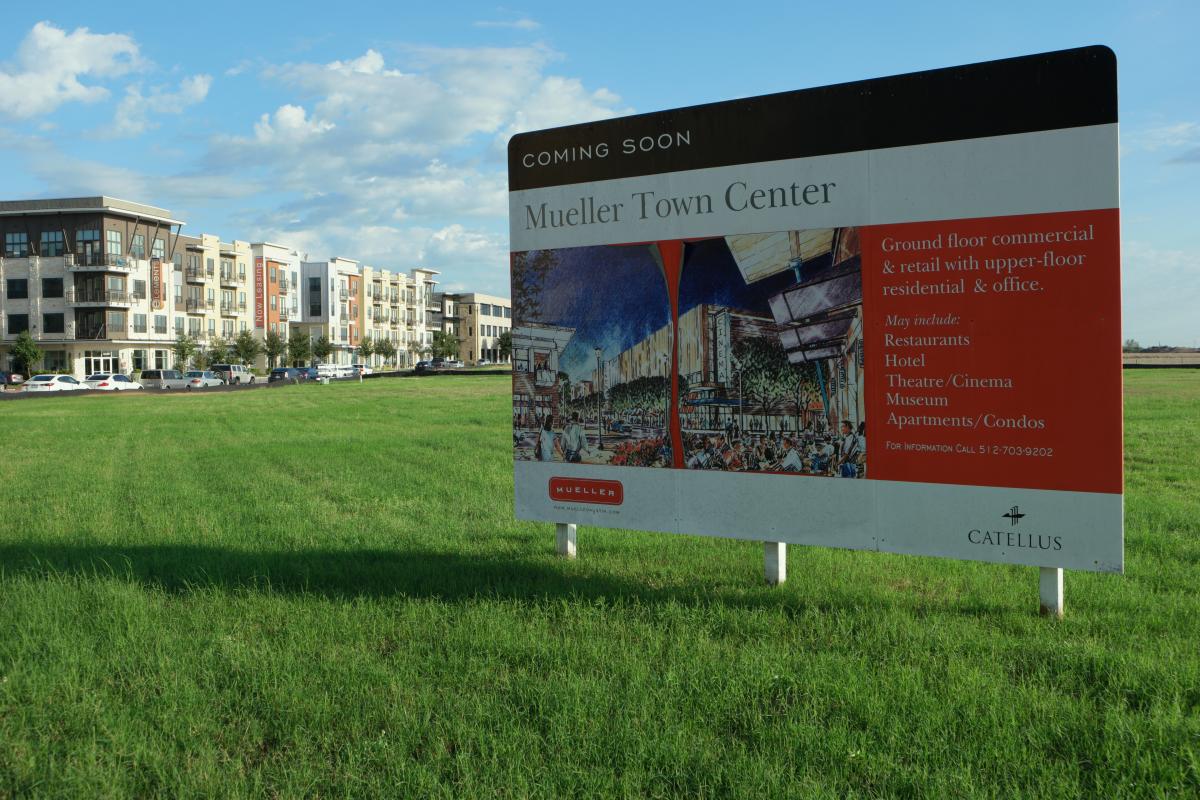 Scenes from the Muller Development, a "complete" community
With the Mueller redevelopment project the city is looking for new solutions that are transferable to other parts of the city. The project can also work as an inspiration for other cities working on revitalization of brownfields in central and changing neighborhoods.
Andrea Jonas, planner for strategic urban development with the city of Cologne, Germany, is currently studying integrated planning approaches in the United States that focus on socially and economically diverse populations. Traveling to Austin and San Francisco, she will eventually integrate some of her findings into a new strategic plan for Cologne. This is the third of several blog posts from Jonas. 
The views expressed in GMF publications and commentary are the views of the author alone.