Blog post
Integrated Planning Through Participation
November 17, 2015
 "Many citizens do not want to see any change in their neighborhood!"
This is an expression I often heard in my interviews with planners and experts discussing citizen involvement. Some neighborhood organizations I talked with preferred to speak in terms of the preservation of their neighborhood. Higher residential density and infill in existing neighborhoods is a major strategy by which many growing cities can accommodate the housing needs of an increasing population, but this has been met with criticisim in some neighborhoods.
Often citizens involved in planning processes do not reflect the diversity - social and economic - that most cities have. How can cities integrate a diverse population into discussions about the future development of a city? The Imagine Austin Comprehensive Plan gives plenty suggestions to answer that question.
Around 18,000 citizens have been involved in the development of the city's comprehensive plan. In addition, different tools and strategies have been chosen for integrating such an impressive large number of residents. First, a public participation plan was created. Therefore, around 70 residents were selected by specific criteria to ensure diversity among the participants. In a first workshop with these residents, principles for citizens involvement were developed. An important goal of the planning process was the integration of a diverse population into the planning process. To reach this goal, the demographic characteristics of participants were closely monitored.
 The kick-off meeting was intended to be an informative and fun event. To reflect the city's spirit, live music by local acts and food trucks were chosen to engage a diverse population to participate in the meeting. One part of working closely with the community was a citizen's advisory task force: the 38-member large group of residents was appointed by the city council and met every month with city staff and consultants.
 During the first of four community forums, participants were asked to answer three questions:
What are Austin's strengths?
What are the challenges?
How can the city be improved by 2039?
Another innovative method of involving citizens is the "meeting-in-a-box" tool: to enable citizens to meet at a place that is most convenient for them, packages with related materials and brochures were provided to be picked up or to be download. Residents can have a discussion without city staff in a protected area. More than 400 meetings-in-a-box were made during the process.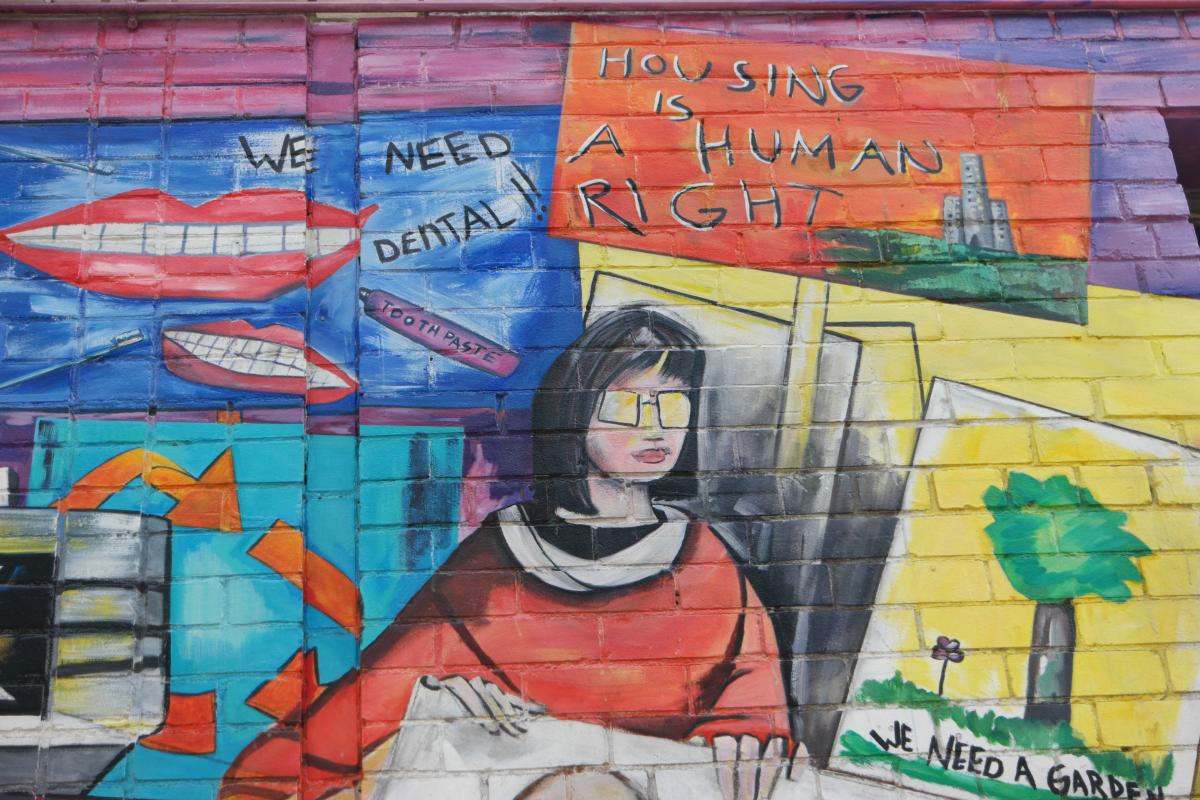 A Mural in San Francisco
With the tool of a "traveling team," city staff met with citizens at popular places like festivals, farmers markets, and sport events around Austin. In all, discussions about urban development and solutions for Austin's challenges were discussed at more than 100 community events. In addition, the city held more than 20 public meetings and 5 rounds of online and paper surveys to involve citizens in the development of the city's new comprehensive plan. Monthly meetings with the planning commission and regular meetings with the city council integrated local decision makers.
Part of the plan implementation were walking tours through selected neighborhoods. With these tours, city staff of different departments met with residents in their neighborhood and talked about challenges and possible improvements in their neighborhood. The carefully selected neighborhoods were examples for different neighborhood types in Austin.
Even if the development process of the Imagine Austin Plan was seen by most interviewees as very successful, the participation of so many citizens was also an education process for citizens about comprehensive planning and about what such a city wide plan can do and can't do.
More ideas for integrating a diverse population, especially citizens who are traditionally underrepresented in planning processes include translation services, bus transfers to meetings, outreach to community leaders, food, childcare-services, joining neighborhoods events or meetings, and providing incentives like vouchers.
The lessons learned in Austin and from my preceiding research in San Francisco during the last four weeks brought very helpful ideas and suggestions for my work in Germany - not only what we can do for more diverse and inclusive cities, but also how we can do it.
Andrea Jonas, planner for strategic urban development with the city of Cologne, Germany, is currently studying integrated planning approaches in the United States that focus on socially and economically diverse populations. Traveling to Austin and San Francisco, she will eventually integrate some of her findings into a new strategic plan for Cologne. This is the fourth of several blog posts from Jonas.
The views expressed in GMF publications and commentary are the views of the author alone.