Blog post
U.S. Foreign Policy Monitor: What Allies and Partners Need to Know - February 12
February 12, 2021
Welcome to the U.S. Foreign Policy Monitor where every week we track the "who," "what," and "so what" for the new U.S. administration and Congress. This installment of the Monitor looks at President Biden's first foreign policy address, U.S.-Russia relations, and two key appointments to the White House and Pentagon. Sign up here to receive the newsletter every Friday in your inbox.
The Topline
Last Thursday, President Biden gave his first foreign policy address at the U.S. Department of State. Biden's speech affirmed the centrality of allies, characterizing his immediate post-inauguration efforts. Biden said he planned to reform "the habits of cooperation and rebuilding the muscle of democratic alliances that have atrophied over the past few years of neglect and, I would argue, abuse."
President Biden laid out several central priorities in the early days of his administration, including addressing Russia's elections interference, cyberattacks, and human rights abuses. Biden also underscored the need to confront China's challenge to U.S. interests, calling Beijing "our most serious competitor."
Biden also highlighted the centrality of climate policy and multilateral frameworks to tackle global problems (including climate and pandemics). He announced a Global Posture Review of U.S. forces led by the Pentagon, which freezes the planned withdrawal of U.S. forces from Germany. He also ended U.S. support for offensive operations in Yemen.
You can read the speech in its entirety here, or watch President Biden deliver his remarks. National Security Advisor Jake Sullivan also previewed the speech during a White House Daily Briefing.
In Focus: Russia
For this week's "In Focus," GMF Non-resident Fellow Michael Kimmage discusses U.S-Russia relations in the new Biden administration in this 20-minute video. The conversation includes Kimmage's thoughts on U.S. strategic priorities, engagement with allies and partners, and the jailing of opposition figure Alexey Navalny, among others.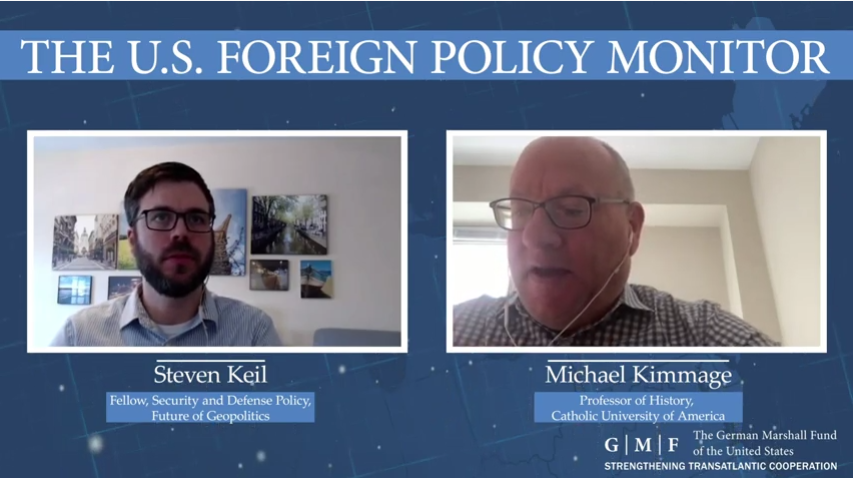 Who to Watch
Jon Finer currently serves as the White House deputy national security advisor. Prior to joining the Biden administration, Finer oversaw political risk and public policy at Warburg Pincus, a New York-based private equity firm, and worked as a senior fellow at the Council on Foreign Relations. He joined the Obama administration as a White House Fellow, and then took on a series of jobs, including senior advisor to then-Deputy National Security Advisor Antony Blinken, special advisor and speechwriter to then-Vice President Biden, and finally, chief of staff and director of policy planning at the U.S. Department of State. Finer spent his early career working as a foreign and national correspondent at The Washington Post, where he covered the war in Iraq, as well as conflicts in Gaza, Georgia, and Lebanon. Finer received his law degree from Yale University and his M.A. from Oxford, where he was a Rhodes Scholar.
Shortly before joining the Biden administration, Finer published this report about revitalizing the State Department and America's use of diplomacy.
Young professionals should watch this interview with Finer about his career as a journalist and policymaker.
Finer provides an inside perspective on the Obama administration's approach to Russia in this Frontline interview.
Mara Karlin is acting assistant secretary of defense for international security affairs. A defense expert, Karlin previously served as associate professor and director of the strategic studies program at the Johns Hopkins School of Advanced International Studies. Prior to working in academia, Karlin gained extensive national security experience by serving under five U.S. secretaries of defense and working on a range of policy topics—from defense planning to regional issues in the Middle East, Europe, and Asia. During the Obama administration, she served as deputy assistant secretary of defense for strategy and force development. Karlin received her M.A. and Ph.D. from Johns Hopkins SAIS.
To get an idea of how Karlin might think about U.S. policy in the Middle East, check out this article she co-wrote with Tamara Cofman Wittes in Foreign Affairs.
As diplomats figure out the mechanics of negotiating a new nuclear deal with Iran, the Pentagon continues to plan contingencies in the case of escalation. Read Karlin's 2020 testimony on the subject here.
An expert on U.S. foreign security assistance, Karlin authored this book on the topic.
What to Read
PEOPLE
Lloyd Austin takes first steps to repair a battered Pentagon, Lara Seligman, Politico.
"The new secretary has installed a slate of well-respected national security professionals in his front office who are working to restore order to the Pentagon's policymaking process. Those staffers are already making changes to ensure that civilian voices are included in policy meetings."
Blinken says Capitol insurrection hurt US standing as defender of democracy, Nicole Gaouette and Jennifer Hansler, CNN
"Secretary of State Antony Blinken told CNN's Wolf Blitzer that the insurrection attempt on the Capitol by President Donald Trump's followers has hurt the United States' ability to speak up for democracy and human rights, though he remains optimistic about American institutions."
'Vampires have more heart than Ted Cruz': Tanden atones for past tweets, Caitlin Emma, Politico.
"Republicans spent about as much time at the onset of the confirmation hearing reprimanding Tanden [nominated to head Office of Management and Budget] for her social media use as they did posing questions about policy, including regulatory reform and border security. Democrats have labeled Republicans hypocrites for rebuking Tanden..."
Meet President Biden's legislative affairs chief, Brett Samuels, The Hill.
"Terrell, a Capitol Hill veteran who has worked closely with Biden for years, inherits a treacherous political environment running the office tasked with coordinating the president's agenda with members of Congress [….] Those who worked with Terrell in the Obama administration acknowledge she faces an uphill battle to win over Republicans during legislative talks, as Congress has become more partisan over the past several years."
Biden move to replace U.S. attorneys looms, Josh Gerstein, Politico.
"The Biden administration is preparing to remove nearly all the remaining federal prosecutors former President Donald Trump appointed across the country, while making accommodations to allow a couple handling highly sensitive investigations to continue with their work, a senior Justice Department official said Monday night."
POLICY
Biden Has a Narrow Window to Restore U.S. Credibility, Danielle L. Lupton, Foreign Affairs.
"[Biden] will have to clearly communicate his policy objectives on important international issues and then consistently work to advance them. And he will need to avoid early missteps, knowing that other world leaders are harsh judges of new presidents and have long memories."
Short of War, Kevin Rudd, Foreign Affairs.
"No matter what strategies the two sides pursue or what events unfold, the tension between the United States and China will grow, and competition will intensify; it is inevitable. War, however, is not."
U.S. Must Undo Damage to Nuclear Deal, Iran's foreign minister says, David Cohen, Politico.
"Iran's foreign minister said on Sunday that if the U.S. wanted to restore the terms of the nuclear agreement it exited, the onus was on the Biden administration to live up to the deal."
The Case Against Foreign Policy Solutionism, Richard Fontaine, Foreign Affairs.
"….Washington should embrace issue management, which is unsatisfying yet productive. Small steps in the right direction make a difference. For the team now assuming positions of responsibility, some of the chief foreign policy dilemmas facing the United States fall squarely in the 'manage rather than solve' category."
Bureaucratizing to Fight Extremism in the Military, Doyle Hodges, War on the Rocks.
"Violent domestic extremism is a long-term problem, and extremism in the military could have a devastating effect on public trust in the armed forces. The military organizational response needs to acknowledge this and address it with one of the most potent tools in the military arsenal: bureaucracy."
What's Happening @GMF
The views expressed in GMF publications and commentary are the views of the author alone.