Past Event
America and Europe on the 70th Anniversary of the Marshall Plan
Paris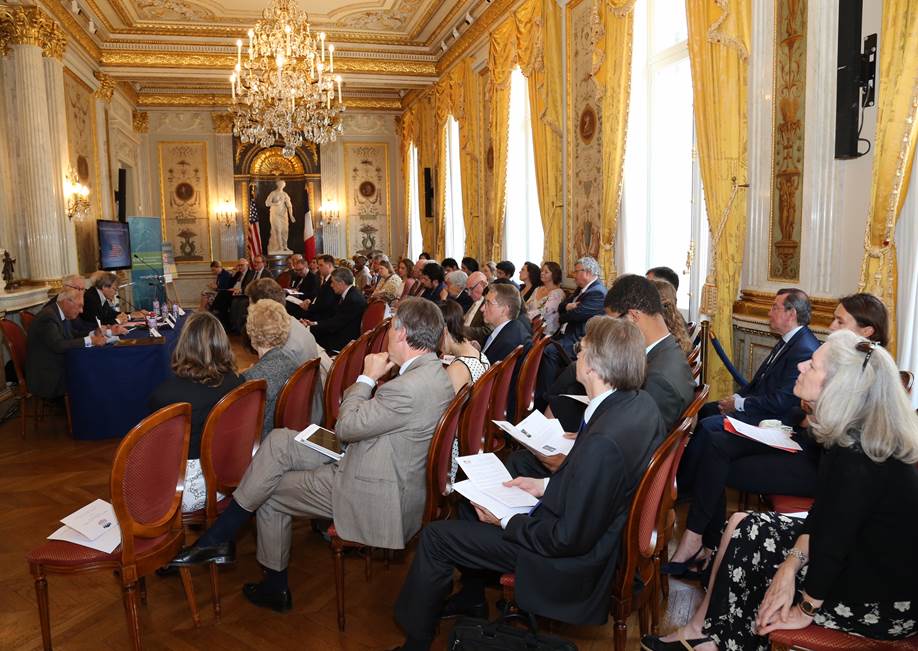 On June 1st, The German Marshall Fund of the United States, in partnership with the U.S. Embassy in France, organized a seminar on "America and Europe on the 70th Anniversary of the Marshall Plan". The first discussion dealt with the context in which the Marshall Plan was designed and its strategic objectives for the future of the transatlantic relationship.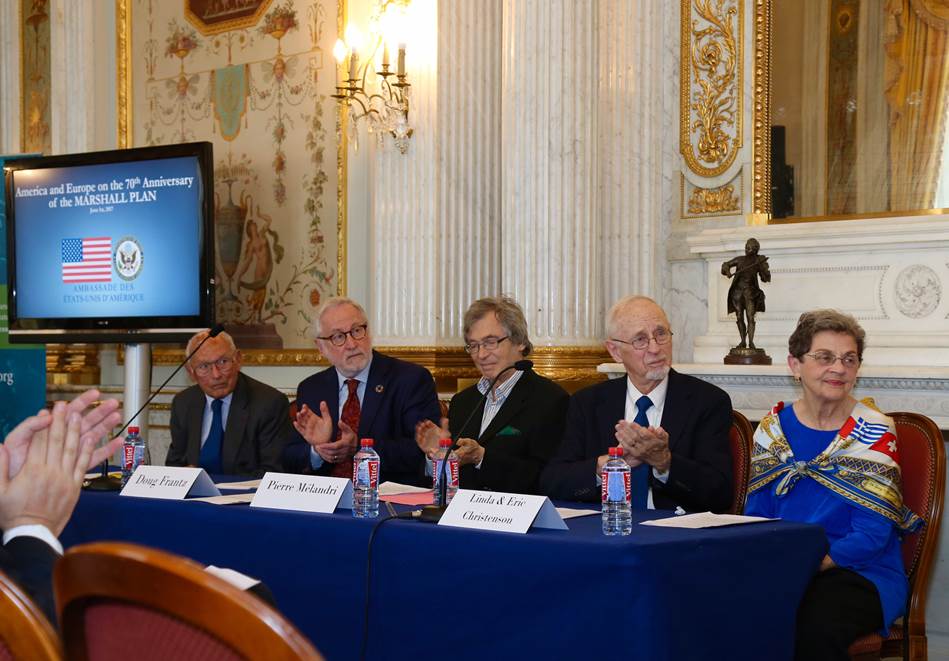 From left, James Gordon Lowenstein, former American ambassador; Doug Frantz, Deputy Secretary General at the OECD; Pierre Mélandri, Historian and Professor at Sciences Po Paris; Linda and Eric Christenson, Co-Executive Producers of the documentary "The Marshall Plan: Against the Odds."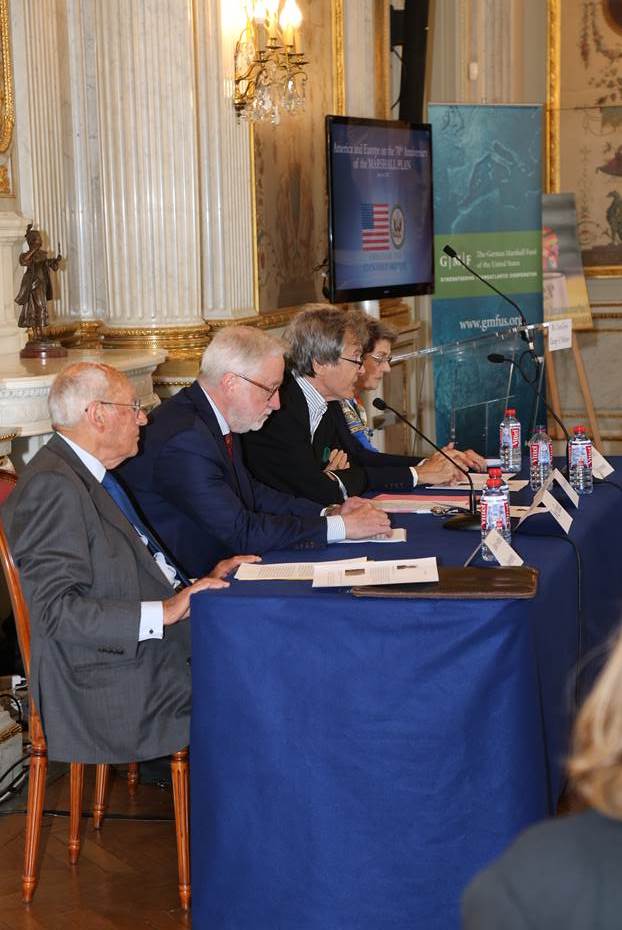 Doug Frantz, Deputy Secretary General at the OECD, commented on how the Marshall Plan transformed Europe's economies and led to the creation of the OECD.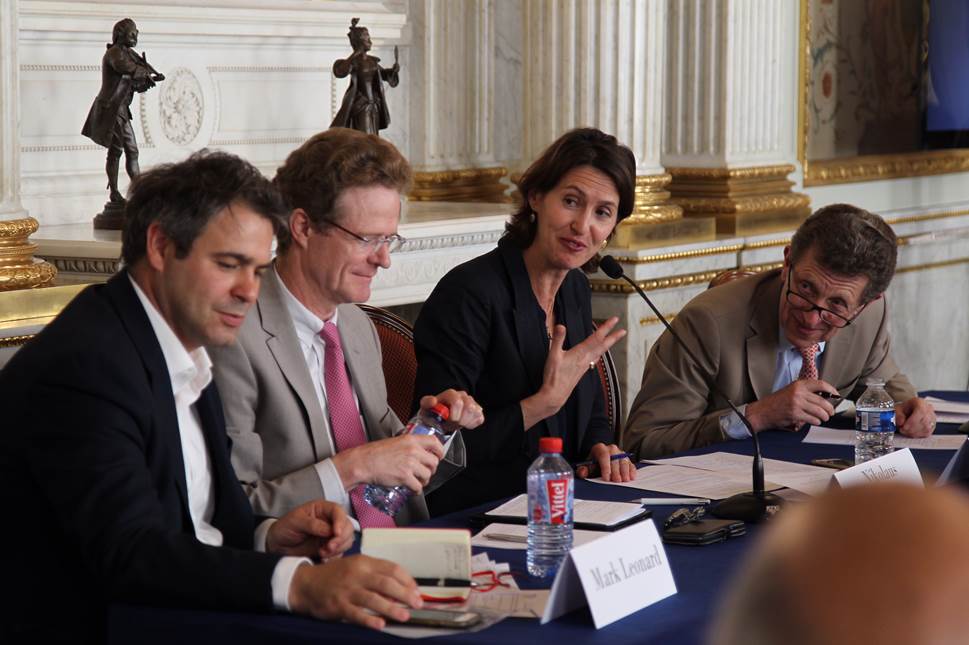 From the left, Mark Leonard, co-founder and Director of the European Council on Foreign Relations (ECFR); Nikolaus Meyer-Landrut, Ambassador of the Federal Republic of Germany in France; Elvire Fabry, Senior Research Fellow at Notre Europe – Jacques Delors Institute; Pierre Buhler, Senior Advisor to the French Policy Planning Staff and former Ambassador of France to Poland.
The speakers discussed the political and economic dynamics in Europe post-Brexit referendum and post-French and German elections. Both Ambassador Meyer-Landrut and Pierre Buhler praised the relations between Paris and Berlin, underlying the necessity of their cooperation for the future of the European project. In particular,  Pierre Buhler remarked the difference between "strengthening and deepening European policy cooperation", which is a priority for France, and "strengthening the European institutions."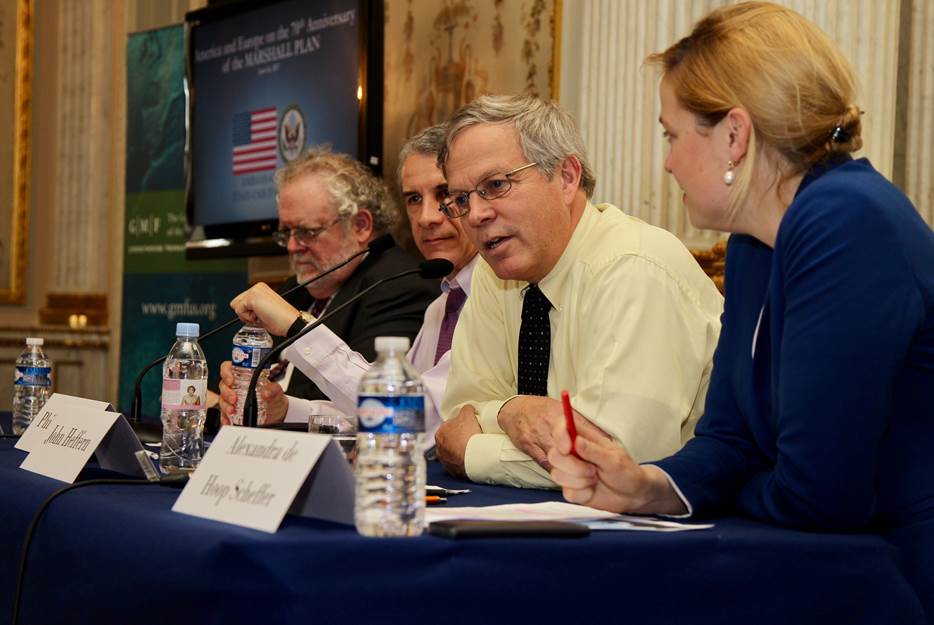 From the left, Walter Russell Mead, Distinguished Fellow at Hudson Institute, James Clarkes Chace Professor of Foreign Affairs and Humanities at bard College, and Editor-at-Large of The American Interest; Philip Frayne, Minister-Counselor for Public Affairs at the U.S. Embassy in France; John Heffern, Acting Assistant Secretary of State for European Affairs; Alexandra de Hoop Scheffer, Senior Transatlantic Fellow and Director of the Paris office of The German Marshall Fund of the United States (GMF).
This session discussed how the new American administration views the transatlantic relationship.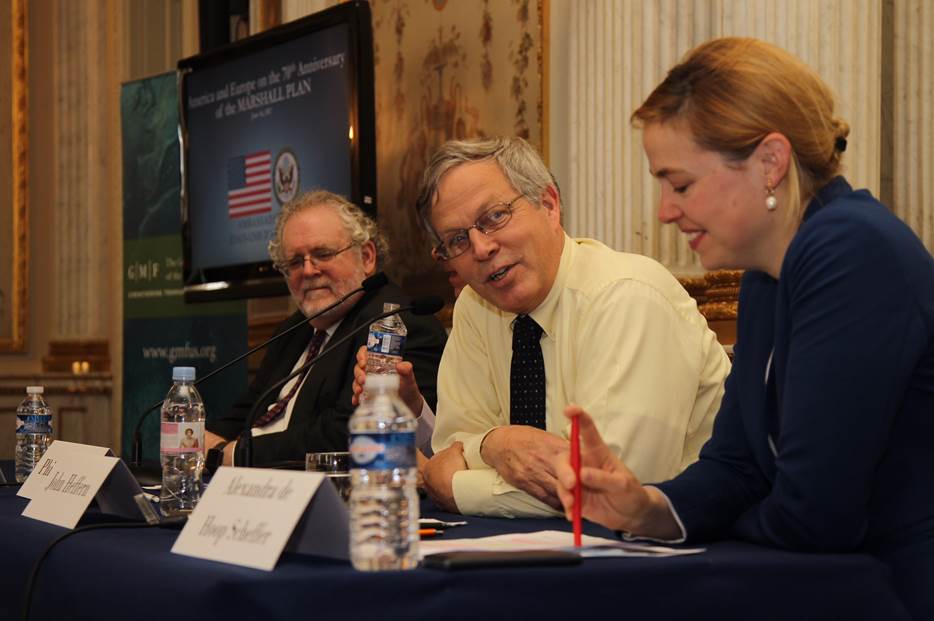 Walter R. Mead : "The Marshall Plan was a special moment in history, where the West learnt how to use the resources of industrial societies to rebuild industrial societies. 70 years later, the political and geopolitical situation has changed: the problems at home are more acute and destroying international cooperation and the EU faces persisting, long-lasting challenges."
"In a new geopolitical era, is the EU prepared to take the steps that would make it capable of becoming a strategic actor? Will the EU take seriously the geopolitical situation in the East and the South? The EU, more than the U.S., is the object of Russia's revisionist record and should work more closely together on how to define and manage these challenges."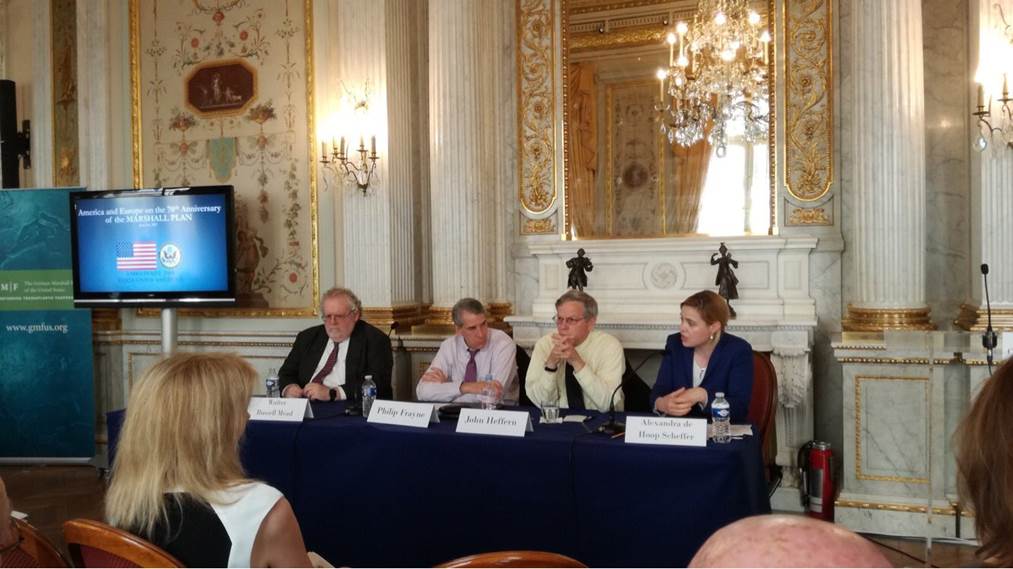 Alexandra de Hoop Scheffer: "70 years after the Marshall Plan, it is obvious that the U.S. is less interested in leading globally."
"We have entered a new transactional era, with the U.S. wanting to revise its traditional alliances and international commitments with the aim of renegotiating them in favor of U.S. interests, while the EU is also seeking to cut deals with other powers mostly to contain threats outside its borders. Transactionalism means less trust, less consultation among allies and less cooperation."
"Trump's vision of the world is in fact at odds with the challenges of the 21st century. From counterterrorism and migration to nuclear proliferation and trade policy, the U.S. administration will need to work with other countries to accomplish its agenda, and in particular with its European allies. The decision to withdraw U.S. leadership from the climate agreement will render cooperation on all these issues more difficult. The EU needs to decide what aspects of the post-WWII international order it absolutely wants to preserve and take the lead on climate change, nuclear proliferation, trade cooperation and sustainable development, while increasing military capabilities."
Director of Research, Transatlantic Security and Director of the Paris Office