Past Event
Leadership Perspectives: The Future of Turkish Democracy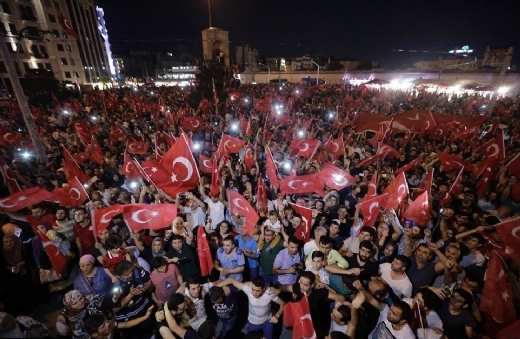 In the wake of a failed coup attempt, the Turkish government has suspended more than 50,000 public servants and has detained more than 5,000. Public squares in major cities are seeing pro-government rallies in show of defiance or perhaps, as signs of continued volatility. With Turkey being a major ally in the Middle East and a destination of much capital flow from Europe and the United States, the fourth iteration of GMF Leadership Perspectives will look at the future of Turkish democracy on August 3, featuring our Ankara office director Özgür Ünlühisarcıklı. To join, please register your interest below, and we will send you the dial in instructions and add you to a Whatsapp group that will allow you to pose questions. Please make sure that the cell phone number you provide in the registration is for the device on which you will have your Whatsapp installed.
Özgür Ünlühisarcıklı is the director of GMF's office in Ankara, Turkey. Prior to joining GMF, he was the manager of the Resource Development Department of the Educational Volunteers Foundation of Turkey. Previously, Ünlühisarcıklı worked as the director of the ARI Movement, a Turkish NGO promoting participatory democracy, and as a consultant at AB Consulting and Investment Services. After graduating from the Robert College (Istanbul), Ünlühisarcıklı received his bachelor's degree in business administration from Marmara University and his master's degree from Koç University. He speaks fluent English in addition to his native Turkish.
Exact time of call will be sent to you after registeration. 
---
GMF Leadership Perspectives help the constituency of more than 3,000 decision-makers to inform themselves of emerging trends that have an impact on transatlantic relations. They feature known practitioners, last an hour, and use instant messaging to shape content. GMF Leadership Perspectives also leverage technology to provide participants with an online platform to share additional insights and explore opportunities for transatlantic collaboration. They are exclusive to alumni of GMF leadership programs, namely the Marshall Memorial Fellowship, Manfred Worner Seminar, Transatlantic Inclusive Leaders Network, APSA Congressional Fellowship, and Asmus Policy Entrepreneurs Fellowship.
GMF Leadership Perspectives are made possible thanks to the generous support of 
GMF Alumni Leadership Council
. Thank you for considering being a member.
Deputy Director, Leadership Programs