Past Event
Mission Critical: Inclusive Leadership for the Security Sector
June 18, 2019
to
June 20, 2019
Berlin
The fifth edition of Mission Critical: Inclusive Leadership for the Security Sector will accelerate the transfer of knowledge among security professionals in Berlin, Germany, from June 18 to 20, 2019. Rapid demographic change and emerging security challenges make it essential for security organizations on both sides of the Atlantic to strengthen diversity and inclusion expertise in order to succeed in our missions. Mission Critical provides a leadership development and exchange opportunity for key personnel and stakeholders to gain new strategies for diversity and inclusion in security contexts. Formats include VIP keynotes, interactive dialogues, and break-out working groups. Please see the thematic agenda here, with speaker highlights forthcoming.
As a key focus area of GMF's commitment to advancing inclusive leadership, Mission Critical will convene 100 active participants from Europe, the United States, Canada, Australia, and New Zealand, representing Ministries of Defense, Interior and Foreign Affairs, Armed Forces, Law Enforcement and Intelligence Agencies, the Private and Non-Profit sectors.
Participants are asked to make travel and hotel arrangements independently. We recommend reserving your room at the Arcotel John F. where we have secured a room block, valid until April 8.
For more information, please reach out to Lora Jane Berg at LJBerg@gmfus.org.
Read the welcome message by Stéphane Dion, Ambassador of Canada to Germany and Special Envoy of the Prime Minister to the European Union and Europe here.
Mission Critical Reports:
2018 | 2017 | 2015 | 2013
Mission Critical Program Book:
2017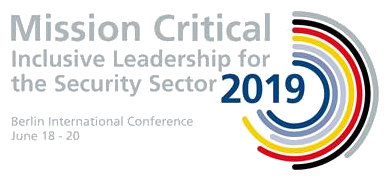 With special thanks to The Germany Minstry of Defense
Organized by:

In partnership with: