Past Event
Second METROS Workshop Explores Entrepreneurship and Partnerships
February 25, 2015
to
February 26, 2015
Genoa, Italy
From February 25-26, 2015, in Genoa, Italy, the Urban and Regional Policy Program at GMF held its second workshop for its southern European cities network initiative, METROS (Metropolitan Economic Transformation and Regional Organizational Structures). METROS is a peer learning initiative that explores strategies for strengthening multi-sector collaboration to manage the political, economic, and social transformation facing metropolitan regions in southern Europe. Programming focused on two levels of policy learning and peer exchange that drew on transatlantic best practices. Public and private sector leaders from the four network cities of Turin and Genoa, Italy, Bilbao, Spain, and Thessaloniki, Greece, came together for two days of intensive peer-to-peer learning and problem solving around the policy issue of entrepreneurship and partnership building for regional economic development.
All four city delegations engaged in high-level dialogue surrounding the challenges, opportunities, and benefits of creating successful partnerships within their regions. City delegations started by identifying what characteristics helped to promote and foster partnerships.  Several characteristics highlighted throughout the dialogues were:  a strong commitment to the project, global thinking and framing projects in a global context, inclusivity of all members of the partnership, meeting the goals of the partners, and adaptability and flexibility during project implementation.
Participants discussed entrepreneurship in detail, including what it meant to their city and where their city was in terms of supporting an entrepreneurial environment. Some of the suggestions provided by participants included addressing the cultural dynamics that are holding the city back, creating a positive environment of risk where entrepreneurs can fail but start their process again, and enlarging market opportunities to entrepreneurs by thinking globally through connections and partnerships.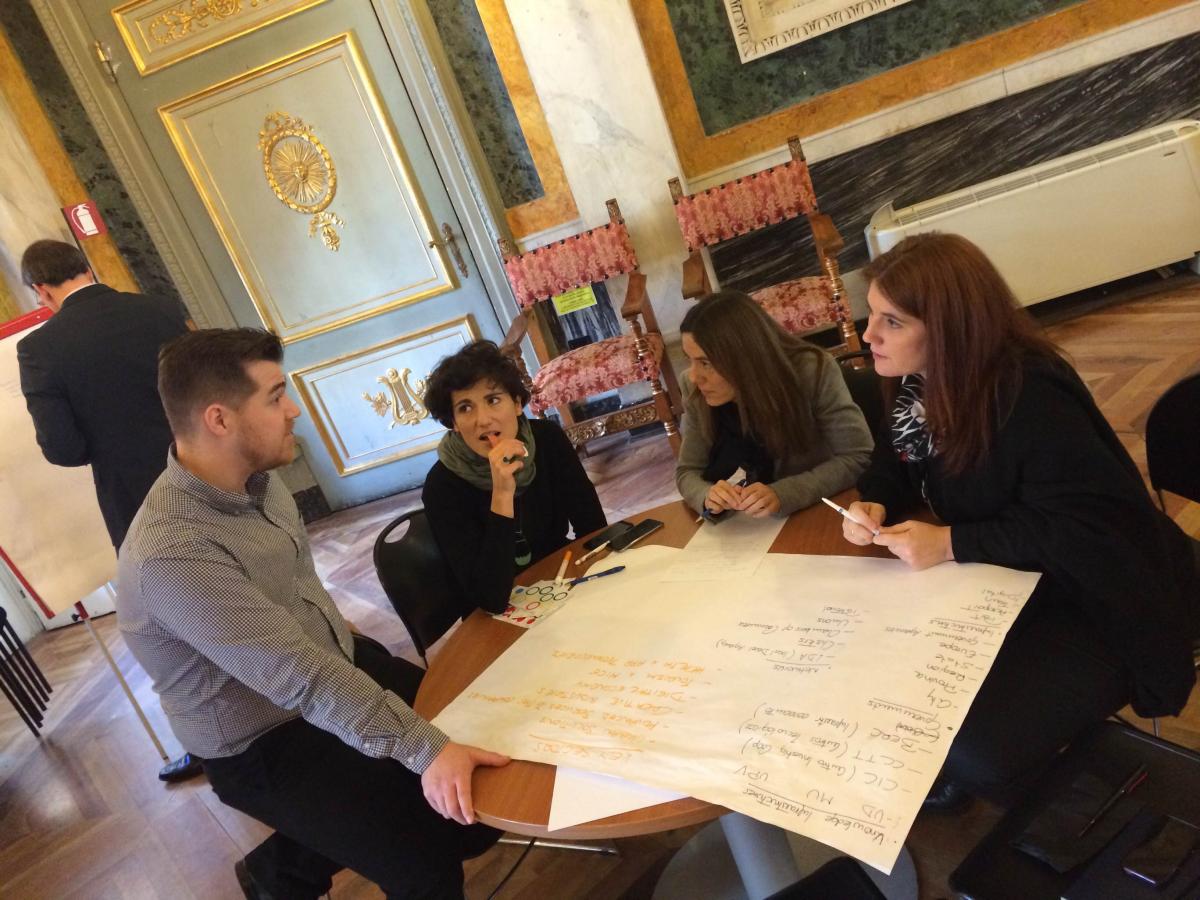 GMF hosted two leading American entrepreneurship experts to provide thought leadership and tool building presentation sessions to the four city delegations during the second half of the workshop session. David Zipper, managing director at 1776 Ventures in Washington D.C., encouraged workshop participants to think about whether their city/region wanted to support entrepreneurialism or be directly involved in developing this economic sector. He spoke to the importance of creating a private sector economic development strategy and the importance of using a central hub to leverage the core strengths of entrepreneurs and start-ups.
To help network cities see how each of the themes builds a cohesive strategy for regional economic development, Mike Lake, president and CEO of Leading Cities in Boston, MA, spoke about the idea of magnetic stories. Lake explained the importance for regions to have a story to tell in order to target certain stakeholders to create partnerships in a region. City delegations worked together to think through how they wanted their regions to be presented in a global context. Creating a story relies heavily on stakeholder engagement, which helps to garner buy-in for partnership creation. There has to be a united vision and a common story being told among all stakeholders in the region, but it can be challenging, and regions should link the narrative to local success stories.
By the end of the workshop, each city delegation created development goals to work through once they returned to their home cities. These plans act as a commitment for each city to engage partners, develop partnerships, or create a dialogue platform among potential regional partners to foster entrepreneurial activity throughout their regions. Moving forward, each city's action plan will be a starting point for regional economic development and growth, while city delegations apply the tools they learned in the workshop to success implementation of their goals. The next METROS workshop will take place in the spring of 2015 and will build upon the tools and skills acquired through the first two interactions in Turin and Genoa.
Participants also had the unique opportunity on the final day of the workshop to visit Selex ES, a security contractor working closely with the City of Genoa to provide integrated security solutions that focus more on prevention and less on reaction. This was an engaging opportunity for city delegations to see a first-hand account of how a partnership between a private firm and the City of Genoa is enhancing economic development for the region while also fostering innovative ideas using cutting-edge technologies.