Building Back Better: Resilience and Transformation in the Eastern Partnership
April 15, 2021
Summary
Resilience is the key angle through which policymakers imagine the next-generation Eastern Partnership (EaP). Achieving it is a tough challenge for the EaP countries. They are exposed to geopolitical risks and some of their internal and border conflicts are escalating. The coronavirus pandemic has put pressure on their societies and state resources.
This brief draws from the discussions at a conference organized by Germany's Federal Ministry for Economic Cooperation and Development, KfW Development Bank, and GMF. This yielded recommendations for the new, ambitious, and measurable post-2020 deliverables—centered around building more resilient economies, empowering vibrant civil societies, and ensuring responsive and accountable state institutions.
While no one-size-fits-all solution is readily available, there are general guidelines that the EU could follow to improve the chances of success for the EaP, in line with its own policy of differentiation and "more for more." In particular, the future EaP could rely on building up the following pillars: strong civil society, conditionality, e-governance and digitalization, and fighting hybrid threats.
After the first decade of the Eastern Partnership (EaP), the relationship between the European Union, its member states, and their eastern neighbors is at a crossroads. The key achievements of the EaP since 2009 include the almost doubling of its countries trade with the EU for more sustainable economic growth, visa-free travel for those countries that signed Association Agreements, and a more positive image of the EU among citizens in the countries. At the same time, violent conflict within and across states in the region coupled with the socioeconomic repercussions resulting from the coronavirus pandemic hinder the transformational process toward more sustainability in all six countries of the EaP: Armenia, Azerbaijan, Belarus, Georgia, Moldova, and Ukraine.
Resilience is now the key angle through which policymakers imagine the next-generation EaP. Since the original definition of the concept of resilience in the 1960s, it has increasingly embraced the idea of simultaneously bouncing back from shocks and transformation toward something new. The adaptation capacities of and power relations between state and non-state actors also receive more attention.1 The importance of small steps, derived from the field of ecology, is also gaining greater attention. As one study puts it, "[t]ransformational change at smaller scales enables resilience at larger scales."2
Achieving resilience is a tough challenge for the EaP countries. They are highly exposed to geopolitical risks and some of their internal and border conflicts are escalating. Since last year the coronavirus pandemic has put great pressure on their societies and state resources. While this is an exceptional burden for the socioeconomic transformation of the region, persistent structural challenges need proper long-term policy solutions, including for sustainable democratic progress, economic transformation, and peacebuilding and conflict prevention. So far, civil society has proven to be among the most resilient actors and drivers of change, with civic movements reforms playing a key role in moving toward better governance.
This brief draws from the wide-ranging discussions at the conference on "Building a Development Agenda for Resilience," organized last October by Germany's Federal Ministry for Economic Cooperation and Development, KfW Development Bank, and the German Marshall Fund of the United States. Convened digitally, around 100 change agents from the six partner countries as well as EU experts and policymakers discussed the challenges and solutions for the EaP. The discussions yielded recommendations for the definition of new, ambitious, and measurable post-2020 deliverables—centered around building more resilient economies, empowering vibrant civil societies, and ensuring responsive and accountable state institutions. In particular, regional cooperation within the EaP framework has to play a central role in achieving the deliverables. The recommendations presented can significantly contribute to the positive evolution of a more resilient EaP.
Making Economies More Resilient
In the past decade, monetary and fiscal stability has improved across the countries of the EaP, as documented in the Bertelsmann Transformation Index.3 Yet, their economic performance has deteriorated. While GDP per capita has increased in all EaP countries except Ukraine in the period 2008–2018, the coronavirus pandemic has caused a sharp decline of economic output in 2020, estimated at 4.5 per cent. According to the Organization for Economic Co-operation and Development estimates the region's GDP will only recover in 2022, with full recovery for Azerbaijan not expected until 2025.4 The picture is even more ambiguous when it comes the value added of economic activities. Industrial value added has decreased in Azerbaijan, Belarus, and Ukraine. Meanwhile, unemployment has increased in Armenia, Belarus, and Ukraine. Resilience for a more sustainable future has also deteriorated in the past decade, reflected in a change in score of 5.3 to 5.1 in the Bertelsmann Transformation Index. Economic growth is now more unbalanced, environmentally unsustainable, and less future-oriented (that is, less prioritizing education, research, and innovation) in Armenia, Azerbaijan, and Georgia than it was in 2010.
In 2020, the EaP countries have experienced the worst recession in two decades due to the coronavirus pandemic. Government actions to counter the economic impact through fiscal packages will likely contribute to a sharp rise in national debt ratios. By mid-2020, Armenia and the three association countries were receiving macro-financial assistance from the International Monetary Fund or the EU. These support Georgia, Moldova, and Ukraine with almost €2 billion, including the coronavirus emergency package. In this context, structural reforms that were already urgently needed are becoming even more critical.
Structural reforms alone cannot make the EaP economies more competitive, nor are they directly related to sustainability. Governments need to adopt sector-specific industrial policies to upgrade traditional economic sectors and facilitate the growth of emerging cleaner economic activities. Such strategic approaches can help the EaP economies connect better to global and regional value chains as well as use linkages as levers for technology upgrading.
Standards are critical to achieving this: they reflect the extent to which companies and organizations have in place effective management systems that contribute to an incremental enhancement of quality infrastructures. For the EaP countries the goal to "build back better" requires standards for quality and environmental management as well as the use of digital technologies. These are good proxies for transformation toward a more ecological future by using digitization. They show if management and production capabilities are up to the task of competing internationally. In the EaP region there is a strong diffusion especially of the quality management system standard with more than 80 standards per 100,000 inhabitants (see Figure 1). But these figures from 2019 are still quite low in comparison to the one for EU members: for the period 2011–2016 this number was 281 in Poland and 683 in Hungary.5
Figure 1. ISO Certificates per 100,000 Inhabitants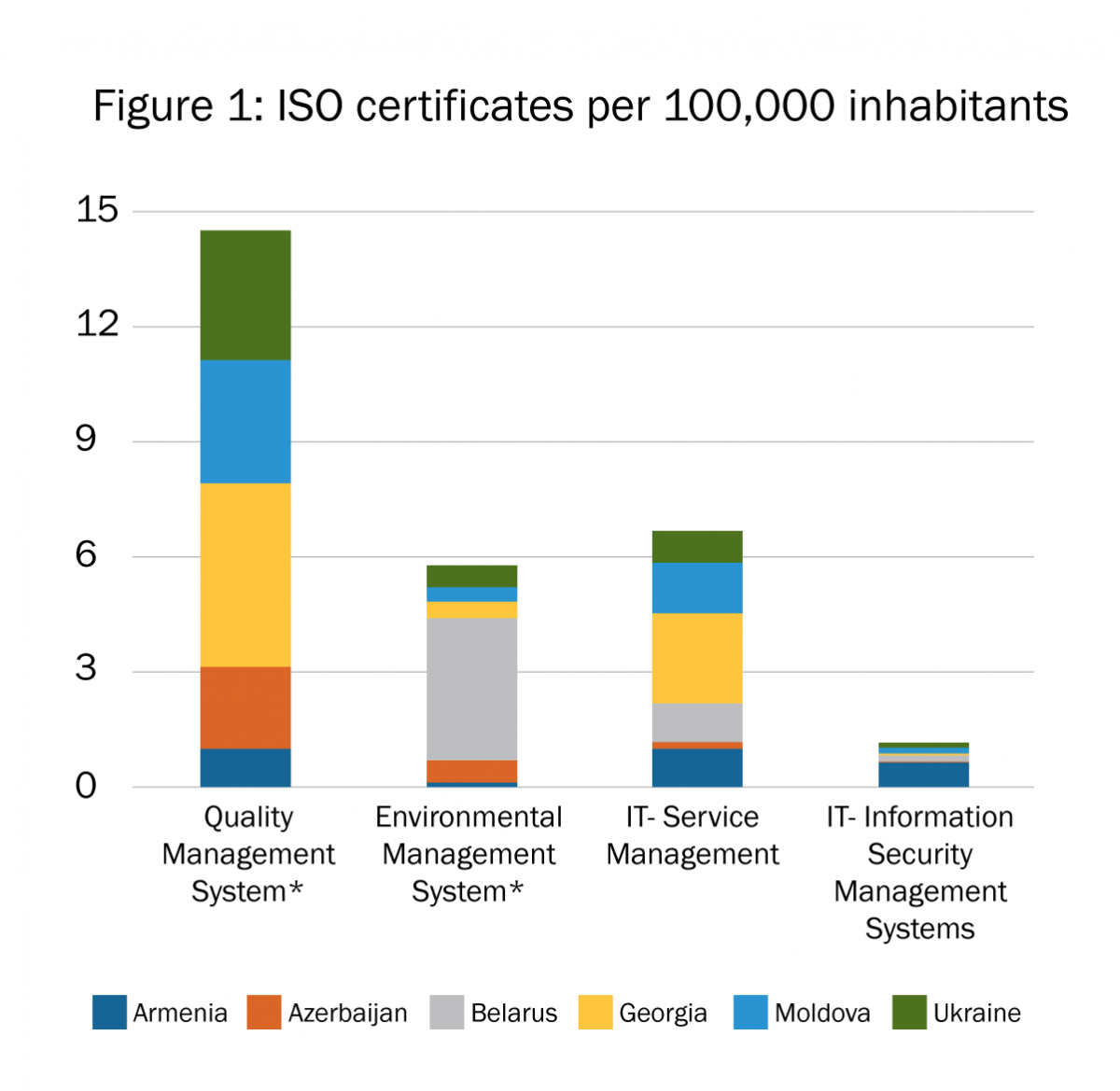 Source: Data from the International Organization for Standardization; compilation commissioned by the Physikalisch-Technische Bundesanstalt (PTB) to Mesopartner ParG.
*Survey data depends on inputs from accredited certification bodies. Belarus has extreme fluctuations indicating discontinuities in data collection, which is why the Belarus data for Quality Management Systems was discarded (66.3 certificates per 100,000 inhabitants).
While this data has inherent flaws deriving from the reliance on different surveys of national standards institutions, this shows that Georgia, Moldova, and Ukraine have a relatively high use of quality management systems, which indicate the quality of production. ISO certificates validate organizations' "ability to consistently provide products and services that meet customer and applicable statutory and regulatory requirements, and aims to enhance customer satisfaction through the effective application of the system."6 Azerbaijan, Belarus, and Ukraine have a relatively high usage of environmentally oriented management systems. Armenia, Georgia, and Moldova perform well in terms of standards for IT service management, while Armenia has the highest level in IT security standards. The adoption of management systems and the use of secure IT technologies provides evidence that companies have adaptation capacities and indicate stronger economic resilience. The spread of the IT service management standard to more companies in the EaP Countries could also become important multipliers for new standards in the future.
Since 2009 trade between the EaP countries and the EU has almost doubled. This has had an indirect impact on their economic transformation since trade requires conformity with quality standards and more competitive production capabilities. Alignment with the regulatory system of the EU has contributed to a stronger framework for fair competition in EaP countries, albeit with high adjustment costs for less competitive sectors.7 It remains less clear to what extent ecological aspects are seriously taken into account during this partial economic transformation. Economic growth is now not more balanced, environmentally sustainable, and future-oriented than it was a decade ago. This casts doubt on the current capacity for transformative change in the EaP countries toward more effective environmental action.
The Potential of Civil Society
The remarkable and unprecedented situation in Belarus since post-election protests began last year underscores the critical potential of civil society to hold governments accountable in the EaP, as events in Armenia, Georgia, and Ukraine have in recent years. A recent research project by the German Marshall Fund produces the picture of an intriguing dual situation with regard to the state of civil society in the six countries.
On one hand, the development of civil society is hampered by an enduring vicious circle of citizens' low sense of agency and low interest in, and dislike of, politics that breeds civic apathy, which in turn entrenches low levels of civic engagement.8 Trust deficits also make societies more vulnerable to disinformation and to crisis situations, such as the coronavirus pandemic or the conflict over Nagorno-Karabakh. In turn, this fuels polarization and radicalization. Other major obstacles to the progress of civil society are low levels of social trust, sociocultural sensitivities, paternalistic thinking about the relationship between individuals and state or non-state institutions, and generational attitudes gaps. The securitization of civic and political life that comes mostly as the result of regional geopolitical and conflict dynamics further complicates things.
On the other hand, the civic landscape in the EaP has evolved particularly rapidly in recent years, revealing nuanced dynamics, a fluid environment, and a significant resilience to repression, illiberal interference, war, and political violence.9 There has been significant growth in the number of new and non-traditional civic actors, which often choose grassroots action over the more "political" democracy and human rights work of civil society organizations (CSOs). These groups contribute to citizen empowerment in important ways.
These two dynamics play out against a background of varying degrees of "closure" of civil society space, attachment to conservative values promoted by religious authorities, and feeble rule of law in the best cases. The presence of government-organized "NGOs" and far-right groups also shapes the civic environment.
The high diversity of civil society—from grassroots movements to highly organized CSOs—and the rapid changes on the ground across all six countries require flexible support from the EU and other external actors. A vibrant civil society that actively participates throughout the policy cycle is necessary for healthy democracies, especially for strengthening the rule of law. The challenge is how to encourage and support a more frequent and widespread transition from a dynamic of civic apathy to one of civic activity.
The EU remains one of the biggest funders of civil society in the EaP. The assistance package for the six countries that it has allocated in response to the challenges caused by the coronavirus pandemic has included additional support for CSOs as well as recognizing their role in directing EU assistance to citizens in need. While the EU has made notable progress in its civil society assistance in the EaP, challenges remain regarding the accessibility of EU funds for civic actors other than large, well established and capital-based organizations as well as the flexibility of its mechanisms. Civic actors in all the countries report general satisfaction with the EaP framework in terms of it helping more resilient civil societies but also that progress is needed in its new iteration; for example, in bridging center-region gaps, in improving CSO-government engagement, and in increasing the footprint civil society can have on policy.
EaP civic actors also identify a disconnect between civil society and governments, to a degree that varies based on how "political" the issue at hand is. CSOs often face a battle on two fronts in terms of ensuring their resilience: with the government and with the wider public to fulfill their own mission. Citizens' trust in civil society is sometimes eroded by the comments, positions, and insinuations of governments about CSO's being a threat to the nation or who is financing them. Similar attacks can also come from different groups with their own political agenda. In countries where society is increasingly polarized, civil society needs to take to take the side of agents of progress, but this can pose a challenge as taking sides is a delicate issue and risks alienating part of the public. Ultimately, it is only once polarization is overcome that CSOs can fulfill their mandate to represent civil society at large. There is also sometimes a risk that civic actors become used by different forces for achieving their own political goals, which may not be in the interest of civil society at large.
These are all difficult waters for the EU to navigate when it comes to supporting civil society in the EaP countries. It is important that it continues to try to make its assistance mechanisms of support not only geared toward large organizations but also to smaller and more geographically spread-out groups. A more diverse civil society is important for overall resilience of the sector. It is also crucial for the EU to take a closer look at how its assistance fosters the best kind of engagement between government and civil society in all six countries. Civic actors are clear that this must go beyond CSOs being typically assigned to monitoring and evaluating government policies and projects to a situation in which they are included in a genuine way in earlier designing and planning phases of the policymaking cycle.
Multi-level Governance and Responsive Public Administration
Ten years of EaP cooperation have brought visible improvements in building stronger economies and more powerful civil societies. The next big battle for the six countries will be to achieve sustainable justice reform and rule of law, which are the backbone of resilience. Otherwise, corruption and weak governance will continue to undermine achievements in the economy and civil society.
Transparent governance remains the key to responsive policies that meet the needs of citizens and businesses. It also allows civil society to be involved in policymaking and to hold state institutions accountable. Yet progress in the rule of law has been mixed at best. E-governance has been, on the other hand, a major area of progress.
According to the February 2020 monitoring report for "20 Deliverables for 2020" by the European External Action Service and European Commission, the "stronger governance" target had the slowest progress.10 However, the situation at that point was more promising compared to a year before, even though only half of projected reforms have been implemented by deadline. The 2018 monitoring report, for instance, had issued a call for the "rule of law" and "key judicial reforms" deliverables to receive special attention and further action.11
In terms of rule of law accomplishments, the setting up of the High Anti-Corruption Court in Ukraine, with EU assistance, is considered the main success story. The transparency of the selection process in the creation of this institution—which is tasked with handling complex, high-level corruption cases, especially within government and the political class—is currently regarded as a potential model for neighboring countries. Legal frameworks on confiscation (in Armenia, Azerbaijan, Georgia, Moldova, and Ukraine) and systems for declaring assets and conflicts of interest (in Armenia, Georgia, Moldova, and Ukraine) have been put in place. When it comes to judicial reforms, the main achievements are a system for monitoring the track record of judges and prosecutors (implemented in Georgia, and in progress in Armenia and Ukraine) as well as the adoption of a new comprehensive judicial reform strategy by Armenia.
Georgia, Moldova, and Ukraine have developed strategies to reform public administration, with Armenia also taking the first steps in this direction. All six countries have introduced various forms of e-government services.
If progress in 2020 in these areas has not been spectacular, compared to assessments in previous years, there was however more substantive high-level civil-society dialogues in Armenia, Georgia, and Ukraine. As things stand, tackling complex and high-level corruption remains the primary concern in the EaP, where a functional anti-corruption institutional framework is a critical requirement.
The impact of the coronavirus pandemic on the EaP countries has been primarily economic, with the countries' GDP projected to shrink up to 4 percent as a result.12 The different emergency measures imposed by governments have had an impact on civil society space and civic freedoms. Some countries imposed states of emergency (Armenia, Georgia, Moldova, Ukraine); some sent official notifications of derogation from the European Convention on Human Rights in view of measures limiting freedom of assembly (Armenia, Georgia, Moldova), and hence also public participation, at a time when laws were being discussed in several countries (Belarus, Moldova, Ukraine) that would directly affect CSOs.13
At the same time, regulations limiting the access to and spread of information in order to protect against falsehood, and increasing state control over information risked being used excessively or beyond the pandemic. Other restrictions range from limitations on the right to privacy in Armenia to limitations on freedom of movement or the imposition of severe sanctions. On the positive side, the pandemic has resulted in increased digitization of public services and vocal civil society demand for government accountability.
Conclusion and Recommendations
While no one-size-fits-all solution is readily available, there a few general guidelines that the EU could follow to improve the chances of success for the Eastern Partnership, in line with its own policy of differentiation and "more for more." This could include the following steps.
Adopting a more partner-like approach toward its eastern neighbors, which would better reflect their needs.
Deepening political cooperation with the three associated countries: Moldova, Georgia, and Ukraine—for example, by allowing for new political formats bringing them together with EU countries, by granting officials from the three associated countries access to thus far internal EU working groups on trade and economic affairs, or by supporting a new regional cooperation format.
Adjusting financial assistance to better fit individual country priorities, based on more realistic conditions, and boosting cooperation in areas where benefits to the citizens in EaP countries are more immediately tangible and visible.
Improving EU communication policy within the EaP states, implemented at the grassroots level with the help of actors (CSOs, local administration, etc.).
More concretely, the future EaP could rely on the following pillars.
Strong Civil Society
The main challenge for the EaP so far has been the mobilization of domestic political will and societal consensus to support rule of law in the six countries. This is likely to remain the main area of concern in the context of marked differences among the countries and of widely different approaches by their governments to democratic development and cooperation with the EU. To support progress in this area and ensure the commitment of elites in the EaP countries to the substance of reforms, not just the form, the EU needs to look beyond governments alone to other agents of change—such as emerging politicians or heads of independent judicial or oversight bodies—who would become invested in this deeply transformative process.14 And, since winning hearts and minds across societies at large tends to generate the right kind of pressure on the political class, civil society (where investment has already paid off) and the media are natural allies in this endeavor.
Conditionality
Conditionality remains a key instrument for enforcing principles and benchmarks that have been mutually agreed by the EU and the EaP countries. It is also the only one that can make the connection between EaP citizens' desire for integrity in public service, rule of law, and anti-corruption reform and governments' appetite for political engagement and economic partnership with the EU. Stepping up that political cooperation in exchange for increased judicial cooperation as well as making the disbursement of EU funds conditional on justice and anticorruption reform can prove an effective way to reward genuine commitment and signal unwillingness to tolerate window-dressing reforms when it comes to rule of law. Effective rule-of-law reform is likely to also have a direct and visible beneficial impact on the private sector and to be welcomed by civil society, expanding the circle of stakeholders with an interest in the success of cooperation with the EU in this respect and upholding the positive image of the EU as the external partner in democratization and development.
E-governance and Digitalization
Digitalization offers the benefit of being one of the most efficient ways to counter corruption and to develop good governance through transparency as well as a tool for economic development and leapfrogging for economies that do not have time to play catch-up in today's competitive environment. An EU Digital Agenda for the EaP, "with greater assistance for the development of digital infrastructure, e-governance, e-administration, e-procurement systems, as well as support for networking in digitally innovative industries" could be a good avenue to leverage economic support for a twofold purpose.15
Fighting Hybrid Threats
The EU should be serious about taking on a more geopolitical role, especially in its immediate vicinity, where influences from strategic competitors such as Russia or China reduce the appeal and effectiveness of Europeanization. This is a fight that takes place through disinformation and propaganda, but also through other forms of malign influence, ranging from territorial separatism to political corruption and economic control over strategic industries. Under threat is precisely the European governance model and the public perception among EaP societies that closer ties with the EU will be beneficial. To protect its investment so far and its positive image in the EaP, the EU should assist these countries in confronting hybrid threats. This could take, for example, the form of establishing a special working group within the EaP multilateral platform dedicated to institution-building and good governance and consolidation of critical infrastructure, or allowing the EaP countries to join the European Centre for Excellence for Countering Hybrid Threats in Helsinki and offering them exchange of information based on the EU Hybrid Fusion Cell.16
Photo Credit: Alexandros Michailidis / Shutterstock.com
2 Carl Folke et al, "Resilience thinking: integrating resilience, adaptability and transformability," Ecology and Society 15(4), 2010.
3 Bertelsmann Transformation Index.
4 Organisation for Economic Co-operation and Development, COVID-19 crisis response in Eastern Partner countries, October 13, 2020.
5 Slavo Radosevic, Randolph Bruno, Christopher Hayter, and Anwar Aridi, Path for Ukraine's Economic Growth: Technology Upgrading, World Bank, 2019.
6 International Organization for Standardization, ISO 9001:2015. Quality management systems — Requirements.
7 Amat Adarov and Peter Havlik, Benefits and Costs of DCFTA: Evaluation of the Impact on Georgia, Moldova and Ukraine, Vienna Institute for International Economic Studies and Bertelsmann Stiftung, 2016.
8 Nicolas Bouchet and Kateryna Pishchikova, From Apathy to Action: Attitudes to Civic Engagement in the Eastern Partnership, The German Marshall Fund of the United States, October 2020.
9 Rosa Balfour, Laura Gelhaus, and Marta Matrakova, The Changing Landscape of Civil Society in the Eastern Partnership, The German Marshall Fund of the United States, October 2020.
10 European External Action Service and European Commission, 20 Deliverables for 2020: Monitoring – State of Play in February 2020.
11 European External Action Service and European Commission, 20 Deliverables for 2020: Monitoring –State of Play 2018.
12 Eastern Partnership Civil Society Forum, Lessening the economic impact of the COVID-19 crisis, July 24, 2020.
13 CSO Meter, COVID-19 Response in the Eastern Partnership Region: Emergency measures and civic freedoms, 2020.
14 Corina Rebegea, Rule of law after a decade of Eastern Partnership. Let's talk political change, Global Focus, August 20, 2019.
15 Daniel Szeligowski, 'EaP: Looking beyond 2020,' Easter Focus Quarterly, August 20, 2020.
16 Ibid.
Disclaimer
The content of this publication does not reflect the official opinion of the Federal Ministry for Economic Cooperation and Development or the German government. Responsibility for the information and views expressed therein lies entirely with the authors.