Voices from Ukraine
Just a few days ago, they were living normal lives—as citizens of a free country; as mothers, fathers, daughters, sons; as lawyers, project managers, journalists.
Since February 24, they have been living in war, not knowing in the evening what they would awake to the next morning.
We reached out to GMF alumni, fellows, and colleagues from Ukraine to try to capture the impact of Russia's invasion on the civilian population. They share their perspectives below.
When did you realize that the war had started, Anastasiia?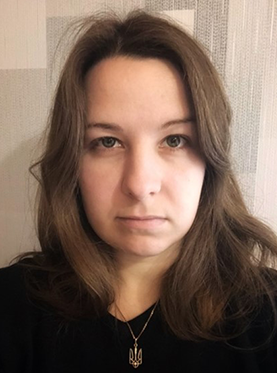 "On the night between February 23 and 24, I was at home in Kyiv. I did not sleep well, so I got up at around 5 a.m. First, I read this terrifying media headline, 'Russia attacked Ukraine,' and then, in less than a minute, before I could even realize this fact, I heard a loud air-raid siren.
I desperately did not want to leave my home city. The thing is, my husband works in a law enforcement agency, and under wartime circumstances, he would not be able to come home every night.
Considering prospects of being alone under shelling and the fact that it would be much easier for him if I'm at a safer place, I decided to leave. It was the hardest decision I have ever taken. I moved to the relatively safe Ivano-Frankivsk region, but my heart remains in Kyiv. I receive notification of every air-raid alert in Kyiv on my phone and wait until each of them is followed by an 'all clear.'"
Anastasiia Nekrasova is a GMF Leadership Lab alumni. She is a lawyer, providing legal aid for representatives of vulnerable groups. She relocated from Kyiv to the Ivano-Frankivsk region.
What was your experience of the first days of the war, Iryna?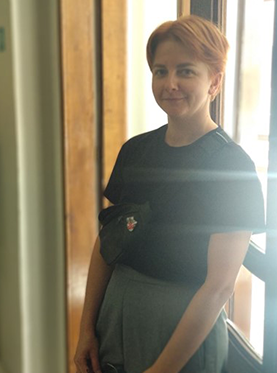 "This invasion has frozen all my life. I had to leave my town with my mother and sister and go to the western part of Ukraine, seeking a safer place to stay. For now, we are staying near Lviv in a house of kindhearted people. They are not our friends; we did not know each other before, but they let us stay in their house.
I want to return home as soon as possible. I don't want to be forced to leave my country because it is not safe here. I just want my peaceful life back."
Iryna Domnenko was a Policy Designers Network fellow last year. Before the invasion, she worked as a project manager at the NGO Institute of Analysis and Advocacy in Poltava.
She is now looking for a temporary job and volunteers at a Poltava-based group that helps displaced people from Kharkiv and other cities, while preparing to protect their region from the approaching invasion.
How has the Russian invasion changed your life, Yelyzaveta?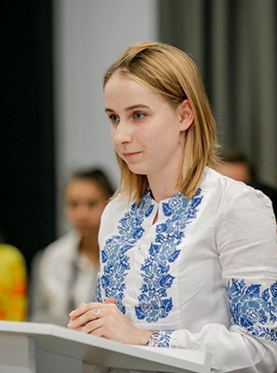 "That morning (February 24) turned my life upside down, and I doubt that it will ever be the same. My life—full of travels, going out, international projects, smiling faces of my family—in one moment turned to anxiety from every noise that is somehow close to the airstrike siren and getting the knowledge that it takes 10 minutes to take your emergency backpack, food, and the cat to run down to the basement of the building. Clearly, after 13 days, the brain has adjusted to 24/7 stress and learned how to turn the phone and itself off to get some sleep. Yet, it is impossible to get used to the death of people.
…my life as a basic young person in Ukraine turned from careless talks with my friends with a cup of coffee to searching for vests, helmets, and medical supplies abroad, organizing places to stay for friends who are fleeing the worst-hit cities and coordinating humanitarian assistance with friends from other parts of Ukraine—definitely not what I expected even two weeks ago.
As the war came close geographically, I found out that nights were terrifying, as they brought some kind of uncertainty.
As the war came close geographically, I found out that nights were terrifying, as they brought some kind of uncertainty. It is easier to stay up till the morning checking the news than to fall asleep, as I am scared that there will be the bombing of either my city or any other city of Ukraine."
Yelyzaveta Kochekova is a Junior Communications Consultant at GMF's Black Sea Trust for Regional Cooperation. She is based in Horishni Plavni, a small town in central Ukraine on the banks of the Dnieper River.
How has the war impacted you, Darina?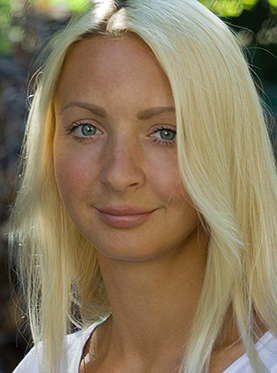 "The war divided my life into two parts: before and after. Every time I hear a helicopter or a loud sound in the place we are now staying, Stuttgart (Germany), I get terrified. However, all these problems have nothing to do with what people feel in Ukraine under bombs and rockets. My mom and my husband are in Odesa and I do not know whether I will be able to see them again."
Darina Dvornichenko is part of the Transatlantic Inclusion Leaders Network and worked as a researcher at the Law Academy in Odesa.
When Darina looked out the window of her summer house in Odesa one morning and saw Russian military ships, she decided to take her daughter and cross the border. Carrying only one backpack each, Darina and her daughter set off toward Moldova.
After two days of travel, they finally crossed the border, exhausted and hungry, with crowds of people also fleeing Ukraine.
In a small village in Moldova, volunteers took them in for two days. Darina and her daughter then made their way to Bucharest, then Germany, eventually arriving in Stuttgart, where they are now staying in temporary accommodations.
What do you hope for from the international community, Anna?
"I know it's hard to support us, but we stand for all European values, including democracy, for the right to choose the place where you want to live, to choose to stay without war, to choose to be alive and healthy.
We are the front—for the whole Europe and the whole world. That's why we ask for support through all possible help that Europe, the United States, and all other countries can give us, and we are really grateful. We cannot allow this story to end like this, otherwise we will not survive as European countries."
Anna Iemelianova was a 2019 Policy Designers Network fellow. She is the head of the NGO Union of Responsible Citizens. She has recently relocated from Kryvyi Rih, a city in central Ukraine that is now in the immediate proximity of the war, to Ternopil, in the west of Ukraine.
In the last couple of weeks, her NGO turned into a coordination center for people in need, helping the army and local self-defense groups with whatever is needed—spare parts for cars, warm clothing, medicine, and basic hygiene items.
The NGO also aims at helping people with disabilities relocate from eastern Ukraine to abroad. Without the necessary equipment, it can be difficult for them to evacuate, leaving many without shelter during the bombardments. In the next few days, the NGO hopes to assist in relocating the first twenty people to Poland.
What do you expect for the weeks to come, Vasyl?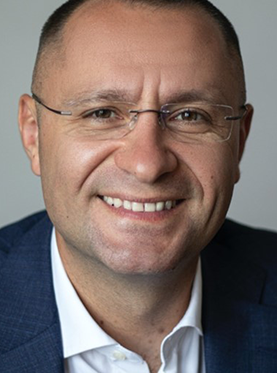 "In the following weeks, I see that the war is coming into a different phase. The Russian myth about its all-mighty military has been destroyed. They haven't managed to capture any major city in Ukraine. We are seeing a total resistance of the Ukrainian people. Everybody is united in fighting the enemy.
I think in the next weeks, anything can come. We are all focused and fighting. Those who are in the trenches, those who are working with refugees, those working with media, everybody is focused on one goal: defeating Putin's army."
Vasyl Myrosnychenko was a 2019 Marshall Memorial Fellow. He is a co-founder of the Ukraine Crisis Media Center, an NGO that provides information about challenges for and threats to Ukraine's national security. Last week, he became an advisor for international communications and outreach for Ukraine's Ministry of Defense.
When he and his family heard explosions early in the morning on February 24, they packed their car and rushed out of Kyiv. After spending several days in Volochysk, Vasyl's hometown 350 kilometers southwest of the capital, he took his family to Romania. They are now in Bucharest, in an apartment that was kindly offered by GMF staff member Ana-Maria Aelenei and her family.
What do you hope for Ukraine, Dmytro?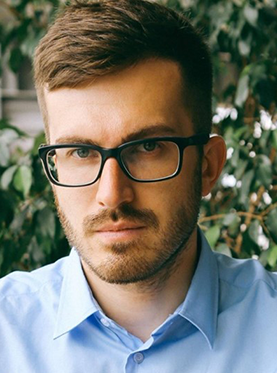 "I dream that Russia will be stopped as soon as possible, hopefully today or tomorrow—any day as soon as possible. And I see no other way to stop Russia in a short-term perspective, apart from supplying Ukraine with specific weapons which could help to protect the country from the sky. I know that Ukraine and the Ukrainian people will never give up.
Putin can bomb and destroy Ukrainian cities, but he has already lost this war, because the Ukrainian nation is united in will to resist and fight back, be free and sovereign. I am proud of my people, army, government, and president.
I think war in Ukraine is the turning point of world history because Ukraine was attacked for standing by the principles and values which the West took as its roots and base: freedom, independence, sovereignty, human rights, and dignity. 
I think war in Ukraine is the turning point of world history because Ukraine was attacked for standing by the principles and values which the West took as its roots and base: freedom, independence, sovereignty, human rights, and dignity. I really hope that the West, the transatlantic community, will find a way to protect its own values in Ukraine, not just with sanctions."
Dmytro Tuzhanskyi is a Policy Designers Network alumni and works as a political analyst. He is the founder and CEO of the Institute for Central European Strategy, a think tank advocating Ukraine's new strategy in Central Europe and its integration into the transatlantic community.
Ten days before the invasion, Dmytro traveled to Budapest to participate in the international election observation mission in Hungary, where he is working to report accurate information about the situation in Ukraine.
His wife and three-year-old son remain in Uzhhorod, in the westernmost region of Ukraine, just three kilometers from the Slovak border. The area has been relatively safe so far, and his family has begun to take in refugees from Kyiv.
What do you think the future holds for Ukraine, Sofiia?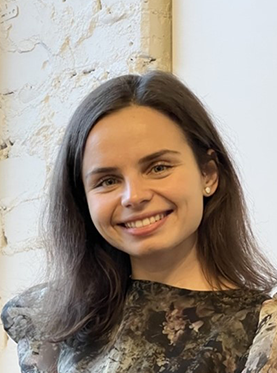 "I do not know when the war will end, but I know that it will end with Ukraine's victory. And I know that my people will rebuild the country, will cover for what was lost, and will become only stronger, wiser, and bolder from this. I have never been more proud to be Ukrainian."
Sofiia Kryshtal, currently in Lviv, is a GMF Leadership Lab alumni. Until recently, she lived in downtown Kyiv, a 15-minute walk from the Verkhovna Rada (the parliament of Ukraine). When she heard the first explosions from her apartment on February 24, she packed a few extra items in the emergency bag she had already prepared and left the city the same day.
GMF Hope Fund
Stand with the global GMF community by donating to the GMF Hope Fund for urgent assistance, including funds for emergency evacuation and relocation support, to our civil society grantees, fellows, and alumni who have become victims of Russia's invasion of Ukraine.