Norway Should Share Its War Windfall with Ukraine
With Ukraine's Kharkiv and Kherson offensives potentially shortening the war, the challenge of the country's reconstruction has come to the fore, including a discussion among Kyiv and its donors about who should fund it and how.
Norway, as the principal beneficiary of the recent war-related energy price spike particularly in the European gas markets, is in a unique financial, political, and moral position to kickstart the Ukrainian reconstruction process by contributing a share of its windfall from exports of natural gas.
Irrespective of how the war develops, rebuilding Ukraine and securing its eventual membership in the European Union will be a mammoth task. The Kyiv School of Economics estimates that the damage to Ukrainian infrastructure from the war reached $115 billion in early September. In July, Ukraine's government suggested that the economy would require $750 billion of new investment by 2032.
Many have suggested seizing the approximately $300 billion in Russian foreign exchange reserves frozen by Ukraine's Western allies at the start of the war to use for rebuilding the country. It appears increasingly plausible that Russia's military situation could eventually result in the negotiation of a peace deal that requires the pledging of its frozen resources, as the aggressor, to Ukraine. Even so, attempts by Ukraine's Western allies to seize these sovereign assets ahead of any negotiated settlement face formidable and time-consuming legal obstacles, while also jeopardizing the role of traditional reserve currencies in the global financial system.
This frozen cash, however, is just one of the spoils of war created by Putin's attack on Ukraine. Russia's government began weaponizing European gas markets in late 2021 and has since reaped a sizable financial windfall on the increased prices arising from its reduced supply. Moscow, however, is not the only gas supplier to European markets—with Gazprom's gas cutoff, Norway has emerged as Europe's largest one. European leaders have credited Norway for reliably supplying gas in the region's hour of need. However, as prices have risen, so has Norway's financial gain from Putin's gas aggression against Ukraine and the rest of Europe.
Between the end of 2021 and August 2022, Norway earned approximately about €84 billion in additional proceeds compared to between 2010 and 2019.
From January 2010 to December 2019, prior to the coronavirus pandemic, Norway exported liquefied natural gas (LNG) and pipeline gas worth approximately €2 billion a month, according to official statistics. By September 2021, this monthly number had increased to almost €5 billion. After Russia's invasion of Ukraine, it more than doubled to close to €11 billion in March 2022, and it has reached over €16 billion according to the latest available data from August 2022.
Thus, between the end of 2021 and August 2022, Norway earned approximately about €84 billion in additional proceeds compared to between 2010 and 2019. This is a sizable sum for any country— and noticeably one already as rich as Norway—to earn directly as a result of Russia's energy market disruption and military aggression. The graph accompanying this article illustrates the scale of Norway's excess war-related gas export proceeds from September 2021 (red) as prices rose far above the previous decade's average level (green line).
Norway's Natural Gas Exports Jan 2010–August 2022, € billion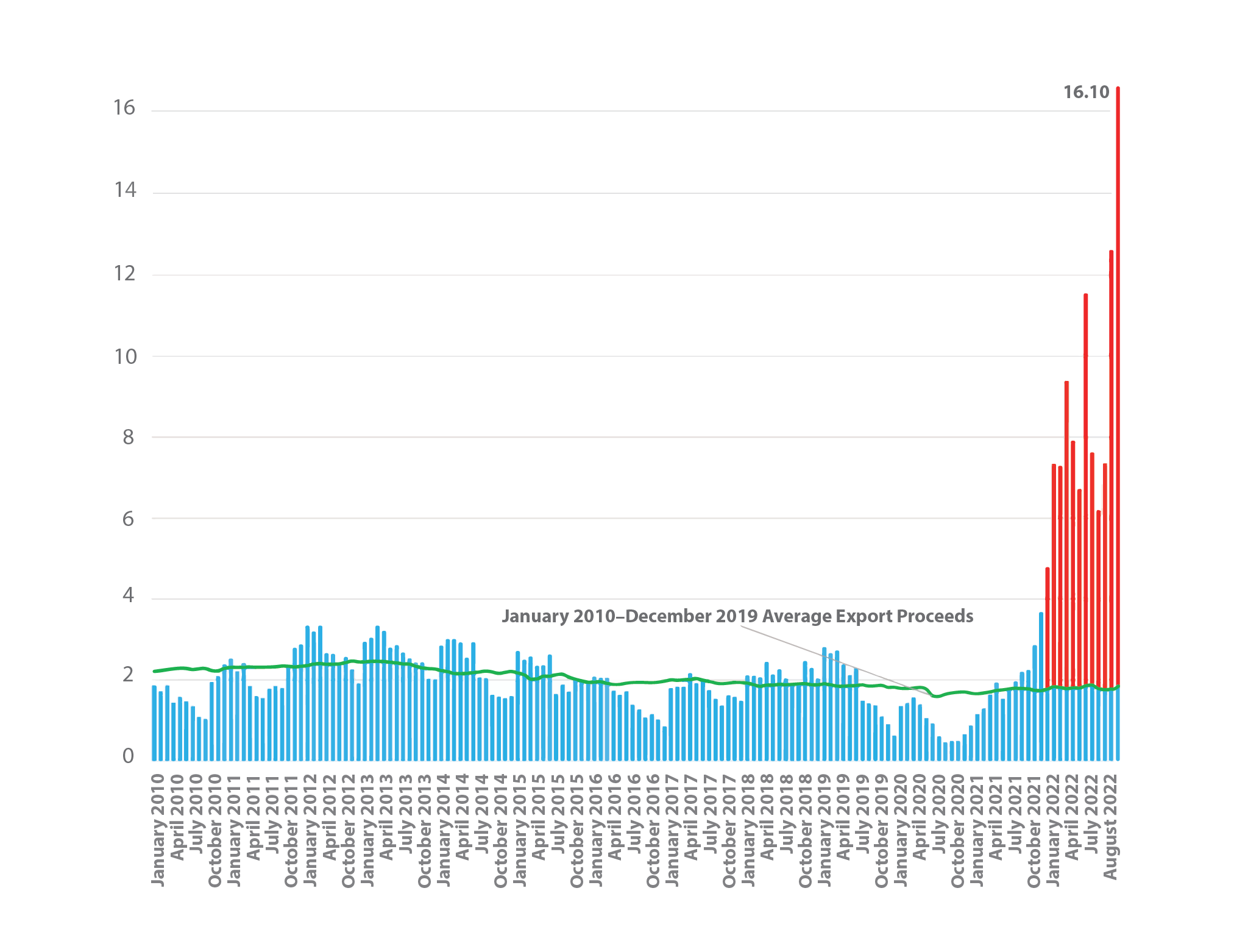 Some may argue that Norway is not the only natural gas exporter reaping a windfall from Russia's invasion of Ukraine. However, few expect major authoritarian gas exporters like Qatar to think beyond the enrichment of their rulers and the hoarding of their war-related windfall. Norway should hold itself to a different standard. As a democracy whose economy is deeply integrated with the rest of Europe and a NATO member, it would see its national security greatly strengthened by Ukraine's victory over Russia. It has also for decades punched above its weight in international peace and reconciliation efforts from the historic Oslo Accords in 1993 to helping end the conflict in Colombia in the 2010s. Norway's windfall from Russia's war against Ukraine morally compels it to rise to the occasion again.  
A recent GMF paper on how to rebuild Ukraine in the spirit of the Marshall Plan suggests that a loosely coordinated effort among the country's multiple donors be led by an appointed G7 coordinator to steer the process until such time as Ukraine's EU accession process has sufficiently progressed for the EU to take over from the international community. Norway's responsibility to deploy its financial gains from the war in accordance with its values and interests presents another option to jumpstart the process should G7 leadership, as proposed by GMF, emerges too slowly for Ukraine's economy to quickly recover.
Prime Minister Jonas Gahr Støre's government should pledge a quarter of Norway's war-related gas export windfall—a sum likely to reach €20–25 billion this year—directly to Ukraine's reconstruction. In helping a fellow European nation rebuild, Norway could position itself to lead an Oslo Group for Ukrainian Reconstruction, mirroring the success of the US-led ad hoc Ramstein Group for arms deliveries to Ukraine. Lastly, recalling that about 45 percent of Norwegian gas exports currently go to Germany, a sizable part of this pledge by Oslo would be repurposing German payments to it towards Ukraine. Given Germany's clear political responsibility for Europe's gas-market vulnerability to Russian blackmail in 2022, many Europeans will appreciate such rerouting of funds. Heia Norge!