Congressional Affairs Program
The German Marshall Fund of the United States (GMF) provides a nonpartisan platform for transatlantic learning among policymakers on issues of mutual concern. The Congressional Affairs Program provides opportunities to members of the United States Congress to stay up to date and informed on transatlantic issues. It does so through regular engagement with both members and their staff. It organizes topical briefings for members or committees, congressional testimony by GMF experts, and regular staff salons. This program also seeks to connect lawmakers on all levels with their counterparts in Europe through events like the Congress-Bundestag Forum and others. Click here to read the Congressional Affairs 2019 programming at a glance. 
Major Convenings
The Congressional Affairs Program at the German Marshall Fund organizes numerous study tours and conferences that provide Members and staff with the opportunity to engage with European colleagues, discuss best practices, and develop a better understanding of the issues facing the transatlantic community.
Each year, GMF organizes Congressional delegations to its major international conference - Brussels Forum. Brussels Forum is a high-level meeting featuring the most influential North American and European political, intellectual, and corporate leaders to address pressing challenges currently facing both sides of the Atlantic.
Alternating location each year between the United States and Germany, the Congress-Bundestag Forum (CBF) is an annual parliamentary exchange for Members of the German Bundestag and Members of the U.S. House of Representatives. CBF provides a platform for these Members to have frank discussions on areas of mutual concern and work toward collective solutions.
The Congress-Bundestag Study Tour is designed to provide a new context and perspective on critical countries that are outside of the transatlantic region through on-the-ground engagement with U.S. and German policymakers. Past study tour locations include Morocco, India, and Turkey
The Congressional Chief of Staff Study Tour introduces senior Congressional staff to various key aspects of contemporary German politics. Discussions with government officials, business representatives, academics, and journalists provide a clearer understanding of German policies and their effects on the transatlantic relationship.
The Transatlantic Technology Congressional Delegation (TTCD) focuses on the expanding importance of digital and data policy in the transatlantic space. Through direct engagement with political, industry, and academic stakeholders; TTCD will examine the opportunities and challenges brought on by the rapid growth of the transatlantic digital relationship.
Policy Briefings
The Congressional Affairs Program at the German Marshall Fund frequently engages with Congress to inform Members and staffers on the most timely and topical developments in the transatlantic community.
GMF experts are readily available to give testimony before Congressional committees. Given the wide range of backgrounds and knowledge represented by these experts, GMF can provide testimony on a multitude of issues around transatlantic relations and beyond.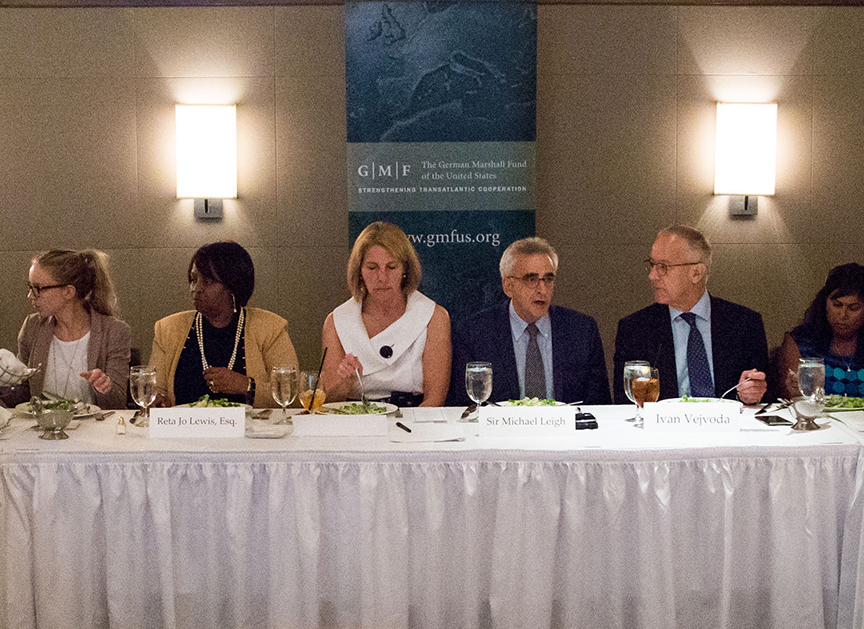 The Transatlantic Congressional Staff Salon Series are monthly lunches that focus on the most recent trends and issues in transatlantic relations. These bipartisan, bicameral discussions offer Congressional staffers the opportunity to engage directly with GMF experts on the most pressing news of the day. Previous discussions include the European and global security landscape, Russia's impact on transatlantic unity, Turkey's future, French elections, and Brexit.
GMF's Congressional Affairs program engages with newly elected Members of Congress and provides topical briefings for policymakers. Our Transatlantic Talk Series brings together high level government officials and journalists from either side of the Atlantic to discuss issues of concern throughout the transatlantic community.
To request a briefing, invite GMF experts for testimony, or inquire about Congressional Affairs programming; please contact Reta Jo Lewis, Esq., Director of Congressional Affairs & Senior Fellow, at [email protected] or (202) 683-2638.
Click here to see a list of previous events »