Transatlantic Take
New Study by Digital New Deal Finds Engagement with Deceptive Outlets Higher on Facebook Today Than Run-up to 2016 Election
October 12, 2020
Photo Credit: Allmy / Shutterstock
Four years ago, the country was learning about disinformation and the impact it can have on U.S. (and world) elections. Since then, social media platforms have taken various steps to combat it with varying success.
Over the last few months, the Digital New Deal project of the German Marshall Fund of the United States set out to look at deceptive sites that masquerade as journalism. We had identified these in our Roadmap for Securing Digital Democracy as "trojan horses": sites that take on the appearance of news sites and launder disinformation while eschewing the practices of independent journalism (e.g., sourcing, mastheads, verification, corrections). These sites degrade democratic debate by leveraging platform design to boost conspiracies.
We found that the level of engagement with articles from outlets that repeatedly publish verifiably false content has increased 102 percent since the run-up to the 2016 election.
In addition, engagement with another set of sites that fail to gather and present information responsibly—especially Fox, Daily Wire, and Breitbart—has grown 293 percent. Interactions with articles from both kinds of deceptive sites have increased by 242 percent between the third quarter of 2016 and the third quarter of 2020.
"Disinformation is infecting our democratic discourse at rates that threaten the long-term health of our democracy. A handful of sites masquerading as news outlets are spreading even more outright false and manipulative information than in the run-up to the 2016 election."
The Digital New Deal Project partnered with NewsGuard, a nonpartisan service that rates news and information websites for their reliability, and the social media intelligence firm NewsWhip to measure and compare the spread of articles from deceptive sites across Facebook.
NewsGuard rates thousands of online outlets based on how they uphold nine journalistic principles. GMF Digital set out to monitor two kinds of deceptive sites:
Sites that NewsGuard determined repeatedly published content that is provably false (we call them "False Content Producers").
 
Sites that NewsGuard determined failed to gather and present information responsibly—by presenting claims that are not supported by evidence (evidence such as multiple sources, preferably those that present direct, firsthand information on a subject or event or from credible secondhand news sources) or egregiously distort or misrepresent information to make an argument, but without crossing NewsGuard's threshold of repeatedly publishing false content (we call them "Manipulators").
There is a range in quality within our Manipulators. Fox News is of particular interest as it garners the most interactions of any of the sites. NewsGuard fails Fox News on its criterion of "gathers and presents information responsibly." Fox News has published a number of irresponsible and misleading claims—including that hydroxychloroquine protects against the coronavirus, or that social distancing has not stopped the spread of the coronavirus. Fox also posted manipulated images with a man holding a military-style rifle superimposed on top of an image of Black Lives Matter protests in Seattle. There has been significant reporting on Fox News's role in spreading disinformation, particularly about the coronavirus. However, Fox News is rated more highly than many other Manipulators because they correct errors, avoid deceptive headlines, label advertising, and disclose ownership and financing.
Most of the interactions come from a small number of incredibly popular deceptive spreaders: The top ten of our deceptive sites, all of which are Manipulators, are responsible for 62 percent of interactions.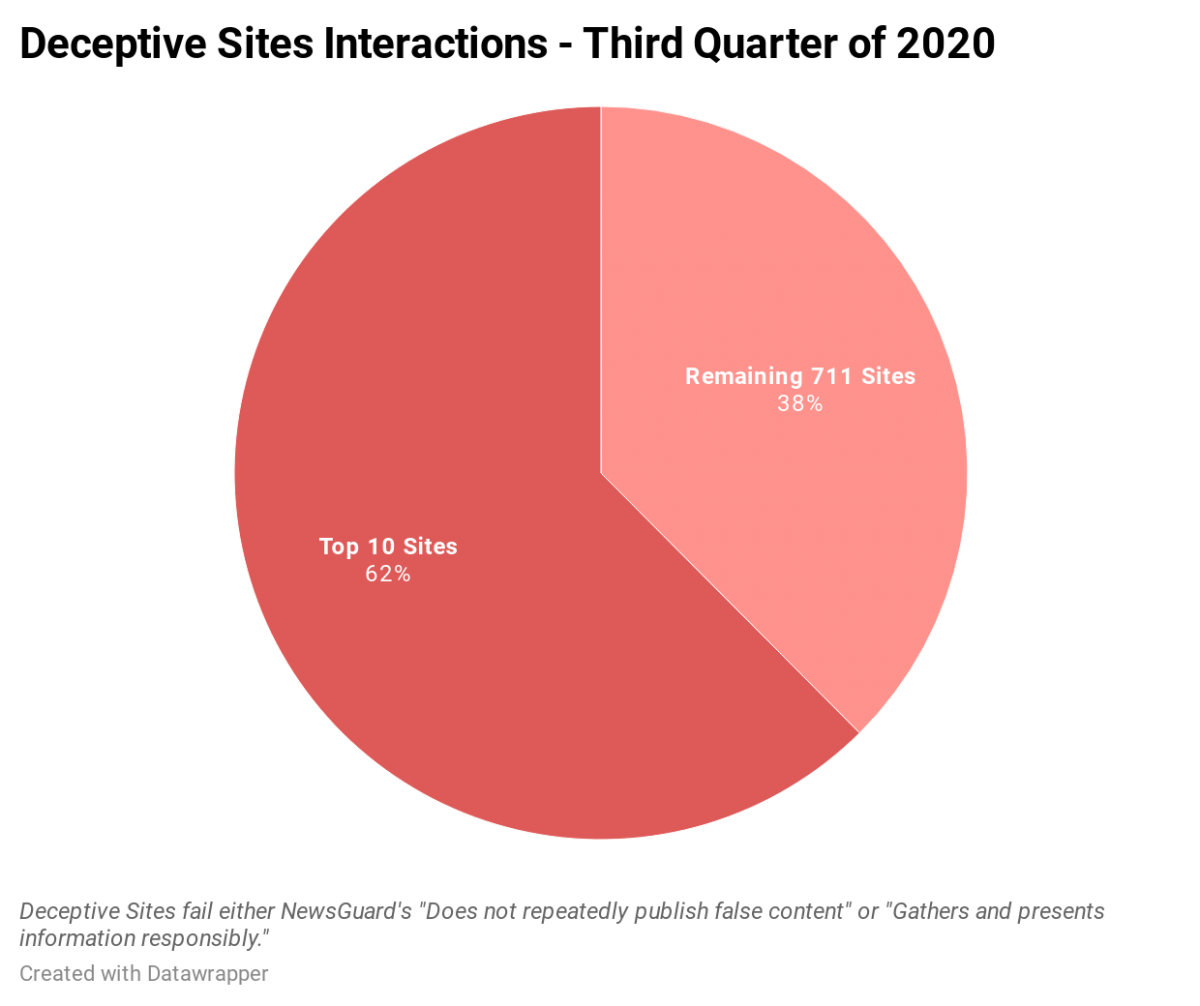 Interactions with both kinds of deceptive sites have increased since the third quarter of 2016. The popularity of Manipulators has grown to far exceed that of False Content Producers. Articles from False Content Producers increased by 102 percent while those from Manipulators increased by 293 percent. Today, interactions with content from Manipulators represent 84 percent of all interactions with content from these deceptive sites.
This data underscores that de-amplifying—or adding friction to—the content from a handful of the most dangerous sites could dramatically decrease disinformation online.
The fact that has not happened underscores the need for a Digital New Deal to prioritize the safety of users and democratic debate. In addition to updating offline rules, and holding platforms accountable, there is a need to fill the vacuum left by the decimation of journalism with a new PBS of the Internet, funded by a fee on online ad revenue.
What Else Did We Find?
During the coronavirus pandemic, interactions with articles from all news sites—including those that meet journalistic standards—increased dramatically. But interactions with articles from deceptive sites remained high in the third quarter of 2020, while interactions with legitimate journalistic outlets dropped closer to their pre-pandemic levels.
 
Interactions with content from both deceptive site categories (Manipulators and False Content Producers) increased more slowly from the third quarter of 2016 until the fourth quarter of 2019 but the amount of interactions spiked by 177 percent during 2020.
 
Since the third quarter of 2016, the growth of interactions with articles from both groups of deceptive sites was driven by a 293 percent increase in the Manipulators subgroup, from approximately 390 million to 1.52 billion in the third quarter of 2020. 
 
There were more interactions with content from Manipulators in the second quarter of 2020 than in all of 2017.
 
Interactions with content from the False Content Producers has increased by 102 percent since the third quarter of 2016.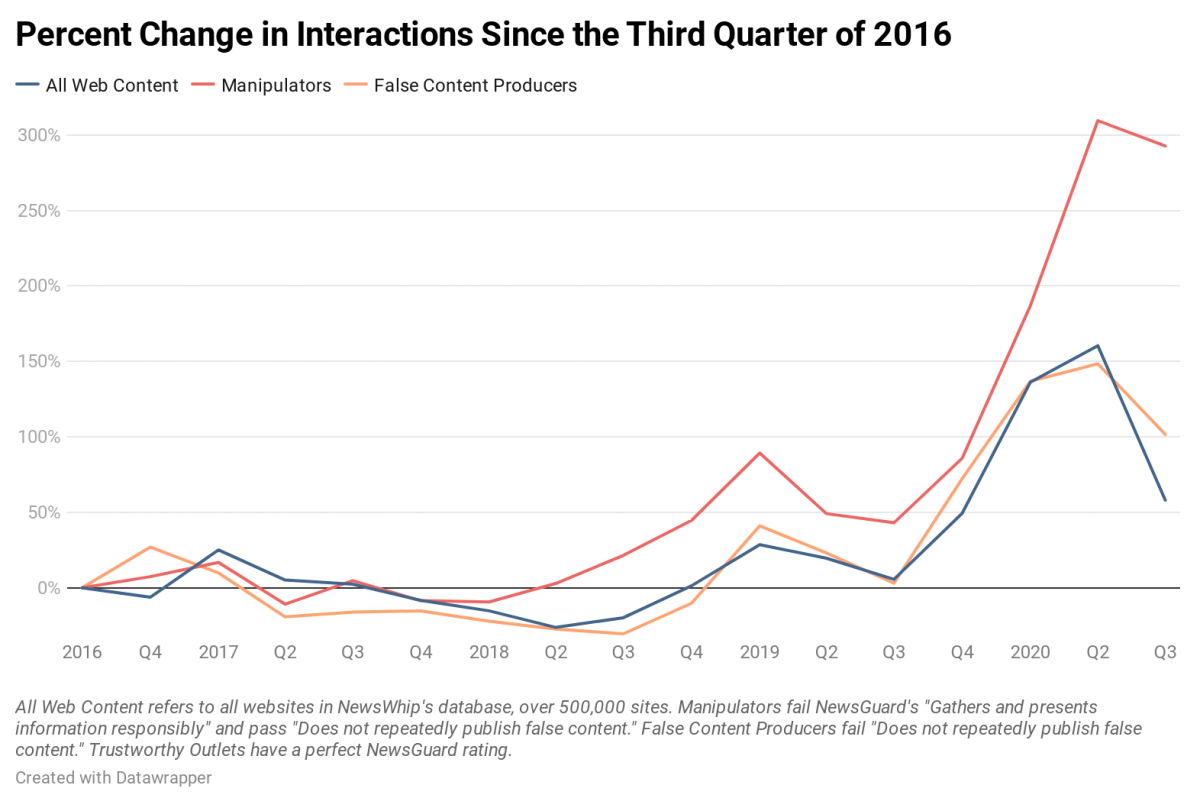 Here Are Just a Few Examples of How This Deception Shows Up:
Manipulators: 
Breitbart: "Colorado Secretary of State Encourages Non-Citizens, Deceased to Register to Vote." The Colorado secretary of state sent mailings to everyone she believed might be eligible to vote in Colorado but listed the qualifications to vote; about a dozen mailings went to people who were deceased or were not citizens.
 
The Blaze: "Hydroxychloroquine is SAFER than Tylenol: America's most 'dangerous' doctors speak out," accompanied by a video of a physician who is under investigation by the Texas Medical Board, claiming "Everybody said it's not a cure. If I have treated 350 patients and they are all well, what's that? A cure." The article elevates a non-credible source and omits scientific consensus.
False Content Producers:
DJHJ Media: "Kamala Harris Fights Back Against Questions of Her Eligibility to Be Vice President." Claims, "You have to recognize that Harris is not a legal citizen."
 
The Federalist: "The Left Is Planning To Litigate A Biden Loss Into A Military Coup."
Although the top sites are conservative, many left-leaning websites fall into these groups because they fail the relevant NewsGuard criteria. The interactions with these left-leaning sites are included in the engagement calculation.
We plan to publish quarterly updates to the data, which can also be viewed online.
The Process: What Did We Do?
NewsGuard rates online news outlets based on nine criteria of responsible journalism including:
Does not repeatedly publish false content (22 points)
Gathers and presents information responsibly (18 points)
Regularly corrects or clarifies errors (12.5 points)
Handles the difference between news and opinion responsibly (12.5 points)
Avoids deceptive headlines (10 points)
Website discloses ownership and financing (7.5 points)
Clearly labels advertising (7.5 points)
Reveals who is in charge, including any possible conflicts of interest (5 points)
The site provides the names of content creators, along with either contact or biographical information (5 points)
Outlets receive points for passing a given criteria or they receive zero for failing. A total score of less than 60 merits a Red rating, meaning the site fails to adhere to basic journalistic standards.
We focused on the criteria that NewsGuard deems most important and gives the greatest weight: does not repeatedly publish false content ("False Content Producers") and gathers and presents information responsibly ("Manipulators"). We compared these groups to a selection of outlets that pass all of NewsGuard's criteria ("Trustworthy Outlets").
A total of 396 sites fell into False Content Producers and 325 fell into Manipulators while 46 were Trustworthy Outlets. We included U.S.-based outlets including those affiliated with companies based outside the United States, such as sputniknews.com and cgtn.com.
We gathered data from NewsWhip on the Facebook interactions (likes, comments, and shares) for Facebook posts that linked back to these sites.
The data for the period between the third quarter of 2016 and the third quarter of 2020 relied on an outlet's NewsGuard rating as of September 2020. For all subsequent quarters, we will use the outlet's NewsGuard rating as of the last day of that quarter, meaning the composition of our categories is the same through the third quarter of 2020 but may change slightly going forward.
Our methodology differs from that used by other researchers. For example, the University of Michigan has developed the Iffy Quotient, which calculates the percent of each day's top 5,000 articles that come from "Iffy" sites, or sites that fail the NewsGuard rating system (getting 59 or fewer points). We wanted to capture increases in overall traffic rather than a ratio of a fixed number of articles and to examine outlets rather than articles in order to focus on the behavior of this part of the disinformation supply chain. In addition, we included outlets that did not fail NewsGuard's rating but did fail their metric for gathering and presenting information responsibly since this is an important indication of disinformation laundering. As a result, Iffy showed a peak in 2017 rather than 2020 when there was a higher ratio of interactions with stories from failed sites than passing sites, whereas our measure showed growing total interaction with our disinformation sites in 2020.
Deceptive Outlets—Especially the Dominant Manipulators—Are a Key Part of the "Disinformation Supply Chain"
Deceptive outlets masquerading as news media, as we stated in our Roadmap, pose a threat to informed democratic discourse. They are a key part of what we are calling the "disinformation supply chain." Data released on Russian disinformation activity from 2014 to 2018 show how bad actors with an agenda engage in what researcher Renee DiResta and others have called "narrative laundering" by planting a story that is "then legitimized through repetition or a citation chain across other media entities." Outlets and stories are promoted by other elements of the supply chain including groups, influencers, ads, and algorithms. Their content, especially that of Manipulators, is clearly designed to be interesting and argumentative, often oppositional to "mainstream media" and so-called elite or conventional wisdom, so that audiences are intrigued by it, like it and want to share it—including to groups. Algorithms further amplify already engaging content. By far the number one site, Fox, benefits from the popularity of the cable networks and amplification by the President and other influencers. In addition, some of these sites work with other pages to develop networks that help push out content and boost engagement (Daily Wire). Some have built their audiences through paid ads (Epoch Times).
The largest digital platforms have taken steps to reduce disinformation and harmful content, including by using fact-checkers and AI. The success of these efforts is uneven and especially complicated when the outlets and other parts of the supply chain are U.S. based. Journalists and researchers continue to uncover evidence of sites that are clearly not independent journalism and exploit rules to build audiences:
The Tow Center for Digital Journalism at Columbia Journalism School identified a network of over 1,200 sites masquerading as local news that are owned by five different organizations, all of which have ties to a single businessman. Most of their articles are algorithmically generated. They have minimal social media presence, so while roughly 150 such sites are part of our Manipulators group, they have a minor impact on quarterly interactions.
 
A report by Avaaz found 42 "superspreader" Facebook pages garnered 800 million out of the staggering 3.8 billion views for health misinformation stories over a twelve month period.
 
Popular Information identified the undisclosed financial coordination of the second most popular Manipulator, the Daily Wire, with a network of five popular Facebook pages with millions of users (Facebook penalized the network but not Daily Wire).
Manipulators are less likely to be fact-checked false—since Facebook's fact-checking system tends to look for verifiably false content. And even if they are fact checked they are they may not face the full consequences. For example, a Breitbart article claiming a Senator had contracted COVID-19 at a White House event despite wearing a mask, casting doubt on the effectiveness of masks at preventing COVID-19 transmission, was fact-checked as false but not counted against the outlet; as Breitbart's second strike for misinformation within 90 days, it could have resulted in removal from the Facebook News program.
Although the top five sites for each category are conservative-leaning, there are several left-leaning and apolitical sites within our deceptive sites.