Press release
Helmut Schmidt Fellowship 2017 Awarded to Christoph von Marschall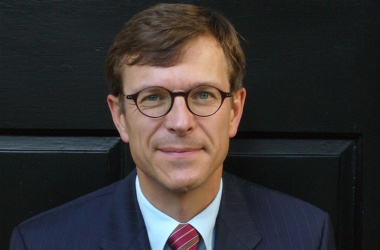 WASHINGTON (March 2, 2017) – The German Marshall Fund of the United States (GMF) and the ZEIT-Stiftung have awarded the Helmut Schmidt Fellowship 2017 to leading journalist and transatlanticist Dr. Christoph von Marschall. This prestigious position commemorates the life, service, and legacy of global statesman Helmut Schmidt by supporting the work of an individual who has shown excellence in the academic and policy spheres through commitment to advancing the transatlantic relationship and European integration.
Presently, von Marschall is chief diplomatic correspondent for Der Tagesspiegel, vice president of the Berlin Press Club, and an analyst of foreign policy and global issues on TV and radio outlets. From 2005 to 2013, he served as Der Tagesspiegel's Washington bureau chief and White House correspondent, and covered the 2016 U.S. election cycle. In 2007, he authored the bestselling first German biography of Barack Obama and followed it in 2009 with a biography of First Lady Michelle Obama. In 2012, he authored a critically acclaimed analysis of cultural differences between Americans and Germans as origins of typical transatlantic misunderstandings.
As the inaugural recipient of this prestigious fellowship at a time of transatlantic uncertainty, von Marschall will focus on the transatlantic partnership and the crisis of the West, saying, "My key questions are: Is the transatlantic partnership still needed? If so, why? And what do the partners expect from the revival of Germany in particular, or what can Germany do in their view?" He will also contribute to GMF's policy work throughout his tenure as part of the 2017 fellowship based at GMF in Washington, DC.
Von Marschall works at the core of the transatlantic dialogue as a frequent speaker and participant at high level conferences and meetings of German, U.S., and transatlantic organizations like GMF's Brussels Forum and the Munich Security Conference. He adds a unique perspective to these discussions as a member of two German Polish Advisory Boards, a German French Polish Advisory Board, and through his knowledge of the political cultures in Central Eastern Europe.
Born in Freiburg, Germany, von Marschall was raised in the Black Forrest and in Frankfurt am Main. He studied East European History in Freiburg, Mainz, and Cracow, Poland, and wrote his doctoral thesis on "Freedom in Unfreedom. The National Autonomy of the Poles in the Habsburg Monarchy after 1867."
GMF strengthens transatlantic cooperation on regional, national, and global challenges and opportunities in the spirit of the Marshall Plan. As a transatlantic public policy institute, GMF contributes research and analysis and convenes leaders on transatlantic issues relevant to policymakers. It offers rising leaders opportunities to develop their skills and networks through transatlantic exchange, and supports civil society in the Balkans and Black Sea regions by fostering democratic initiatives, rule of law, and regional cooperation.
The ZEIT-Stiftung Ebelin und Gerd Bucerius is inspired by Hamburg's liberal spirit and Gerd Bucerius' open-minded way of thinking. The foundation supports research and scholarship, art and culture, as well as education and training. It also initiates debates on political and social topics and provides forums for digital development. The scholarship program "Trajectories of Change" contributes to humanities and social sciences and focuses on transformation processes in the European neighborhood. The "Free Media Awards" support independent media and courageous journalists in Eastern Europe. At the Bucerius Summer School on Global Governance, the ZEIT-Stiftung brings together young leaders from a variety of fields to address key issues in global governance. Read more at www.zeit-stiftung.de.
###
---
Christoph von Marschall wird Helmut Schmidt Fellow 2017 und zu den Perspektiven der transatlantischen Partnerschaft arbeiten
Das Helmut Schmidt Fellowship des German Marshall Fund of the United States (GMF) und der ZEIT-Stiftung wird 2017 Christoph von Marschall (*1959) zuerkannt. Der "Tagesspiegel"-Journalist und Sachbuch-Autor ist ab Oktober 2017 für ein akademisches Jahr in der GMF-Zentrale in Washington, D.C.
Das Helmut Schmidt Fellowship wird einer Persönlichkeit zugesprochen, deren Kenntnisse, Kompetenz und Arbeit dem global ausgreifenden politischen Denken verpflichtet sind, wie es Bundeskanzler Helmut Schmidt (1918-2015) verkörperte. 
Christoph von Marschall, Diplomatischer Korrespondent der Chefredaktion des Berliner "Tagesspiegel", hat als Heranwachsender engen Austausch mit der französischen Kultur  erlebt und im Studium mit der polnischen Kultur. Der promovierte Osteuropa-Historiker studierte in Mainz, Freiburg und Krakau. In der ersten Phase seiner journalistischen Arbeit beschäftigte er sich intensiv mit der Integration der Staaten Ostmitteleuropas  in das westliche Gesellschaftsmodell (Demokratie, Rechtsstaat, Marktwirtschaft) und in die transatlantischen Institutionen. In der zweiten berichtete er acht Jahre lang aus den USA, war Mitglied des White House Press Corps und ist daher bestens vertraut mit der politischen Kultur Amerikas.
Während seines Aufenthaltes in Washington wird von Marschall zur transatlantischen Partnerschaft und der Krise des Westens arbeiten, wie er erläutert: "Meine Leitfragen zielen darauf ab: Wird  die transatlantische Partnerschaft überhaupt noch gebraucht? Wenn ja, wozu? Und was erwarten die Partner bei der Wiederbelebung insbesondere von Deutschland, bzw. was kann Deutschland aus ihrer Sicht  beitragen?"
Der German Marshall Fund of the United States zielt auf die Stärkung der transatlantischen Zusammenarbeit auf regionaler, nationaler und globaler Ebene, die auch dem Marshallplan zugrunde lag. Als transatlantischer Think Tank unterstützt der GMF Forschungen und Analysen zu transatlantischen Themen, die insbesondere für politisch Verantwortliche relevant sind. Darüber hinaus fördert der GMF den transatlantischen Erfahrungsaustausch sowie die Entwicklung der Zivilgesellschaft in den Balkan-Staaten und der Schwarzmeerregion. Mehr unter www.gmfus.org.
Die ZEIT-Stiftung Ebelin und Gerd Bucerius, Hamburg, sieht sich als Teil und Förderer einer liberal-weltoffenen Zivilgesellschaft. Sie realisiert ihre Ziele, indem sie Menschen und Organisationen fördert, die mutig Neues versuchen und Impulse in Wissenschaft, Kultur und Bildung setzen. Es ist ihr wichtig, Fragen in Politik, Gesellschaft, Kultur und Wissenschaft unabhängig zu diskutieren und interdisziplinäre Lösungsansätze für lokale wie globale Herausforderungen zu suchen. Mehr unter www.zeit-stiftung.de.
Ein Foto von Christoph von Marschall steht unter www.zeit-stiftung.de/presse zum Download zur Verfügung
Bei Rückfragen wenden Sie sich bitte an die ZEIT-Stiftung, Frauke Hamann, Leiterin Kommunikation, Tel. 040 41336871, Mobil: 0173 6231953, E-Mail: [email protected]