Agenda 2021: A Blueprint for U.S.-Europe-India Cooperation
February 8, 2021
In this edited series, experts from the United States, Europe, and India provide ideas that can move U.S.-India and Europe-India cooperation forward, setting the agenda for 2021. Focusing on five policy areas—foreign policy toward allies and partners, global trade and economic cooperation, critical technologies, security in the Indo-Pacific, and global health—they recommend areas which the Biden administration, the Modi government, and the EU should prioritize, assess the usefulness of new arrangements like D10, the Summit for Democracy, and technology alliances, and outline the roadblocks and challenges the United States, India and Europe will have to navigate this year.
This series is part of the India Trilateral Forum, conducted in partnership with the Swedish Ministry for Foreign Affairs and the Observer Research Foundation, and is edited by Garima Mohan (GMF) and Dhruva Jaishankar (ORF).
Global Trade and Economic Cooperation
What does a common economic agenda for India and the United States and India and Europe look like in 2021, especially as trade deals and agreements seem stuck? Is there scope for economic cooperation beyond trade—particularly technology cooperation, regulatory alignment, supply-chain diversification, infrastructure connectivity partnerships—that can be achieved or started in a significant way this year? Richard Rossow, Maurice Fermont, and Mihir Sharma suggest how the United States, India, and Europe can navigate these challenges in 2021.  
Foreign Policy Challenges
What will be the key foreign policy priorities of the Biden administration and what will U.S. allies and partners be asked to deliver in return? Daniel Twining, Rosa Balfour, and Tanvi Madan examine challenges the United States, India, and Europe will have to navigate in their respective bilateral partnerships this year, including streamlining their approaches to an aggressive China, economic recovery in the aftermath of the coronavirus pandemic, and domestic turmoil including political polarization.
The Indo-Pacific
The Indo-Pacific will remain a crucial region in 2021, both for the United States and India, as evidenced in the initial signs coming out of the Biden administration, but also for Europe which is in the process of formulating an EU strategy for the region this year. Nilanthi Samaranayake, Frédéric Grare, and Darshana Baruah outline areas and instruments that all three actors should prioritize in 2021, particularly in the Indian Ocean region, and suggest how to strengthen the strategic and operational convergence between the United States, India, and Europe.
Emerging Technologies
India is a central actor in several emerging-technology coalitions. The United States and Europe have named it as an important and like-minded partner, and for India its partnerships with both are crucial for aspect of its Digital India policies. Trisha Ray explores how the three actors operationalize their cooperation on emerging technologies in 2021, going beyond a shared vision.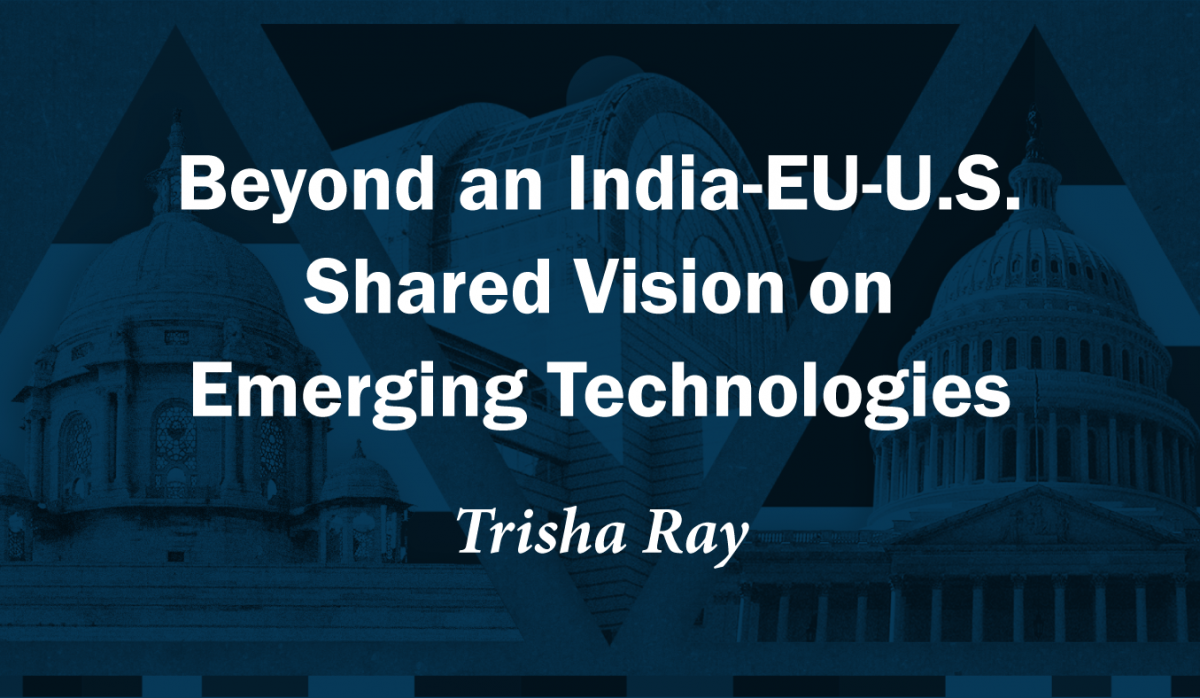 Health Challenges
Among some of the biggest challenges highlighted by the coronavirus pandemic are how to reform multilateral institutions like the World Health Organization while working toward equitable and rapid vaccine distribution around the world. Tara Varma and Oommen C. Kurian explore the scope for cooperation between the United States, Europe, and India in addressing these challenges.