A Transatlantic Dialogue on Entrepreneurship & Innovation
The Young Transatlantic Innovation Leaders Initiative (YTILI) Fellowship is a flagship young European leaders program of the U.S. Department of State that is supported in its implementation by the German Marshall Fund of the United States (GMF).
During this year-long fellowship, young European entrepreneurs from 45 eligible countries will participate in a series of activities designed to strengthen their businesses and create a transatlantic innovation network.
YTILI fellows are young entrepreneurs between the ages of 24-35 with either commercial or social ventures that they are seeking to scale in their home countries. The YTILI experience is a professional development opportunity for innovators to become change-makers by developing the skills to be successful entrepreneurs. YTILI Fellows are given access to a network of professionals, mentors, and resources aligned to support the growth of their venture during the fellowship experience. By exploring entrepreneurship in the transatlantic context, YTILI fellows will also develop the expertise to better engage in policy conversations in their home countries, across Europe, and in the transatlantic sphere.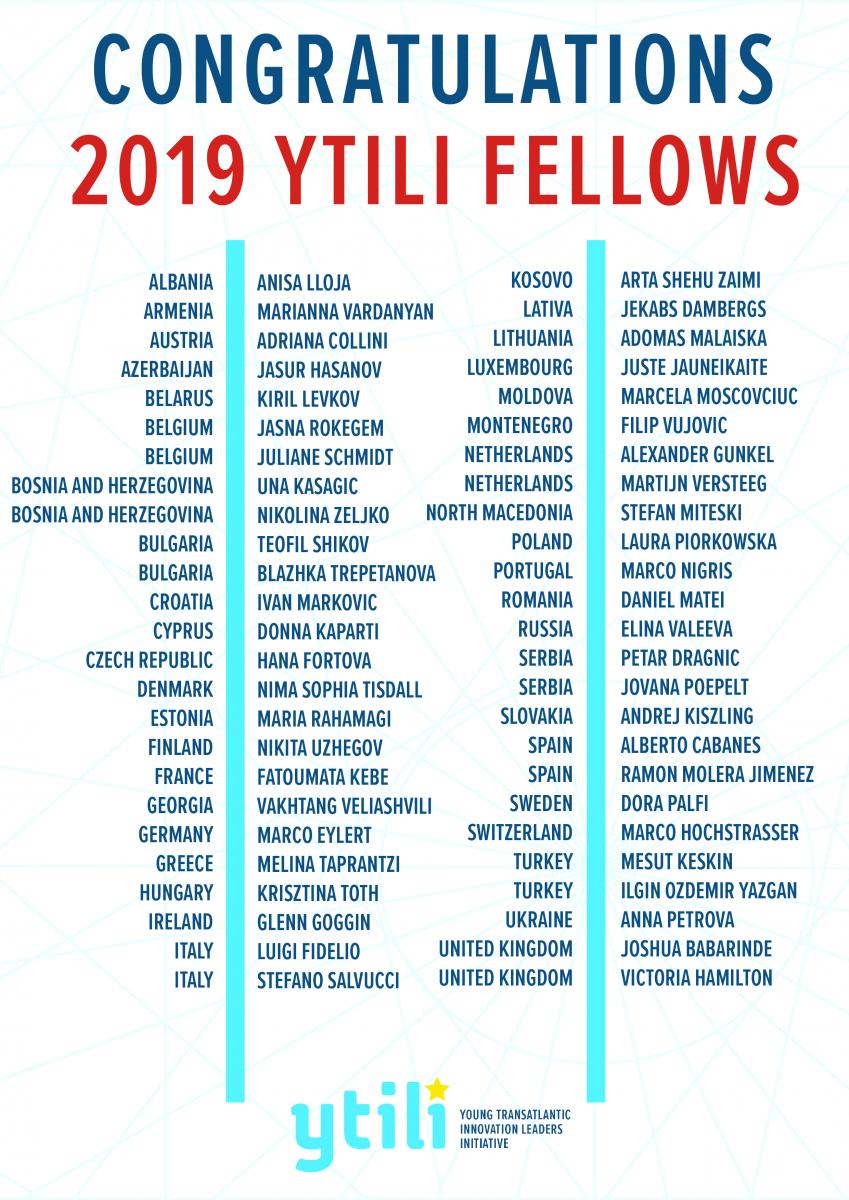 Program Details 
The 2019 YTILI Fellowship year will commence on April 1, 2019, and conclude on October 31, 2019. The cohort of fellows will engage in a robust program of in-person and virtual engagement during this time, including travel to the United States, which is the centerpiece of the fellowship experience. The full 2019 YTILI cohort will be connected virtually in pre-departure activities, an online platform, and at the opening summit in the Netherlands. Additional pre-departure and post-fellowship activities may be offered by individual U.S. embassies and consulates in the fellows' current countries of residence.
Fellowship Selection Process and Activity Timeline:
| | |
| --- | --- |
| Activity |  Dates |
| Application close  | Friday, January 11, 2019, at 5 p.m. EST |
| Initial Application Review & Scoring | Friday, January 15 – Friday, January 23 |
| Semi-Finalist Selection & Notification of Status Sent to All Applicants | Friday, February 1 |
| Semi-Finalist Interviews by US Embassies or Consulates (In Country of Residence)* | Monday, February 4 – Friday, February 15 |
| Fellowship Selection  | Monday, February 18 – Monday February 25 |
| Notification of Status Sent to All Semi-Finalists | Wednesday, February 27, 2019 |
| Public Announcements of 2019 Fellows | Wednesday, March 6, 2019 |
| OFFICIAL FELLOWSHIP START DATE | Monday, April 1, 2019 |
| European Opening Summit | Saturday, June 1 – Thursday, June 6 |
| U.S. Immersive Experience | Saturday, September 7 – Saturday, September 14 |
| Washington, DC closing conference | Sunday, September 15 – Wednesday, September 18 |
The following provides additional detail about the main elements of the YTILI fellowship:
Orientation Webinar: All fellows will be required to participate in an orientation webinar to review the expectations of the program, launch the online platform, and begin the process of building a unified YTILI cohort. (Online; April 2019)  

Opening European Summit: From June 1-6, 2019, YTILI Fellows will convene in Europe for an Opening Summit where they will meet their U.S. mentor teams and plan for their fellowship experience. Programming will also include additional professional development, networking, and peer-to-peer learning. U.S. and European experts in entrepreneurship and innovation will participate in the summit. The summit will be an opportunity for the fellows to prepare for the U.S. immersive experience, set goals for their fellowship year, and network across the full cohort of fellows. Departures will be scheduled for June 6. Additional details on the agenda will be shared throughout the fellowship year. (The Netherlands; June 1-6, 2019)

One-Week Immersive U.S. Experience: Fellows will be sent to selected U.S. cities with established or emerging entrepreneurial ecosystems for a one-week (7 business day) experience. During this period, fellows are expected to: (1) participate in activities outlined by the local mentor teams, which will vary by city, but https://share.america.gov/ytili/#fellowship #YTILI [email protected] may include individual appointments and/or events set up by the fellow, business advising with mentors, and group cultural activities; (2) explore the entrepreneurial ecosystem of the U.S. city to understand the policy context, institutional and financial landscape, and local networks that support innovation; (3) complete a revised pitch presentation and reflections of U.S. experience blog post. (September 7—14, 2019)

Washington, DC, Program: Fellows will conclude their experience in the United States with a program in Washington, DC. This concluding program will focus on three elements: (1) building the YTILI cohort and peer learning exchange; (2) networking with top U.S. government officials, as well as, global public, private, and non-profit leaders; (3) engaging in a transatlantic dialogue around issues of entrepreneurship and innovation. (Washington, DC; September 15—18, 2019)

Online Platform: As part of the fellowship experience, GMF and U.S. Department of State will offer an online platform for internal exchange and knowledge sharing. The platform will also provide an opportunity for additional training and skills development that complement the U.S. experience. (Online; Fellowship Year)

Additional Activities: Fellows and a mentor may jointly apply for a Transatlantic Dialogue (TAD) mini-grant to support travel and exchange after the U.S. Experience in the fellow's home city. A limit number of TAD and other programs offered by U.S. missions abroad (conferences, alumni events, and regional programs) may also be available to fellows in good standing. Additional information on these activities will be provided at the start of the program. (Various; Fellowship Year)
Related Blogs: