Alumni Leadership Action Grants
Goals
The GMF alumni community is poised to embark on a period of significant impact at a critical time in the transatlantic relationship. To accelerate this engagement, GMF Alumni Leadership Action Grants (ALAPs) to alumni of GMF leadership programs. The intent is to mobilize GMF's unique transatlantic leadership constituency toward strengthening transatlantic cooperation in three key areas:
The Future of Democracy
Global Engagement
Identity and Inclusion
ALAPs are awarded on a competitive basis through a call for proposals once a year. These proposals speak to both local and global concerns, and energize the wider network. GMF grants are designed as seed funds for alumni to deepen engagement and bring ideas into action. Selection criteria include the effectiveness of the project to: engage the GMF alumni network on a topic of high relevance to the transatlantic community; take an innovative approach; demonstrate transatlantic relevance and collaboration; and break new ground for the alumni network. Projects with a multiplier effect will also be given high consideration. The finalists represent:
• a range of regions
• a balance of topics relevant to the transatlantic agenda regarding the
Future of Democracy, Global Engagement, and Identity & Inclusion
• a variety of formats strengthening the transatlantic alumni network.
Grants
Since the ALAP awards began in 2013, GMF has made 42 grants total to almost every region of the U.S. and Europe. Awards range from $1,000 to $5,000, and are intended as seed funds to help alumni move from idea to action.
ALAP 2013-2017: Total Granted

GMF grants have grown from year to year. Grants made in each cohort are broken down as follows:
• Cohort 1, 2013-14: 8 awards, 4 in the U.S. and 2 in Europe
• Cohort 2, 2014-15: 9 awards, 6 in the U.S. and 3 in Europe
• Cohort 3, 2015-16: 13 awards, 5 in the U.S. and 8 in Europe
• Cohort 4, 2016-17: 12 awards, 4 in the U.S. and 8 in Europe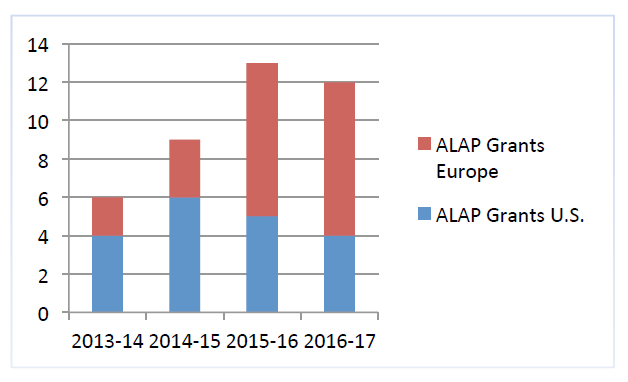 As we granted, we noticed that alumni were bringing us project ideas that divided into the three themes of Future of Democracy, global Engagement, and Identity and Inclusion. Beginning in 2016, we formalized these categories in our RFP. We invite you to read the full story of grants made starting on page 5. The following summary retrospectively organizes all grants to date into these three categories.
Impact
Now in its third year, alumni leadership projects show a proven track record with a high return on investment. Notable instances in which seed funding has incubated new innovation include:
NILE: German alumni of the Transatlantic Inclusion Leaders Network (TILN) created a pipeline opportunity for even younger generation diverse leaders from throughout Germany to access the TILN curriculum during a week-long training in Berlin and begin to gain competencies as inclusive leaders. NILE has now run for two years and continues to gain strength. One young leader from NILE consequently joined the TILN 2015 program, demonstrating the strength of this pipeline.
Diversity in the Military: A German MMF alumnus who attended GMF's 2013 event on "Mission Critical: Diversity and Inclusion Best Practices for Transatlantic Militaries" worked to bring a second phase of the discussions directly into the German Ministry of Defense in a four day international conference that drew on the talent of the first convening and also brought in significant new players. This work is serving to inform the German MOD as it develops its
diversity strategy.
Quad Caucus European Panel (Opportunity Grant): Four TILN alumni were able to participate in a U.S. convening of the "Quad Caucus" of U.S. state level minority legislators, with ongoing relationships established across the Atlantic to advance inclusive political leadership.
Combined Arms: Two American MMF alumni partnered with a Danish MMF alumnus to look into the successful Danish model of reintegrating returning veterans into civilian life. American veterans who have served in Afghanistan are increasingly suffering from issues related to unemployment, homelessness and suicide. Based on the successes of the Danish Ministry of Defense Veteran Program in preventing these issues, the United States can possibly apply the lessons learned to similar programs domestically, which could save lives and improve quality of life for veterans throughout the country. This project is now planning the second phase of implementing best practices learned into the greater Houston (TX) community.
Legacy of '89: Driven by two German MMF alumni a one day forum brought together European alumni interested in the impact of the German unification and its relevant leadership topic today. Themes included current developments happening in Europe at the moment, the state to transatlantic relations, backsliding of democracies and countries still in transition from the collapse of the socialist system, and the effect this may have on future generations. The forum provided an opportunity for alumni to connect with former civil rights advocates from the GDR now filling high-level positions in the unified Germany.
Grants to Date, 2013-17
 
Future of Democracy
Improving Italian Public Debate on Key Topics
Project Description: This project aims to strengthen the Italian MMF network, to foster discussions on long-term themes relevant for society by playing the shaping role that a network of excellence should play. The project aims at establishing cross-frontiers discussion streams around relevant global topics, by taking advantage of the competences and network relations of Italian Fellows. Each stream will be led by a small group that will meet on a regular basis in order to exchange views, discuss positions and structure a yearly public event aimed at expanding the discussion to national and international experts, opinion leaders, opinion makers, decision takers and researchers.
Project Lead: Simone Mori (MMF '00)
Granted: 2013-14, first cohort
25 years – back and ahead: changes, challenges, chances in Poland
Project Description: The year 2014 includes two significant anniversaries: the 25th anniversary of the Polish Round Table Talks and the subsequent first (partly) free parliamentary elections in Poland that started the rapid democratization process in Eastern Europe and the 10th anniversary of the biggest EU enlargement. These events have considerably changed the political scene in Europe and the context of the transatlantic cooperation. It is worth celebrating these occasions as well as review current trends of transatlantic relations which are imposed by the economic crisis, dramatic changes in the world energy sector and persistent changes in the struggle for global leadership.
Project lead: Magdalena Borysewicz (MMF '00)
Granted: 2013-14, first cohort
Combined Arms: How Transatlantic Relations Can Help Veterans Return Home
Description: American veterans who have served in Afghanistan are increasingly suffering from issues related to unemployment, homelessness and suicide. Based on the successes of the Danish Ministry of Defense Veteran Program in preventing these issues, the United States can possibly apply the lessons learned to similar programs domestically, which could save lives and improve quality of life for veterans throughout the country. In order to conduct a comprehensive comparative analysis, interviews with senior government officials, participate in Danish military transition seminars and survey resettlement program managers are planned.
Project Lead: John Boerstler (MMF '11)
Granted: 2014-15, second cohort
"Unification Generation" – Young Germans after 1989
Description: A one to two day forum with guests bringing a different, but unique background related to the German unification and leadership topic. The topic will be connected to current developments happening in Europe at the moment. Current challenges such as unemployment young Europeans are facing may have an effect on future generations. That could lead to an instable society. Therefore the "Unification Generation" forum will provide the opportunity to discuss a variety of topics.
Project Lead: Angela Pasch & Nicole Stelzner (MMF '12)
Granted: 2014-15, second cohort
Youth Leadership Project - Youth Engagement Workshop
Description: The aim of this project is to establish a wide-based community movement, which encourages the positive involvement of young people in solving issues, which affect them, treating them as resources, not as problems. The focus will be on four main areas: Education, Employment, Engagement, and Empowerment. Each area will feature expert presentations, interactive sessions and easy-to-follow guides that contain community-based strategies and resources. This workshop will be driven on providing relevant capacity building skills, tools and knowledge to youth participants. It promotes understanding and respect about both differences and common values in the society and is
also an important contribution to prevent radicalization. The Youth Engagement Workshop will be held in March 2016 on the campus of the University of Stavanger. It is an initiative of African Youth Leadership (AYL) under the Youth Leadership project.
Project Lead: Farhia Bashir Nur (TILN'15)
Granted: 2015-16, third cohort
Building a Political Movement for Immigrant Communities
Description: In the presidential election season, the ugly spectre of xenophobia and the potential voting power of New Americans are hot topics once again. Without an enduring and progressive movement, New Americans risk being continually demonized and permanently isolated from authentic political power that could move an immigrant integration agenda. This program will be part of the National Immigrant Integration Conference in NYC, where it presents a transatlantic panel featuring GMF alumni on the topic. This will be followed by a workshop examine what a New American movement could look like, and explore the strategies and challenges involved to bring new voices into government and deploying strategies to transform political systems.
Project Lead: Carlos Menchaca (TILN'15)
Granted: 2015-16, third cohort
Combined Arms: Comparing British and American Military Transition Systems
Description: British forces have endured the 2nd highest number of combat-related casualties in Afghanistan and Iraq, second only to America. Like the US, they have struggled to address veterans' unemployment, homelessness and suicides among their returning veterans. However, per capita, their statistics in these categories outperform their American counterparts. The goal of. This project brings British and American experts together to conduct a comparative analysis of how British Afghanistan/Iraq war veterans make a more successful transition to civilian life compared to their counterparts in the United States, in order to better prevent and address these issues in the future. We are pleased to announce this is a continuity grant based on the excellent project results from the previous year.
Project Lead: John Boerstler (MMF'12) & Nathan Cook (MMF'11)
Granted: 2015-16, third cohort
We4 Europe – Women for a positive future of the EU
Description: The project aims to bring together women politicians, NGO leaders and think-tankers in Central Europe and produce a positive scenario on the future of the European Union. The project aims to use the GMF alumni as main source for his network. Recently populist governments formed a Europessimistic coalition under the aegis of the Visegrad cooperation, led by Hungary and Poland. At the same time, pro-European thinkers and political forces are fragmented and lag behind offering a positive, alternative vision. Women working with women are a positive symbol of cooperation in difficult times and empower women to participate actively in decision-making.
Project lead: Zsuzsanna Szelényi (MMF'93), Zsuzsanna Vegh
Granted: 2016-17, fourth cohort
Combined Arms – Developing impactful military transition systems for the Donbass War veterans in Ukraine
Description: Since 2014, the War in Donbass has mobilized over 130,000 Ukrainian soldiers, producing over 15,000 combat casualties. Because Ukraine's defense forces were not prepared to fight a long war against pro- Russian separatists and Russian paramilitary units, their health and social service agencies have struggled to address issued related to military reintegration into society. The goal of our project is to bring Ukrainian and American experts together to help develop a collective impact network that connects services critically needed to ensure these Ukrainian war veterans make a more successful transition to civilian life
Project lead: John Boerstler (MMF'11), Igor Goncharenko (MMF'16), Nathan Cook (MMF'12)
Granted: 2016-17, fourth cohort
The challenges facing Eastern Europe
Description: To raise public awareness upon the new challenges (and threats) developing in the Eastern Europe. A public presentation and a Q&A session with Mr. Robert Kaplan, the well-known American author of many books on politics primarily foreign affairs and travel, whose work over three decades has appeared in The Atlantic, The Washington Post, The New York Times, The New Republic, The National Interest, Foreign Affairs and The Wall Street Journal, among other newspapers and publications. His last book is "In Europe's Shadow: Two Cold Wars and a Thirty-Year Journey through Romania and Beyond" - a study case on Romania.
Project lead: Christian Adomnitei, Constantin Hritac, Doina Voicu (MMF'05)
Granted: 2016-17, fourth cohort
Global Engagement
Detroit: Reframing the Narrative in the Transatlantic Community
Description: This project aims to capitalize on international media presence during the 2014 North American International Auto Show in Detroit to create a more nuanced narrative and greater understanding of Detroit beyond financial crisis headlines. Simultaneously, the project aims use this as an opportunity to engage the MMF alumni network, especially those connected to the media, in the narrative of Detroit's resilience and revitalization. This project will also allow alumni to develop a shared sense of the important work happening in places that have been defined by financial crisis throughout the transatlantic community and bring awareness of that work to a wider audience.
Project Leads: Nicole de Beaufort (MMF '13) and Toni Moceri (MMF '11)
Granted: 2013-14, first cohort
Colorado's Rural-Urban Divide: Is Perception Reality?
Project Description: This project aims establish an evidence-based nonpartisan framework for discussing the roots of and extent of Colorado's "rural-urban divide" and convene a thoughtful and diverse panel to discuss the divide within that framework. Voters in several Colorado counties are deciding whether they should try to secede from Colorado, and the prevailing narrative is one of frustration with urban and suburban politicians who don't understand and ignore their values and needs, overregulate them, and don't fairly distribute state resources to them. How much do the facts support this narrative, and what can policymakers learn from discussing those facts in a moderated nonpartisan context?
Project Lead: Jason Gelender (MMF '07)
Granted: 2013-14, first cohort
The Metropolitan Revolution - Barcelona cities-agenda for the XXI century
Project Description: Following the theme of the book of Bruce Katz, "The Metropolitan Revolution", this project aims to explore the transformative role that cities have as actors in the international scene during the 20th century. The project aims to build a network of alliances among civil society, business and government leaders to raise awareness of the importance of cities as a place of economic and social development, and to create an international network to support the creation of an international agenda that promotes cities as international actors.
Project lead: Mateu Hernandez (MMF '06)
Granted: 2013-14, first cohort
Healthcare and Innovation
Project Description: The Project goal is to utilize the GMF network to discuss healthcare and innovation and form sustained partnerships to better transatlantic societies. Topics for a Healthcare and Innovation Event include: the role of technology in healthcare innovation; entrepreneurs in healthcare; and health information systems and improving healthcare value. The inaugural event will serve to form teams around an idea that will be worked on over the ensuing 12 months and presented at a follow up.
Project lead: Shubha Ahya (MMF '12)
Granted: 2013-14, first cohort
Transatlantic Work Exchange Program
Project Description: This project aims to increase post-MFF engagement by enhancing Fellow's work experience with a transatlantic work exchange program. This would provide valuable professional work experience for GMF Alumni bring them more fully into the GMF family. This would also contribute to fundraising and corporate relations efforts.
Project Lead: Rob Bogart (MMF '06)
Granted: 2013-14, first cohort
Transatlantic West: Unleashing the Potential
Project Description: This project is a leadership gathering designed to build transatlantic relationships on the west coast hosted by the San Francisco MMF community. The dialogue will investigate the potential of the transatlantic relationship for business innovation on the west coast.
Project Lead: Mike Fernandez (MMF '09)
Granted: 2013-14, first cohort
Understanding TTIP: From Core to Periphery
Description: EU and US experts will be invited to give a talk on the essential aspects of the TTIP agreement. Four or five "task force" groups will deal with questions related to TTIP such as "How will it affect the rest of the world?" online. Each group conclusions will then be summarized. In addition to that a 20-25 minute presentation on the individual TTIP subject will be prepared. Finally, a discussion forum intended for all GMF alumni and open to specialized public will be hosted.
Project Lead: Dr. Begoña Graña-Suárez (MMF '13)
Granted: 2014-15, second cohort
Introducing German Apprenticeship Models to NC Community Colleges
Description: This project will host three meetings featuring Professor Siegmut Keller, an expert on German vocational education and apprenticeships. By bringing him North Carolina, this project seeks to reach a wider audience, expanding on the goals of the earlier program to make more government, education and business leaders aware of vocational education systems. Additional speakers might include representatives of community colleges, K-12 education and businesses that have successfully adapted the German model to fit their unique situation and needs. The meetings will also incorporate facilitated discussions in which participants will explore ways that they might adapt and incorporate elements of the German model into their own training programs.
Project Lead: Tony Caravano (MMF '12)
Granted: 2014-15, second cohort
Advancing Women's Global Leadership
Description: The GMF Advancing Global Women's Leadership Project will gather 20 women leaders from various sectors to examine ways that membership in alumni networks can help bridge the gender divide across sectors and nations. The Leadership Project participants will participate in a two-day meeting which will include leadership/sector specific networking that moves beyond basic introductions and resume sharing. The project will focus on the dissemination of strategies for attaining leadership positions, managing transitions, and the mentoring of talented women.
Project Lead: Marcia Chatelain (MMF '11)
Granted: 2014-15, second cohort
ReThink CLT (Charlotte)
Description: ReThink CLT seeks to offer progressive ideas that impact the city's competitiveness in terms of research and development by operationalizing existing structures, connections, and institutions. The project also seeks to build and contribute to existing conversations regarding infrastructure, transportation, and entrepreneurship which will ultimately impact mobile technology. Bringing together global thought leaders to achieve the previously stated goals is way to strengthen connections as well as provide solutions.
Project Lead: David Howard (MMF '09)
Granted: 2014-15, second cohort
Transatlantic Social Entrepreneurship Exchange
Description: The idea is to connect potential social investors, foundations, distributors, successful social entrepreneurs also to strengthen the ties between the US and European social entrepreneurs. The goal is to share experiences, learn how can help each other and to lower barriers to enter the US or European market. The project seeks to establish a Transatlantic Social Entrepreneurship Exchange, strengthen know how and network among European and US Social Entrepreneurs, meet social investors, think tanks, foundations, and experienced social entrepreneurs in the US to identify interested participants, help US social enterprises enter the European market, and reveal opportunities for European social enterprises to enter the US/Northern American market.
Project Lead: Andrea-Victoria Noelle (APSA'07-08) & Annika Busse (APSA '05-06)
Granted: 2015-16, third cohort
Applying German Utility Sector Innovation to Achieve California's Clean Energy Goals
Description: As the world's clean energy leader, Germany's utility sector is transforming from a centralized, natural monopoly to a decentralized, competitive market. Germany's ''Energiewende'' clean energy transition is pioneering a new model that overcomes traditional utility economics and regulatory models which have historically obstructed clean energy innovation. In California, and across the US, those same obstructionist forces are impeding America's transition to clean, renewable energy. This project will apply insights from the German utility sector to California, with the goal of developing a transition roadmap that allows California utilities to both protect their shareholders while also benefiting from de-carbonization.
Project Lead: Todd Achilles (MMF'01)
Granted: 2015-16, third cohort
Social Enterprises Scaling
Description: Social enterprises address some of today's most pressing issues. However, the great majority of them struggle to grow, especially to scale internationally. The aim of the Social Enterprises Scaling project is to allow social enterprises, that are ready, to grow through a unique scaling infrastructure for; currently in and across eight European countries. The second goal of the Social Enterprises Scaling project is to present European lessons learned in scaling social enterprises and to align vision and strategic plans on both sides of the Atlantic for local, US---wide and transatlantic scaling of social enterprises.
Project Lead: Andrea Lelovics (MMF '05)
Granted: 2015-16, third cohort
Entrepreneurship without Borders: Building Entrepreneurial Ecosystems Across the Atlantic
Description: The aim of this project is to leverage GMF's platform and begin a larger transatlantic conversation about business, industry and commerce across the transatlantic. We envision a recurring multi-day conference to do just that. This would afford alumni and stakeholders the chance to discuss industry, commerce and the private sector. Our alumni leadership project is the first step in a larger journey to build the broader discussion. The theme will be on Fostering Entrepreneurship and Creating Entrepreneurial Eco-Systems. Topics covered will examine the differences in Europe and the U.S in all aspects, as it relates to the role of government, philanthropy and NGO's to promote entrepreneurialism and small business growth.
Project Lead: Damon Taseff (MMF'14) & Petra Despot (MMF'14)
Granted: 2015-16, third cohort
Detroit Global Engagement Strategy
Description: Detroit's Global Engagement Strategy will explore the opportunity for a home for global affairs and engagement in Detroit that is meaningful and relevant for the city's majority. The project will research "best practices" and learnings from model global engagement efforts and gather input from Detroit's GMF network, policymakers, business leaders, and community advocates to develop a set of recommendations for a global engagement strategy for Detroit that will raise up the city's talent, expertise, and unique history to inspire and influence discourse on global issues.
Project lead: Nicole de Beaufort (MMF'13), Toni Moceri (MMF'11), Julie Egan (ASMUS'14)
Granted: 2016-17, fourth cohort
Seed a transatlantic awareness in GenerationZ/Igen to build next generation of global leaders: a transatlantic learning program
Description:
Creation of a special transatlantic learning program for young students & professionals, leveraging on the students of Scuola di Politiche (SdP),
www.scuoladipolitiche.eu
, founded in 2015 in AREL (one of the most established think tanks in Italy) by former Prime Minister Enrico Letta, with the support of former EU Commissioner and Minister Emma Bonino, former EU Commissioner and WTO GM Pascal Lamy. SdP's goal is to develop every year the skills of 100 highly motivated and talented young people between 18 and 25- strengthening their ability to respond to innovation and to be change makers in their professional, personal and political lives with a focus on long term policies and a strong European vision, where the transatlantic dimension plays an important role.
Project lead:
Isabelle Faultano (MMF'02), Francesco Clementi (MMF'16), Carlo Mannoni (MMF'06), Simone Mori (MMF' 00)
Granted:
2016-17, fourth cohort
Athens meets Detroit. The power of civic engagement and social accountability.
A transatlantic dialogue.
Description: The goal of the project is to highlight with a transatlantic view the power of civic engagement and social accountability in a financial crisis period. Therefore, best practices, trends, strategies from the city of Detroit will be shared with people in Athens. The idea is to set up an on-going dialogue between the two cities on challenges of civic engagement. The kick start of this dialogue is the establishment of a network affiliate with the Detroit Women Leadership network currently active in Detroit under the name Athens Women Leadership Network – A Transatlantic Dialogue.
Project lead: Christina Manolopoulou (MMF'08)
Granted: 2016-17, fourth cohort
California Global Engagement
Description: Lead a coalition of GMF alumni in California to join with GMF and select corporate partners and the University of Southern California aimed to grow California's global engagement capacity through investing in subnational corporate, government, and non-profit leaders and integrating underrepresented communities into the foreign policy discourse. Growing concern for the future of U.S. global leadership both at home and abroad, mounting skepticism of the importance of trade and international relations, and resistance to immigration and inclusion, demonstrate the need to invest in and ensure the global outlook of local leadership.
Project lead: Kellie Hawkins (MMF'13)
Granted: 2016-17, fourth cohort
Tanja Wunderlich Award
Description: The main goal of this project is to leverage diaspora social entrepreneurs for change. The project members want to organize an one-day expert meeting in which diaspora social entrepreneurs and relevant organizations will share their experiences, ideas and thoughts on the need and impact of diaspora social entrepreneurs and social entrepreneurship as a way to strengthen ties between the Netherlands/ Belgium and other parts of the world and to assist and support their home countries in an economically way.
Project lead: Samira Rafaela (TILN'16), Omar Ba, Mpanzu Bamenga (TILN'15)
Granted: 2016-17, fourth cohort
Identity & Inclusion
Fostering Transatlantic Dialogue and Building Dynamic Networks
Project Description: The French MMF alumni network all work in very different fields, with diversity as the main source of collective creativity. With that in mind, this convening will bring French MMF alumni together once monthly, giving the floor to a French MMF alumnus to present their job, their field of work, the specificities of the organization they works for, followed by a broader discussion around economics, the impact of geopolitics and transatlantic relations on this field, possibly also involving a site visit to the speaker's workplace.
Project Lead: Thomas Emmanuel Gerard (MMF '04)
Granted: 2013-14, first cohort
The Role of Minority Caucuses
Description: This exchange brings together diverse elected leaders from both sides of the Atlantic to explore synergies for advancing inclusive leadership. The Quad Caucus is a growing network in the United States convening the African American, Hispanic, Native American, and Asian American caucuses of state level legislators to identify platforms for shared work across the fifty states. November 6-8, 2014 in Miami, TILN alumni from Europe will present a panel at the Quad Caucus, sharing insights about challenges and opportunities for diverse elected officials in Europe.
Project Leads: Mischa Thompson (GMF Fellow, 2013; and Simon Woolley, TILN honorary founding member and coach 2012-present)
Next Generation Diverse Leadership in Germany
Description: German TILN alumni with great drive in Germany came together in December 2013 to share some of the inclusive leadership knowledge they gained at TILN with an even younger emerging generation of diverse leaders from across Germany. The workshop they offered proved to be a great success. This year (2014) the project will be offered to a new cohort, timed to coincide with the Berlin Seminar for GMF leadership program alumni on Inclusive Economies and Workforce. The two groups will have the opportunity to meet and share perspectives during one of the Berlin Seminar evening events.
Project Lead: Daniel Gyamerah
Granted: 2014-15, second cohort
UK Black Political Network: Policy and Leadership Training Day
Description: This workshop will share principles and strategies for inclusive leadership with aspiring black women and men of African and African-Caribbean origins across the political spectrum who wish to run as elected representatives for local/national government.
Project Lead: Councilor Sanchia Alasia (TILN 2013).
Granted: 2014-15, second cohort
Dutch Inclusion Leaders
Description: The Dutch Inclusion Leaders project will be a diversity and inclusion initiative in the spirit of GMF's leadership vision. We will choose young talent from each of the 12 provinces (2 per province) of the Netherlands based on a very simple application where the young people express their motivation to be in the program and give an example of the way they lead in their home community. Topics such as communication skills, networking, innovation, and the transatlantic role will be discussed. Budgets for these events will be very modest and as the program develops we will be seeking Dutch corporate sponsors also at a modest level. By educating young people to be inclusive leaders, we are preparing them for the challenges they may be facing. In this way, they can best contribute by bringing people together across visible and invisible barriers to solve rather than creating problems.
Project Lead: Mpanzu Bamenga (TILN '15) & Ahmed Larouz (MMF '08)
Granted: 2015-16, third cohort
Network Inclusion Leadership Training
Description: A democratic and inclusive society needs strong, well connected and well trained minority leaders at the end of the talent pipeline that ensure a new dynamic among the current leadership circles. The follow-up workshop of the Germany/Austrian-based "Network Inclusion Leaders – NILE" endeavors to: Identify, network and empower young (19-27 Year old) minority leaders in their respective identity communities, increase the visibility of minority leaders from and in NGOs, the private sector and the policy realm (minority advocacy), and provide the participants access to decision makers and change agents for an inclusive society. We are pleased to announce this is a continuity grant basedon the excellent results last year.
Project Lead: Gün Tank (TILN'13) & Daniel Gyamerah (TILN '13)
Granted: 2015-16, third cohort
Transatlantic Trilateral Information Program for Media
Description: The project will see 12 journalist alumni from the US & Germany travel to Germany & Ukraine to meet and travel with a group of six Ukrainian media representatives, and immerse themselves in the ongoing topics of international dispute, the expectations to the Western world and other, they will also explore and receive training on the use of digital media and how to address the challenges of state controlled media and propaganda misuse of media outlets.
Project Lead: Dirk Schattschneider, (MWS'98) (MMF'03)
Granted: 2015-16, third cohort
U.S. Latinos & German Turks: An Analysis of Immigrant Integration Efforts
Description: In hopes of establishing an annual series, this inaugural two---city exchange between Berlin and Detroit seeks to explore the dynamics and experience of immigrant integration efforts for Turkish immigrants and Latino immigrants in Germany and the US, respectively. As migration patterns and demographics shift globally, this dialogue is essential to developing more informed policies and initiatives to truly support and welcome immigrant communities. We hope this project stimulates future panels and/or projects exploring the experience of marginalized immigrant populations, across borders, in multiple cities. It will also be integrated into the upcoming Detroit Seminar in May 2016.
Project Lead: Raquel Castañeda-López (TILN '14) & Orkan Ozdemir (TILN '14)
Granted: 2015-16, third cohort
Building Inclusive Leadership Capacity in France
Description: The project aims at organizing a one day workshop on inclusiveness and unity with the French society. A diverse group will be selected in terms of ethnicities, religions, and social backgrounds from politics, civil society, media. They will work on a capacity building process and training with professional on community organizing. The outcomes will be on the first hand to give them new skills and empower them and start a community of leaders working for inclusiveness.
Project Lead: Samia Hathroubi (TILN '13) & Orkan Ozdemir (TILN '14)
Granted: 2015-16, third cohort
Italy Inclusive Leaders Network
Description: The project goal is to jumpstart an informal network this Spring - the Italian Inclusive Leaders Network (IILN)—which we aim to grow over time. It be modeled after the successes of German (Gun Tank and Daniel Guymerah) and Dutch TILN alumni (Mpanzu Bamenga). Meeting goals include deepening knowledge of how participants can lead policy/community change, and learning how they can help each other to achieve their goals. Facilitators will also provide technical advice about creating an organization. In addition to impacting the participants and their communities, we anticipate a symbiotic relationship between IILN and GMF's current corps of Italian alumni.
Project lead: Ajenai Clemmons (TILN '15, MMF'16)
Granted: 2016-17, fourth cohort
Cultivating Minority Women professionals for Leadership and transatlantic engagement
Description: This proposal is designed to support a national conference series, which will convene, strengthen, cultivate and empower hundreds of minority women professionals (MWPs) from diverse sectors to achieve greater levels of success and leadership. Through a series of one-day conferences, we aim to engage and train MWPs and provide expert mentorship, including skills around transatlantic leadership for women of color or disadvantage, in multiple cities across the United States.
Project lead: J. Nwando Olayiwola (MMF'14), R. Daniel Lavelle (MMF'14)
Granted: 2016-17, fourth cohort
Nordic Inclusion Round Table
Description: Defining Finnish narrative of inclusion will gather 25 people distinguished personalities, doers, policy makers, politicians, business sector, entrepreneurs, artists and media representatives and engage them in a dialogue on inclusion and diversity in a Finnish context. The goal is to gather and connect the generation that speaks now to the next generation to build a good narrative to make the change to a better feasible inclusion. To create awareness on inclusion and that such form of events addressing the society fabric take place connecting Finland to the world and vice versa. To forge partnerships among the group of 25 debaters during the event which will anchor the event to be repeated on yearly basis and promote the debate. Produce a video basis 2 day discussions and debates to spread in English/Finnish. Transcend TILN philosophy and share practices by engaging other fellow TILN with key-note and communication training. This conference will identify talents for TILN and pipeline for GMF
Project lead: Kamilla Sultanova (TILN'12), Farhia B. Nur (TILN'16)
Granted: 2016-17, fourth cohort
Alcee Hastings Award
Description: The aim is to hold a workshop that empowers Roma leaders to shape a more inclusive and positive political narrative, both among Roma and for the broader population. Self-perception is core to political empowerment, and with a toolkit to reach out into the community with positive narratives, participants will be better able to shift perceptions in their regions. Roma are already adding value, and we have the political and economic potential to contribute more. The more we are encouraged to act and believe that we are able to participate, the more positive impact we can make.
Project lead: Roland Ferkovics (TILN '16), Atanas Stoyanov (TILN'15), Sam Rasoul (TILN ´16)
Granted: 2016-17, fourth cohort
2017 Marshall Prize Finalists
John Boerstler (MMF '11)
Combined Arms: How Transatlantic Relations Can Help Veterans Return Home
John Boerstler is Executive Director of NextOp, whose mission is to recruit, train, and place high-performing mid-level enlisted military leaders into industry. John served in the United States Marine Corps from 1999-2007 as an infantry unit leader. His overseas assignments include Iraq, Kuwait, Syria, Jordan, Djibouti, and Kenya. In 2009 John helped found the Lone Star Veterans Association (LSVA), which has become the largest network of Post 9/11 veterans
in Texas. In 2015, John worked with regional leaders to establish the Combined Arms network, a first of its kind community-based transition system built to accelerate the impact of veterans on Houston based on the research conducted on GMF Alumni Project trips to the UK, Denmark, and Israel. John holds a Bachelor's degree from Texas A&M University and a Master's in Public Administration from the University of Houston. John traveled as an MMF in 2011, representing the United States in Budapest, Bilbao, and Sarajevo. As an MMF Alumnus, John has also traveled to the United Kingdom, Israel and Denmark to write comparative studies on their military transition systems and is planning to travel to Ukraine in April 2017 to assist in the development of their military transition infrastructure in the wake of the Donbas War.
Gün Tank (TILN'13) & Daniel Gyamerah (TILN '13)
Network Inclusion Leadership Training
As Commissioner for Integration for Berlin (Tempelhof-Schöneberg), Gabriele Gün Tank advises the city government in all matters regarding migration policies within the district. She graduated in 2001 from Marmara University in Istanbul with a Master Degree in journalism. From 2000 – 2001 she served as an editor and freelancer at "apparat multimedia GmbH" in Berlin. In 2002, she entered a traineeship in Public Relations with the DGB (Confederation of
German Trade Unions), followed by a traineeship in the office of Member of Parliament Eckhardt Barthel from 2002-2003. She advanced to become Eckhardt Barthel's advisor from 2003-2004. In 2005, she served the Social Democratic Party (SPD) of Germany group in the German Parliament as Junior Counselor at the chairman's planning group for domestic policy issues, integration and culture. From 2006 – 2007, she served as policy advisor to Parliament Member Mechthild Rawert. In 2007, she became Commissioner for Integration, the position she holds today. In 2016 she graduates and holds a Master of Public Administration from the Hertie School of Governance in Berlin (Germany). Tank serves as a board member to the Rosa Luxemburg Foundation, the organization BQN Berlin and the IG Metall Migration Committee Berlin, Brandenburg, Saxony.
Daniel Gyamerah is responsible for Citizens For Europe's flagship project, Vielfalt entscheidet – Diversity in Leadership". He develops strategies for inclusion and advocates for equality data collection & antidiscrimination legislation Being a TILN-Alumnus, he co-founded Network Inclusion Leaders (NILE) Germany - a unique leadership program for emerging leaders of color in Germany. He also serves as the Head of Each One Teach One (EOTO), one of the largest community-based empowerment projects for African descendants in Germany. Daniel has researched on the education system, taught at a school and worked at the German Bundestag and the German Embassy in Ghana.
Samia Hathroubi (TILN '13) & Orkan Ozdemir (TILN '14)
Building Inclusive Leadership Capacity in France
Samia Hathroubi has serves as European Coordinator of The Foundation for Ethnic Understanding (FFEU), a New York-based not-for-profit working to build a global movement of Muslims and Jews committed to communication, reconciliation and cooperation. In that position, she has also served as coordinator of a new body linked to FFEU known as the Gathering of European Muslim and Jewish Leaders (GEMJL), the only trans-European Muslim- Jewish organization that fights both Islamophobia and anti-Semitism and works to ensure that both faith communities live in peace and security in a vibrant Europe anchored in principles of democracy and pluralism. Prior to this, she worked as a project manager for the YaLa Young Leaders Project in Israel/Palestine in 2011-2012, and is still deeply involved in the regional movement to promote peace and co-existence in the Middle East. Ms. Hathroubi anticipates holding increasingly responsible roles in public service. She speaks Arabic, Spanish, French, and English.
Orkan Oezdemir is the integration spokesperson for the Social Democratic Party of Germany (SPD) in the district of Tempelhof-Schoeneberg in Berlin. Mr. Oezdemir sits on the Committee on Women and LGBT affairs, Committee on Integration, Committee on Social Affairs and Senior Citizens, and the Committee on Sports and is the vice chairman of the Committee on Education. He is also chairman at the Board for Integration and Diversity of the SPD Berlin. Mr. Oezdemir works as a political consultant at BQN Berlin, and studied Political Science in Germany at the Freie Univerität Berlin.