Community-Building in Challenging Times: Students Lead the Way for Themselves and Others
The Ukrainian Students League was created by students for students to support grassroots initiatives and encourage young people to be proactive. The idea of creating an organization that would unite students of different backgrounds, regions, and interests originated among students in the spring of 2021 as a response to the COVID-19 lockdowns affecting universities. Maksym Svysenko, one of the league's leaders, shares his experience of representing students during the war in Ukraine.
Can you tell us why you created the Ukrainian Students League?
All-Ukrainian Student Congress of the Ukrainian Students League in Zhytomyr for 100 heads of student self-government bodies and youth NGOs. Photo credit: Ukrainian Students League.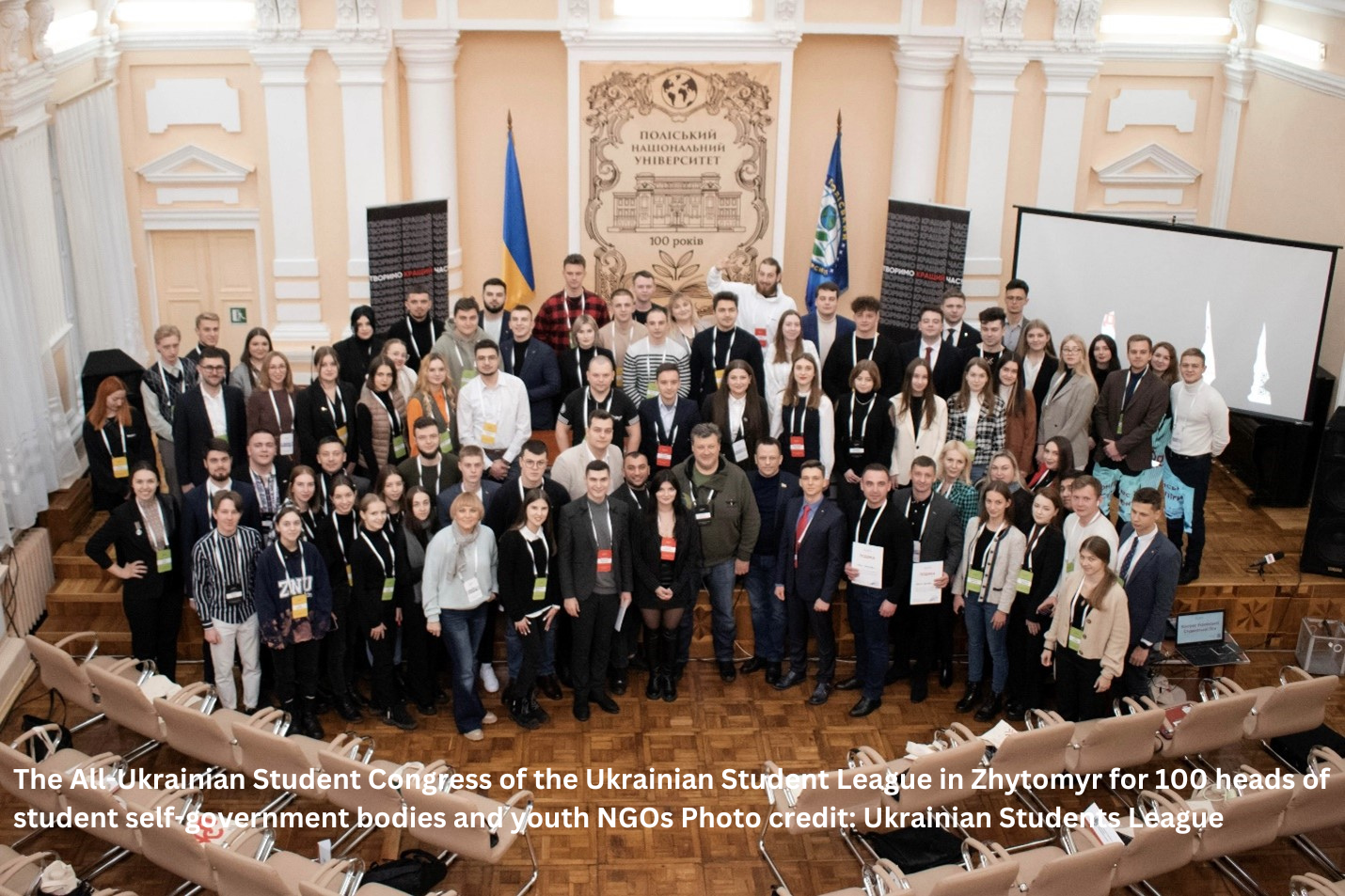 We are quite a young organization, established as a reaction to COVID-19 and its challenges for Ukraine's education system. Back in 2021, when all Ukrainian students were under lockdown and universities were closed, we were just discovering online
All-Ukrainian Student Congress of the Ukrainian Students League in Zhytomyr for 100 heads of student self-government bodies and youth NGOs. Photo credit: Ukrainian Students League
learning and no one had any answers about what to expect. Students' voices were not heard. We founded the Ukrainian Students League to advocate for students and their rights; to represent them on the local, regional, and national levels; to support students' initiatives on legislation; and to advocate for them at the Ministry of Education and Science, the Ministry of Youth and Sports, and the parliament if needed. We wanted to ensure that students were engaged in all spheres of life, not only in academia.
Initially, 15 universities joined. Today, we have over 60 institutions of higher education and 12 youth organizations. We plan to have an in-person congress in Dnipro next summer and hope to gather at least 80 institutions of higher education and at least 20 youth organizations. Young people need to unite to be heard. Back in 2021, students lost their connection to the university community. During the COVID-19 lockdown, we all were stuck in our apartments. Many students moved back in with their parents and didn't see their friends and classmates. We wanted to change that and bring students together so they could have a community where they would belong.
What challenges are Ukrainian students facing now?
With the Russian full-scale war against Ukraine, everything is a challenge. Strategically, we work in three different but interconnected directions: the quality of education, financial challenges that students face (including for housing), and psycho-emotional challenges. Many students relocated with their universities and now need additional protection and support because of the displacement. We think about ways to provide them with decent housing and high-quality education. Also, we think about university graduates, those who graduated from Mariupol universities and other educational institutions in the Donetsk and Luhansk regions. These graduates also need our help; they are part of the student community.
Many faculty members also had to evacuate, and some of them went abroad. Some stopped teaching, and others took over their colleagues' teaching hours and now teach more classes than they used to. We raise the question about the quality of education and the readiness of faculty to teach heavier courseloads.
Many students evacuated abroad. Some of them continue studying online at Ukrainian universities while others enroll in foreign higher education institutions. We do our best to keep them connected to Ukraine. We created student communities in Belgium, Germany, Poland, and the United Kingdom. These student communities actively engage in Ukrainian cultural activities and in rallies against Russia's aggression against Ukraine. But—and this is even more important—they also provide psycho-emotional support. Despite living in prosperous, peaceful, developed countries, Ukrainian students miss home and want to return to Ukraine. Connecting with each other abroad helps them stay strong and resilient.
Lastly, we are a platform for communication among university leaders, students, and the government. Now we are dealing with an online-offline studying dilemma and related safety and security issues. If a university doesn't have a proper bomb shelter, it can't resume in-person classes. Even when the university has a bomb shelter, it may lack professors to teach lessons or students to learn as they had to evacuate abroad or to the safer regions of Ukraine. As you see, there are numerous challenges. We mediate these conversations and make sure that students' voices are heard.
Currently, the Ukrainian Students League is involved in various humanitarian projects. What made you change the scope from working with students to working with other vulnerable groups?
We became actively engaged in humanitarian activities after the full-scale invasion began. Back in February 2022, when it was not safe to stay in Kyiv, many team members and students evacuated. Most of our team members moved back home to Lviv or Dnipro.
As we know, Lviv at that time had become a dry port of Ukraine—the city receives most of the humanitarian help and then ships it to other cities. Dnipro, on the other hand, is the biggest and closest city to the front line. It hosts volunteers, humanitarian support, internally displaced persons (IDPs), wounded military personnel, and soldiers who are about to deploy to the front. Officially, Dnipro city and region have received 400,000 displaced Ukrainians.
We had team members in Lviv and Dnipro who started working from the first days of the full-scale invasion. At the beginning of March 2022, we began creating temporary housing centers for IDPs arriving in Dnipro. Our centers hosted more than 4,000 people. We partnered with the World Central Kitchen and provided IDPs with food, medical supplies, and clothes, and we assisted them in finding job opportunities. We established partnerships with international donors and private businesses. One of the global IT companies co-funded our idea to build a center for a comfortable prolonged stay for IDP families with children. Now we are in the process of building this center. We plan to build 40 apartments that can accommodate up to 120 people. The main idea of this center is to become a real temporary home for IDPs, so they can start rebuilding their lives, find jobs, enroll their children in schools, and integrate into the host community.
In May 2022, we initiated a summer camp in Dnipro for internally displaced children. Having had the experience of being stripped of friends and community during COVID-19, we understood that these children needed community, friends, and some normality amid the disaster our country is undergoing. We crowdfunded, and we secured pro bono educational services from one of the biggest and best academic centers in Dnipro city, Logos, which in turn partnered with one of the recreational centers in the city. The children got a much-needed summer break. I don't know who was happier: the children or our team seeing smiles on their faces.
The Ukrainian Students League has ambitious plans. We continue to work with IDPs, develop our network of partners, and encourage Ukrainian institutions of higher education to join us. We see our strength in unity. Ukraine needs bright, resilient, proactive youth. Our motto—creating better times together—guides us in all that we do.