The Balkan Trust for Democracy
The Balkan Trust for Democracy (BTD) is an award-winning transatlantic initiative that supports democracy, good governance, and Euro-Atlantic integration in South-East Europe.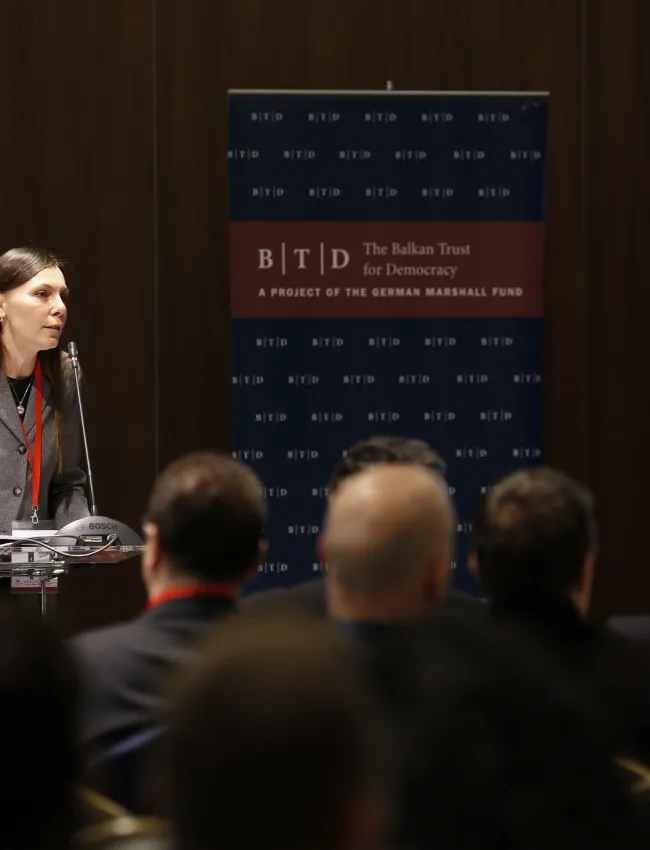 The Balkan Trust for Democracy (BTD) is an award-winning transatlantic initiative that supports democracy, good governance, and Euro-Atlantic integration in South-East Europe. 
This Global Development Alliance Excellence Award winner was established as a public-private partnership in 2003 by the German Marshall Fund of the United States, the United States Agency for International Development (USAID), and the Charles Stewart Mott Foundation. Over the years the initiative has been joined by many European public and private donors making the Balkan Trust for Democracy a true transatlantic partnership for development in South-East Europe. Thanks to its flexible, responsive, and organic nature, the initiative has been able to address and react to multiple challenges in the region, including the latest caused by the coronavirus pandemic.
Since its inception, additional contributions from the following donors have made BTD a true transatlantic partnership:
Compagnia di San Paolo
Czech Ministry of Foreign Affairs
British Foreign and Commonwealth Office
Danish Ministry of Foreign Affairs
Embassy of the Kingdom of the Netherlands, Belgrade, Serbia
Greek Ministry of Foreign Affairs
Norwegian Ministry of Foreign Affairs
Robert Bosch Stiftung
Rockefeller Brothers Fund
Swedish International Development Cooperation Agency
Tipping Point Foundation
BTD operates with a small, skilled staff with extensive experience in the region. BTD further engages experts on its grant review committee, which is composed of GMF staff members engaged in civil society work across the globe, as well as BTD donors and partners. An extensive network of local and regional experts and practitioners also helps to guide and inform the work of BTD.
Grants, Policy, and Leadership
The Balkan Trust for Democracy (BTD) awards grants to support projects addressing themes of democracy and good governance, policy dialogue and networking, and regional cooperation and European integration. BTD's grantmaking activities focus primarily on six countries: Albania, Bosnia and Herzegovina, Kosovo, Macedonia, Montenegro, and Serbia. BTD also support relevant regional initiatives that promote the benefits of a pan-Balkan network, including civil society stakeholders from Europe, and in particular those based in Bulgaria, Croatia, Italy, and Romania. Priority areas within these themes include:
Civic Engagement
Youth Leadership and Empowerment
Government Accountability and Transparency
Culture of Giving
Euro-Atlantic Integration
Dialogue and Reconciliation
Supported projects typically achieve their goals through: public debate; leadership development; policy work; civic education; new mechanisms; advocacy; monitoring; implementation and enforcement; shared objectives; best practices; networks; re-granting; and reconciliation. Preference will be given to those proposals designed to increase citizen engagement with government; measurably impact public policy; strengthen leadership skills of individuals and organizations; facilitate cross-border and/or cross-sector cooperation; and encourage the transfer of experiences and innovative ideas through clear communication and dissemination plans.
Who is Eligible
Applicants must be registered civil society organization, media organizations, think tanks, and education institutions indigenous to BTD program countries. Organizations may form regional networks and collaborative consortiums. Political parties may not apply.
How to Apply
Organizations that are interested in receiving BTD grants please review BTD Grantmaking procedures. BTD does not recommend that organizations develop full project proposals unless invited to do so by BTD program staff.
More Information
For more information specifically regarding BTD's grantmaking, please click here for a list of frequently asked questions and answers.
BTD continually works to accelerate the region's integration into Euro-Atlantic structures and to raise the profile of the Balkans. Together with GMF's Washington headquarters and its seven other European offices, BTD connects local actors with European Union, U.S., and international individuals and institutions in order to build networks and consensus on Balkan issues from a broader, multi-stakeholder perspective.
In addition to local and regional convening, press interviews, and published articles, specific examples of this work include:
Kosovo-Serbia Professional Exchange Program
BTD is committed to developing the next generation of Balkan leaders by providing a range of opportunities to train, network, and travel with their peers across Europe and the United States. Programs that BTD implements throughout the Balkan region include: the Young Transatlantic Network, the Marshall Memorial Fellowship Program, and the Transatlantic Inclusion Leaders Network. With these programs, there are opportunities for established, mid-career, and next generation leaders to hone their own leadership and professional skills, as well as to forge partnerships that develop sustainable solutions to global problems.