Some Ukrainian civil society organizations (CSOs), like the citizens they serve, have seen their homes destroyed, but they turned tragedy into new opportunities to assist a war-weary public. Here, we present two CSOs that educate people about explosive ordnance and coping with loss.
Education Without Borders was founded in the city of Marinka during the COVID-19 pandemic to provide children in the Donetsk region with equipment to join online school classes. When full-scale war hit in 2022, the organization's plans and mission changed radically. Today, it provides much more than help with school. It offers legal, social, and psychological support for explosive ordnance risk education (EORE). 
"We lost many of our colleagues. Some of them fled, some died. The office, which we had been settling in for a while, was lost, too. I moved to Dnipro in April, and since then we have been trying to revive our work and be useful to our peers affected by the war," says Education Without Borders founder Volodymyr Shekhiriev. So far, he has managed to gather a small but proactive team of professionals who are willing to travel to remote localities in the Dnipro region. "It is a huge responsibility to deliver what you need to deliver and not to let people down," Shekhiriev admits. Every outreach visit is risky due to regular shelling and air raids. 
Lifesaving Knowledge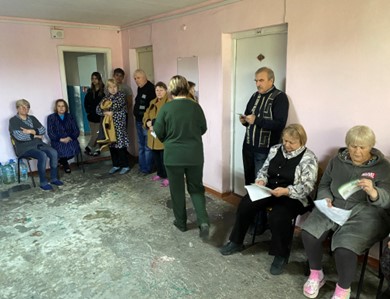 The organization's ongoing project for assisting internally displaced persons (IDPs), which GMF supports, was "born from life", Shekhiriev notes. From 2015 to 2020, he worked with Marinka's local authorities, dealing with matters concerning IDPs and the dangers they face from unexploded mines. Today, Education Without Borders' team does the same in the Dnipro region. 
Shekhiriev acknowledges the difficulty talking about EORE when people "look at you with hungry eyes and hope to receive some food assistance, not a booklet". Skepticism or disinterest emerges when knowledge is offered instead of food. But that quickly changes when instructors say that they, too, are IDPs and that their home city of Marinka was razed. 
Viktoria Kovalenko, the head of the social work department in the city of Kamianske, participated in two EORE sessions. She says that the knowledge shared is lifesaving, especially as many IDPs start to return home. "We had very lively discussions, and people would often ask more and more questions, so the Education Without Borders team could not leave on time," she says. "They know how to engage and make everybody absorbed in the material. I wish they would come again."
Psychological Support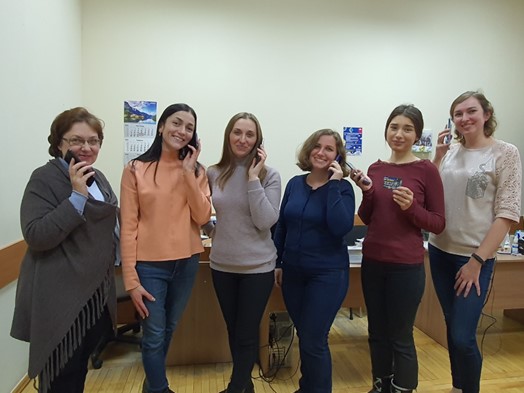 About 180,000 people, including the members of the Eleos-Kherson organization, have fled fighting and escaped to the Vinnytsia region. Once there, the organization's head, Bogdan Rudenko, launched a hotline for psychological support. "I saw an urgent need to provide such assistance as there was none. We started it as a volunteer initiative but later realized that our psychologists should be compensated, so we had to look for international support," he says. Eleos-Kherson received positive feedback and GMF funding, which allowed the team to develop the project.
 
The Eleos-Kherson team knew its hotline would need to do more than provide psychological consultations, but they could not foresee the volume of callers and their questions. "Our psychological hotline includes a big social component now. To answer all requests, we have developed a vast network of partners to cover the social needs of our beneficiaries," Rudenko says. 
The hotline offers unlimited 24/7 support to IDPs. According to Eleos-Kherson psychologist Oksana Boichuk, predicting how people will feel after receiving initial help is difficult. "People who fled military activity to safer places are still in a state of war, constantly monitoring the situation back home. And if they receive a message that their house was bombed or somebody was killed, they get back to their stressed and traumatized condition." One conversation with a psychologist might be sufficient for some. Others require many consultations. 
Permission to Grieve 
Eleos-Kherson often receives calls from women who have lost their sons, husbands, or fathers on the front. They need more than one conversation. "When members of their families do not know how to support these women, they may become aggressive and blame them for their emotions. Sometimes it seems like women in loss call us to get reassurance that they are not mad, and that it is okay to experience grief," Rudenko says. 
One woman called the hotline with her husband on loudspeaker to share their sorrow for a lost son. A combat medic, he died when his ambulance was hit at the front. For more than an hour, an Eleos-Kherson consultant talked to them about the stages of grief. At the end, both parents were calm. They thanked the consultant for the opportunity to share their feelings and receive support.
Since grief is a major issue with which hotline consultants tussle, Eleos-Kherson has been conducting relevant training for about 120 psychologists and social workers in the Vinnytsia region. "These trainings also allow us to raise awareness about the hotline so that social workers can redirect their clients to us. For example, access to psychological support is very limited, if not absent, in villages. People there as well should know that they can get it via phone and for free," Rudenko says. 
After the liberation of Kherson, Eleos-Kherson's team debated about returning to the city or staying in Vinnytsia. "In this case professional meets personal, as we want to go back home and help our community in Kherson. Yet there is a huge need in our work here, so we want to develop the project further and assist this community," Rudenko admits. 
Education Without Borders' Shekhiriev has no city to go back to. He says that helping people in Dnipro is also a chance to help himself. "When you share your knowledge and experience with others, you feel better. It would be very difficult to go through this war if I had no chance to assist others. If I can save at least one life, then it is all worth it."