Brussels Forum 2022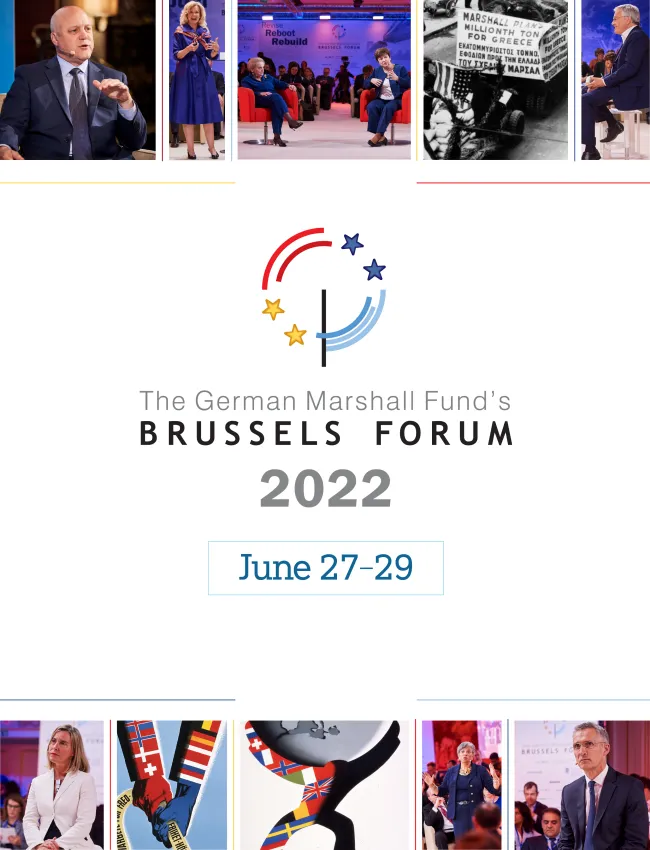 The German Marshall Fund of the United States
About this event
The 17th annual Brussels Forum, the signature conference of the German Marshall Fund of the United States (GMF), will take place on June 27-29, 2022 in Brussels. If health conditions allow it, GMF is planning to implement an in-person edition of its flagship conference with the goal to offer in-person discussions and networking opportunities after two virtual years. In addition to the in-person components, the conference will also feature various virtual and hybrid formats. 
GMF's Brussels Forum is the preeminent platform for global leaders, policymakers, and experts across sectors to shape the transatlantic agenda and debate the most pressing global challenges. Our goal is to encourage transatlantic leaders to work together to solve the most pressing policy problems. Brussels Forum showcases diverse voices across regional and demographic backgrounds and promotes dialogue that is candid and open. Speakers of past Brussels Forum editions include Kamala Harris, Vice President, The United States of America; Samantha Power, Administrator, USAID; Jens Stoltenberg, Secretary General, NATO; Josep Borrell, High Representative for Foreign and Security Policy, European Union; Arancha Gonzalez, Minister of Foreign Affairs and Cooperation, Spain, and Margrethe Vestager, Executive Vice President, European Commission, among others.
While societies across the globe still grapple with the pandemic, we are also entering a new normal marked by ongoing social, ethical, economic, and geopolitical upheaval, from increased inequality, democratic backsliding, new workforce patterns, supply chain challenges, and increased geopolitical tension. These tectonic shifts unfold in a year that marks the 75th anniversary of the Marshall Plan, which was a bold and innovative strategy to respond to the devastation and geostrategic challenges of its time. Rebuilding our societies and our alliances following the COVID-19 crisis to face a new level of strategic competition is a similarly daunting task. We can learn from the bold vision and wise generosity of the Marshall Plan and with strong international institutions, a commitment to open societies, close cooperation among transatlantic and global democratic allies shape smart cooperative responses to today's challenges.
Please stay tuned for further updates. If you have questions, please contact the Brussels Forum team at [email protected].