Helping Ukraine's LGBT+ Community in Wartime
Russia's invasion has intensified issues that Ukraine's LGBT+ individuals have long faced. Despite risks and challenges posed by the conflict, the two Ukrainian civil society organizations presented here assist these individuals with access to medication and fleeing the fighting.
The team of LGBT Human Rights Center Nash Svit had to leave its Kyiv office after an armed gang's brutal attack in the days following Russia's invasion of Ukraine. On two consecutive evenings, perpetrators broke windows, threatened staff with weapons, and robbed them. A criminal investigation is still ongoing. Meanwhile, the team feels it is unsafe to return although their office has been repaired with GMF's help. "We have all gone through a major stress back then and there is a high risk of another attack," explains Oleksandr Zinchenkov, who oversees monitoring and legal support at Nash Svit.
Increased Need
The Nash Svit team did not have time to recover after the two assaults. The organization received more requests for legal assistance in the invasion's first month than ever. It also fielded questions that never arose before the war: How can transgender people cross the border or apply for military service? Does HIV status affect eligibility for mobilization? Does sexual orientation? 
Nash Svit worked hard to find answers and pass them on to the LGBT+ community. "We accomplished the task and even rolled out an awareness-raising campaign to disseminate this information," Zinchenkov says.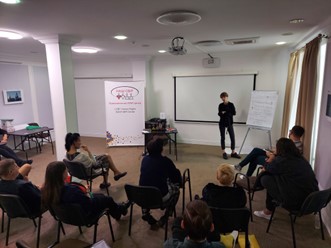 One client, Mykola from Kyiv, was beaten up and threatened by a group with a record of homophobic crimes. The organization provided him with psychological assistance and helped him with legal action. "It is thanks to [Nash Svit] that this case is being considered. They clarified what documents and application papers I needed for trial, helped me to find a good lawyer who protects minority rights, and continue to provide legal support," Mykola says. 
In addition to a core staff who deal with individual cases, Nash Svit has a nationwide monitoring network that documents wartime violations of LGBT+ rights. The number of monitors has dropped by 30 percent as many lost their homes and were forced to flee, yet the network still functions and produces invaluable information. Zinchenkov refers to the monitors as Nash Svit's "eyes and ears", and by the end of 2022 they had registered 70 violations in occupied and government-controlled areas. 
A New Reality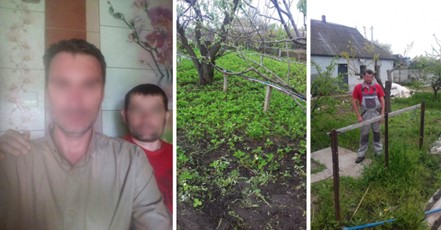 Anatoly and Slavik, are a gay couple living in a village near Kherson. When war broke out, they lost their jobs. They turned to Nash Svit for food, but the Russian occupation made long-term assistance impossible. Anatoly's last communication mentioned a search of their home by Russian troops. Photo by HPLGBT. 
HPLGBT is an organization that advocates for Ukraine's LGBT+ community. In 2022, it had to shift its focus quickly to deliver humanitarian aid. "Our target group had vulnerabilities before the full-scale war, and after the Russian invasion their situation got aggravated with new factors," says Igor Medvid, HPLGBT coordinator. "Many of our beneficiaries lost their homes and livelihoods, and we had to change our activities to meet their urgent needs." 
LGBT+ individuals face specific issues during the war. This includes access to information and medication, and, for about 100 transgender women who hold passports bearing the letter M for male, an inability to cross borders. They have sought advice from HPLGBT, which had to work quickly to find solutions. Reacting to the new circumstances, Medvid notes, the organization has also built new connections with service providers for LGBT+ people in other countries to which members of the community could relocate. 
HPLGBT enlists helpers who deliver assistance along the military contact line and in regions where fighting rages. One helper, Dmytro, delivers food to the city of Mykolaiv and nearby remote villages that humanitarian organizations often overlook. Such people take risks to support those in need. They would do this with or without international support. 
Perseverance 
 "In the course of this war, HPLGBT has rallied together with the whole country. We want to put our efforts, unconditionally, into saving lives of people who reside in occupied territories, are under shelling, or face other crisis situations," Medvid says. For Zinchenkov, Nash Svit staff have been working for so long that it is hard for them to imagine doing anything else. Defending LGBT+ rights unites them and keeps them moving forward. "The fact that we have stayed afloat and keep on supporting each other and our community during harsh times can be considered a big success," he adds.
The commitment and dedication of these two civil society organizations, regardless of all the risks the war engenders, shows that Ukraine's LGBT+ community will continue to receive vital support. The ongoing uncertainty of the war's progression means there is always more to be done as new challenges consistently arise. Fortunately, the Nash Svit and HPLGBT communities have proved that their support is steadfast.