Helping Youth and the Internally Displaced in the Westernmost Regions of Ukraine
The westernmost regions of Ukraine have become a place of refuge for many fleeing the shelling of peaceful towns all over the country. Russia's full-scale invasion has divided the lives of these Internally Displaced Persons into "before" and "after". In the city of Ivano-Frankivsk, the group  Mizh Inshym immediately set to work to support those forced to deal with the upheaval.
Mizh Inshym (By the Way) is a Ukrainian civil society organization (CSO) established by youth activists in 2022 to support vulnerable social groups in Ivano-Frankivsk. Founded less than two months after the full-scale Russian invasion, it works with internally displaced youth and adults. Its team faces many challenges related to the war, but perseveres to expand its efforts to support youth activism in the city.
Vladyslav Sokha, co-founder and deputy director of Mizh Inshym, says that he joined friends and colleagues at the war's outbreak to try to assist the municipality of 300,000 by advising the city government on youth policies. He quickly found himself contacting Ivano-Frankivsk's youth council to find out how his group could help the city during the unfolding crisis.
Even on the morning of the invasion, 20 CSO representatives in the city gathered on Zoom to discuss next steps in the seemingly impossible reality of war. Sokha recalls that "we already had the experience of the Maidan Revolution of Dignity of 2014 and of COVID-19. We realized we needed to create communication channels to ensure people receive true news, and oppose anxiety, propaganda, and fake news. So, we created a Telegram channel. We had 7,000 readers and subscribers after one week of the channel launch and then later 9,000."
After ensuring that the city's youth had access to reliable information, the Mizh Inshym team pivoted to helping internally displaced persons (IDPs) arriving in Ivano-Frankivsk. The overwhelming number of IDPs streaming into the city demanded a quick response. Evacuation trains were arriving in the middle of the night, during curfew, discharging scared and exhausted passengers who did not know what to do next. The Mizh Inshym team would greet them and assist with basic needs such as food, drink, and mobile phone chargers before providing support for finding housing. During the invasion's first weeks, nightclubs, gyms, and offices became shelters.
The newly created Telegram channel soon became a tool for engaging locals eager to help and for sharing information about volunteering opportunities. Mizh Inshym also began to cooperate with the Danish Refugee Council to tackle the many urgent needs that had to be met, and it even joined other CSOs to raise money, in part by crowdfunding, to buy radios and other equipment for the local territorial defense forces.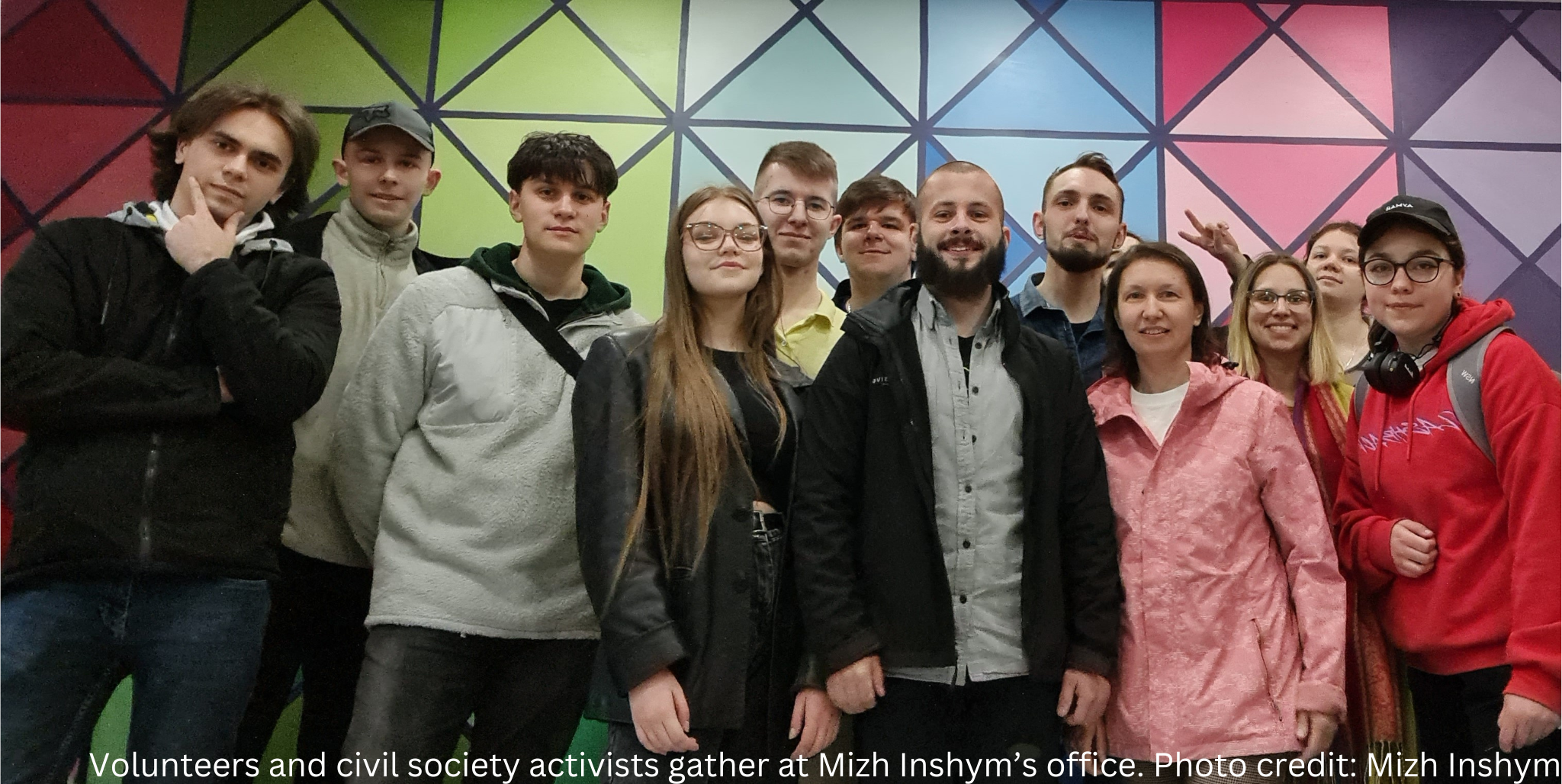 At the same time, Mizh Inshym collected food and supplies for people in need elsewhere in Ukraine. The organization shipped goods in April and July 2022 to people in Bucha, Irpin, and Mariupol, towns devastated by the fighting. Still, Mizh Inshym's focus remains Ivano-Frankivsk, which has had its own challenges. Sokha remembers that "at some point, the Russians shelled and destroyed local storage facilities and grocery stores. We were not sure whether and when they were going to be rebuilt. Honestly, we were scared that Ivano-Frankivsk might end up without food. On the other hand, because of the gas shortage and destroyed logistics, we struggled to find transportation to distribute humanitarian baskets to IDPs around the city. Suddenly, I remembered that the municipality's park authority used to have wagons with horses. Luckily, we ended up not having to use horses as transportation."
Mizh Inshym has also been developing its work in mental health services and integrating IDPs into the local community—other tasks it took on at its founding. The displaced, after being evacuated, soon found themselves cut off from outside life, with no options for establishing routines outside their shelters. "We understood that internally displaced people needed alternative options on where to spend their time, have some fun, spend some alone time, or get psychological support," Sokha says. Mizh Inshym started looking for a location that would accommodate all those needs and, in just a few weeks, signed a rental agreement for a space that allowed for children's activities, adult support groups, vocational training, and opportunities for 300 volunteers to help the IDPs.
Mizh Inshym even organized a forum on volunteering to help ensure the sustainability of these efforts. Supported by the Council of Europe and the German Marshall Fund of the United States, the event brought together people who care about their city and are ready to donate their time and abilities to support promising initiatives. The participants developed a program for volunteering in Ivano-Frankivsk, which the city council adopted, thereby committing itself to work with activists on it.
Mizh Inshym, in the meantime, continues to work on its core activities for youth, lobbying for their engagement and providing internally displaced children with educational and recreational activities. As Russia's war against Ukraine continues and the social and emotional toll on its people, especially the young, deepens, Mizh Inshym is doing its best to soothe the wounds.