Disinformation about Oregon Wildfires Still Circulating in Private Facebook Groups After Platform's Takedown Promise
Photo Credit: Christian Roberts-Olsen / Shutterstock
Last week, a debunked conspiracy theory linking the Oregon wildfires to Antifa groups began circulating online.
Last week, a debunked conspiracy theory linking the Oregon wildfires to Antifa groups began circulating online. The conspiracy was disseminated by accounts linked to QAnon, the far-right conspiracy theory that alleges the existence of a pedophilic cabal controlling world affairs.
On Saturday, September 12, a Facebook spokesperson wrote on Twitter that they would be removing the false claims that the wildfires were started by certain groups, in keeping with their practice of removing content that could lead to imminent harm.
We are removing false claims that the wildfires in Oregon were started by certain groups. This is based on confirmation from law enforcement that these rumors are forcing local fire and police agencies to divert resources from fighting the fires and protecting the public. (1/2)

— Andy Stone (@andymstone) September 12, 2020
However, our research has found that this conspiracy remains up and has spread beyond QAnon specific communities.
We have been tracking the conversations happening in Reopen groups, which came into existence largely in March and April 2020 and were initially focused on opposing government mandated lockdowns and coronavirus prevention efforts. They have since become vectors for a variety of dangerous conspiracy theories, from those linked to QAnon to anti-vaccine content.
Among the 33 groups that we have been following (which range in size from several thousand to more than 150,000):
11 of them shared this wildfire conspiracy prior to Facebook's announcement.
These 11 groups have over 400,000 members, with the largest being Reopen California at 171,000.
More than three days after Facebook's announcement, this content remains up and continues to receive engagement. Several of the comments to these posts threaten violence in specific terms and urge vigilante justice.
GMF Digital's Ellen Goodman and Karen Kornbluh have proposed that platforms should implement a "circuit breaker"—like those used for high-speed trading—to stop the spread of potentially dangerous content when it is in the early stages of virality and evaluate the risk of widespread harm. The circulation of this wildfire conspiracy underscores that waiting for "imminent harm" is waiting too long.
In these groups, nearly all of which are private, the circulation of QAnon content poses the potential for radicalization of those who might not otherwise come into contact with such posts.
Here are just a few examples of content that remains:
From ReOpen California: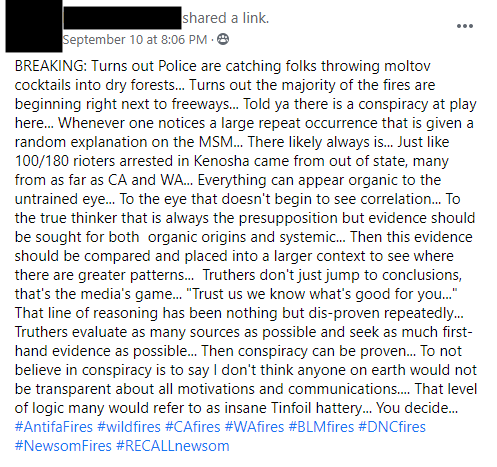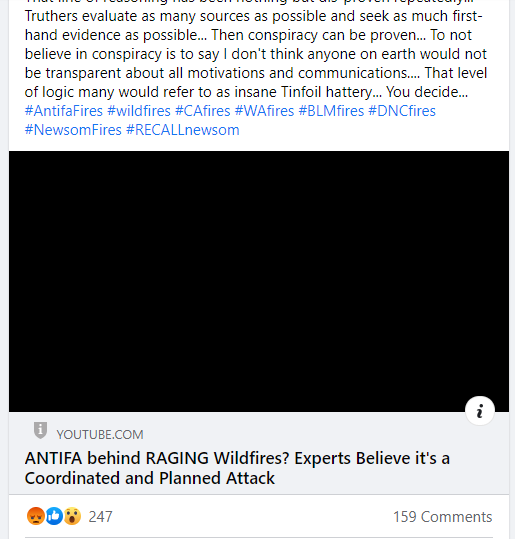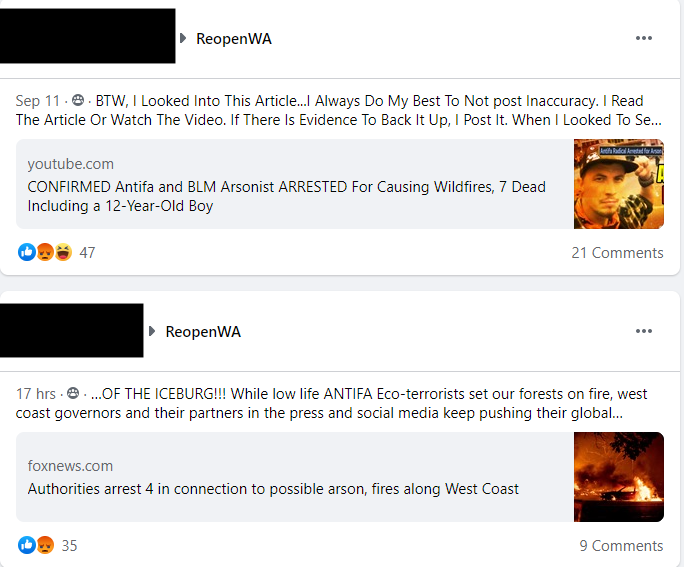 From Reopen NJ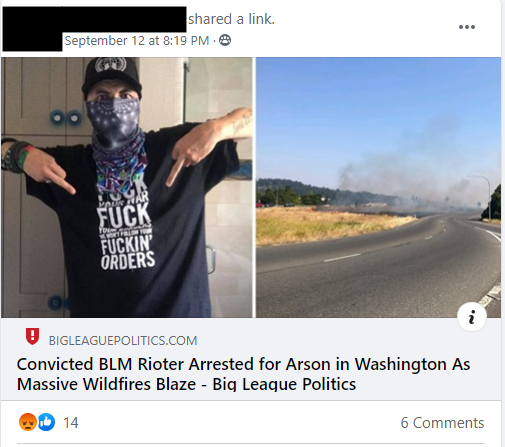 Comments from Reopen California