Blog Post
Health Sites Built Coordinated Networks of Facebook Pages to Spread False Content, Increase Ad Revenue
December 09, 2020
Photo Credit: AlexandraPopova / Shutterstock
A number of health websites with a history of publishing false content about vaccines and other topics have built coordinated networks on Facebook to increase traffic to their content and generate advertising revenue. These sites have a history of publishing isolated stories with misleading information about vaccines, including that the flu vaccine is dangerous, while more generally undermining medical and scientific factual information. This comes as the United States sees a surge in COVID-19 cases and prepares to distribute vaccines to bring the pandemic under control.
GMF Digital has identified five health websites—all of which repeatedly publish false content, according to the nonpartisan news-rating organization NewsGuard—that seem to promote health misinformation on Facebook through a coordinated network of pages.
Together, these five sites received 71.1 million interactions (that is, likes, comments and shares) on Facebook in the first 11 months of 2020. Two of them, TheHeartySoul.com and FamilyLifeGoals.com, share the same owner: OutMatch Associates, Inc., a Toronto-based website marketing company. The other three, healthy-holistic-living.com, DrAxe.com, and HealthyFoodHouse.com, all have separate owners. DrAxe.com generates revenue through affiliate marketing. The other four sites use advertisements.
Although these sites tend to focus on "alternative medicine"—including natural remedies, essential oils, nutrition, and weight loss—they have promoted unsubstantiated and potentially dangerous remedies and treatments for cancer, autism and COVID-19.
In November, The Hearty Soul published an article with the headline "THC chemical in cannabis could help prevent and treat deadly COVID-19 complications." It modified the headline three days after the article was posted to make the claim less outlandish.
In March, an article on The Hearty Soul claimed that "[flu] vaccines educate the immune system in an improper and unnatural manner, and often contain dangerous chemicals and preservatives."
In January 2019, Healthy Food House published an article with the headline "Elderberry Syrup Is Better Than Any Flu Shots, And Safe!"  In March another of its articles claimed that "outdoor air acts as a natural disinfectant, that can kill the flu and other harmful germs."
These five outlets work with 20 Facebook pages with a combined following of 65 million people. These pages frequently post links to these sites with identical captions. After GMF Digital showed Facebook its findings, the company took several of the pages down.
| | | |
| --- | --- | --- |
| Facebook Page | Health Sites Promoted* | # Followers (millions) |
| The Idealist | THS, HFH | 16.74 |
| Poems Porn | THS | 12.17 |
| Shut The Front Door | THS, FLG | 3.79 |
| Wake Up World | THS | 3.72 |
| Educate Inspire Change | THS | 3.37 |
| StevenAitchison | THS, FLG, HHL | 3.66 |
| Dr. Josh Axe | THS, HHL, DA (owner) | 2.79 |
| Just Eat Real Food | THS, FLG, HHL | 2.74 |
| Positively Positive | THS, FLG | 2.54 |
| Acidmath | THS | 2.04 |
| Expanded Consciousness | THS, HHL, HFH | 1.99 |
| Healthy Holistic Living | HHL (owner), DA | 1.88 |
| The Earth Tribe | FLG, HFH | 1.44 |
| This Page Will Blow Your Mind | THS, FLG, HHL, HFH | 1.27 |
| The Hearty Soul | THS (owner), FLG (owner), DA | 1.15 |
| Living Off The Grid | THS, FLG, HHL, HFH | 1.02 |
| I Love Natural Medicine | THS | 1.00 |
| Be Inspired | HHL, DA | .95 |
| Roots of Healthy Eating | HFH | .25 |
| AltHealthWORKS | THS, FLG, HHL | .21 |
DA = DrAxe.com                          
HHL = healthy-holistic-living.com      
THS = theheartysoul.com
FLG = FamilyLifeGoals.com        
HFH = HealthyFoodHouse.com
This network of Facebook pages has helped these health outlets achieve popularity. As As noted, the five sites received 71.1 million interactions in the first 11 months of this year. By comparison, the Centers for Disease Control and Prevention and the World Health Organization combined had 7.9 million interactions during the same period. These sites also have lifestyle stories in addition to health content, giving them broader audience reach potential. 
The Facebook pages do not disclose if they are being paid to promote content from these sites. But by analyzing Urchin Traffic Monitor (UTM) codes—a snippet added to the end of a URL that allows site owners to track the traffic they get from specific sources—we found what appears to be extensive coordination.
For example, this is a link to a HealthyFoodHouse.com article posted on the Living Off The Grid Facebook page:
https://www.healthyfoodhouse.com/trophy-hunter-who-kills-endangered-elep...?utm_source=Grid&utm_medium=Grid&utm_campaign=Grid&fbclid=IwAR0E2soSD7v-UOOzu4Jiw-sx0bCxWc03T1ywvoiEQIJxdOOZfRFUdWIwLiU
With this page-specific UTM code, which could be added by either the site or the page, HealthyFoodHouse.com can see how much traffic Living Off The Grid drives to its site. Meanwhile there would be no reason for Living Off The Grid, which does not have access to this traffic data, to add the UTM code absent a relationship with HealthyFoodHouse.com.
When the Facebook pages post links, they use identical captions and sometimes post within minutes of each other, as seen in the screen captures below.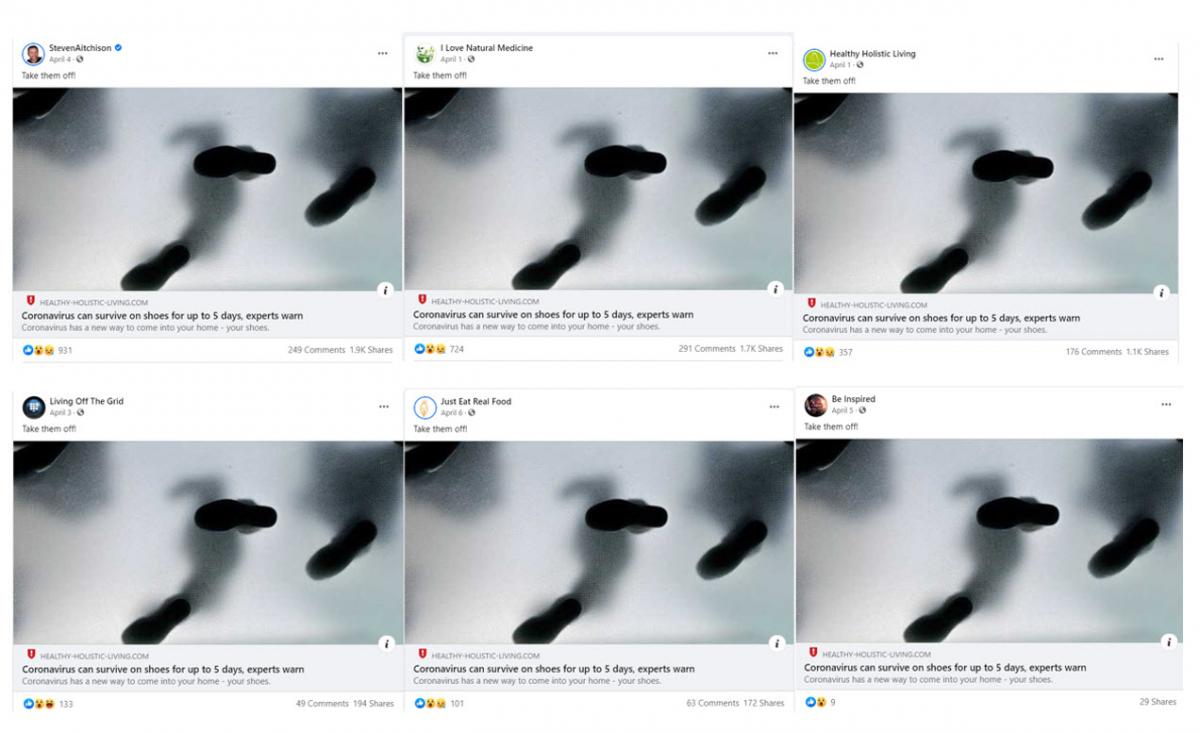 This level of coordination—as well as our analysis of the UTM codes—suggests that there is an undisclosed business relationship between the Faceboo­­k pages and alternative health sites, which would be a violation of the company's policy. Facebook prohibits pages from "accepting anything of value to post content that [they] did not create."
Facebook's algorithm promotes content with high levels of interaction. When these articles are posted on multiple pages, Facebook is more likely to suggest the article to users—even those who do not follow the pages involved—creating more traffic to the sites. This further supports the revenues of these sites through advertisements or affiliate marketing on the site.
Other researchers have identified similar coordinated networks of Facebook pages. Judd Legum of Popular Information reported that The Daily Wire paid Mad World News to promote its content on the latter's Facebook pages. Legum's work has also implicated The Washington Times and Analyzing America. Avaaz discovered a network of Facebook pages that promoted health-related misinformation. GMF Digital's research suggests this phenomenon is more common than previously understood and not just limited to political sites.