Blog Post
How the Disinformation Supply Chain Created a Deceptive Narrative about the Texas Blackout
February 19, 2021
Photo credit: Travel_with_me / Shutterstock.com
Severe weather hobbled the electrical grid in Texas last week, but it did not hobble the United States' disinformation supply chain.
In just a few days, deceptive outlets created a misleading narrative blaming the power outages on wind-turbine failures. Then this narrative went viral.  As of 12 p.m. EST on February 19, content propagating it had garnered 1.8 million views on YouTube and more than 1 million interactions (likes, comments, and shares) on Facebook.
Some wind turbines went offline in Texas this week, but two-thirds of the state's shortfall in power generation came from failures at gas and coal power plants. GMF's Digital New Deal researchers investigated where the false narrative came from, how manipulative outlets masquerading as news sites created and blew it up, and how it spread quickly across social media.
How did a thread of truth get spun into a web of falsehoods? It starts with a photo—not from 2021, and not from the United States.
Saturday, February 13
On Saturday, February 13, an image of a helicopter de-icing wind turbines started to circulate on Twitter alongside critiques of renewable energy. But the image was not of a wind turbine in Texas. It was taken in Sweden. In 2014.
Sunday, February 14
On Sunday, the Austin American-Stateman, a reputable local newspaper, published an article headlined "Frozen wind turbines hamper Texas power output, state's electric grid operator says." The headline was accurate: Wind turbines were the first energy sources to fail, and the body of the article made clear that wind only accounts for around 25 percent of the state's power generation. However, the next day, the American-Statesman's story would be repackaged by less reputable outlets to feed a misleading narrative.
Monday, February 15
Early on Monday morning, several natural gas and coal power plants began to fail. Because these sources are responsible for a majority of the energy generation in Texas, the cascading shutdowns caused widespread power outages.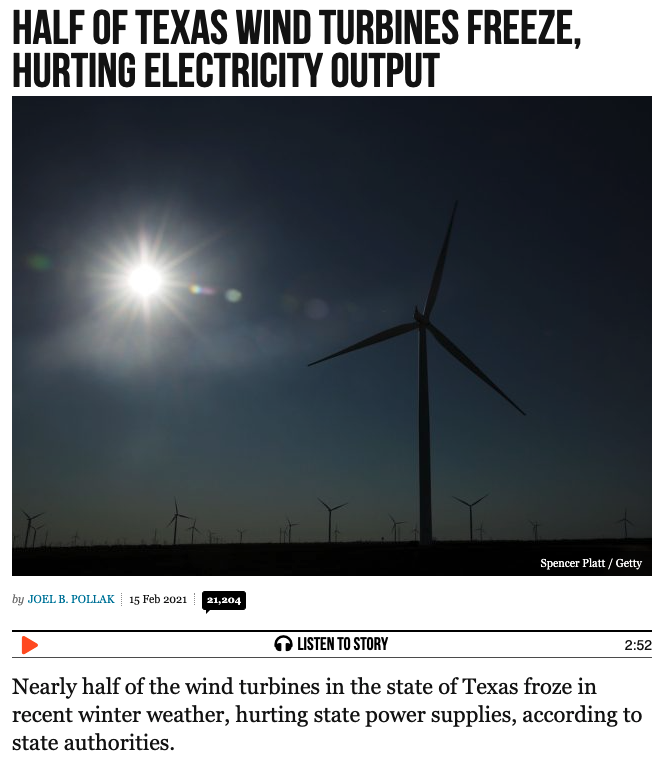 The same morning, Breitbart published an article that misleadingly blamed wind power for the outages, selectively pulling quotes from the American-Statesman story. According to NewsGuard, a nonpartisan service that rates news and information websites for their reliability, Breitbart is a deceptive outlet because it repeatedly fails to gather and present information responsibly.
Breitbart's article did not mention shortfalls in gas- and coal-powered electricity generation, even though Texas's grid operator had released a statement overnight clarifying that "Extreme weather conditions caused many generating units – across fuel types – to trip offline."
11 a.m. EST Monday, February 15
Later Monday morning, the Daily Wire, another deceptive outlet, published an article on the topic, with the headline "Nearly Half Of Texas' Wind Turbines Frozen In Winter Storm, Limiting State's Power Output." The article featured an embedded tweet that included the 2014 image of helicopters de-icing wind turbines in Sweden. The embedded tweet received over 30,000 retweets before the Twitter account went private.
Days later, the Daily Wire updated the article to include details about the role of non-renewable energy sources in the power outages and remove the embedded tweet. But as it was published on Monday, the article ignored failures at coal and gas-powered plants, and drove the narrative that frozen wind turbines were to blame for the outages.
12 p.m. EST Monday, February 15
At 12:47 p.m. on Monday, the Facebook pages of the Daily Wire and three associated personalities—Ben Shapiro, Matt Walsh, and Michael Knowles—simultaneously posted the Daily Wire's story to Facebook, with Shapiro and Walsh referencing the 2014 image.