Participatory Art as a Platform for Regional Public Debate
"What do you think will disappear or change in your everyday life when your country joins the EU?"
Artists posed this question to ordinary citizens in cities and villages in seven countries of the Western Balkans as part of The Culture Lobby, a BTD-supported initiative to create a participatory archive of current history in the region in the context of European integration.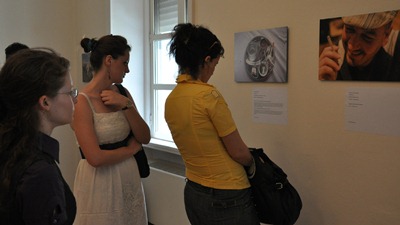 Kiosk, based in Serbia, started this collaborative regional effort to create an "archive of cultural memory" and promote public dialogue by documenting the thoughts, fears, and hopes of citizens regarding the social, economic, and political transitions underway in their countries. Local artists were exchanged between Albania, Bosnia and Herzegovina, Croatia, Kosovo, Macedonia, Montenegro, and Serbia to interview citizens and to photograph or record representations of the answers.
While citizens of the region are aware of the changes that may result from increased European integration, many feel disempowered and excluded from political discussions on the issue and are unaware of the attitudes of their neighbors in the region. The Culture Lobby aimed to provide a platform for them to express the tension arising from general feelings of social and political disorientation, and to begin intra-regional dialogue about the transition. "The Culture Lobby project can contribute to the development of European ideas and values as well as encourage the active participation of a wide public in the process of European integration," said Milica Delevic, Director of the European Integration Office of the Serbian government.
Exhibitions and public debates were held in each of the seven capitals, allowing the gathered video, audio, and photographic material to be explored by a broad audience. Material was also displayed on public transport throughout Belgrade.  Responses were quoted widely by media across the region and published in a book translated into four languages.
Macedonian artists Aleksandar Grozdanovski and Ljupcho Temelkovski said they were "surprised by the ease and openness with which people communicated with us and shared their ideas, points of view, and fears." Citizens' responses ranged from "Everything will be the same except that I will have to pay more taxes," to "the country will become cleaner and people will become a bit more aware of the environment," to "Young people will have more opportunities."
All project results are available at www.theculturelobby.com.
Kiosk is a non-profit non-governmental organization working in the fields of art and culture.