Transatlantic Take
U.S. Unpredictability Is Not Reassuring for NATO
May 22, 2017
7 min read
Photo credit: vilax / Shutterstock.com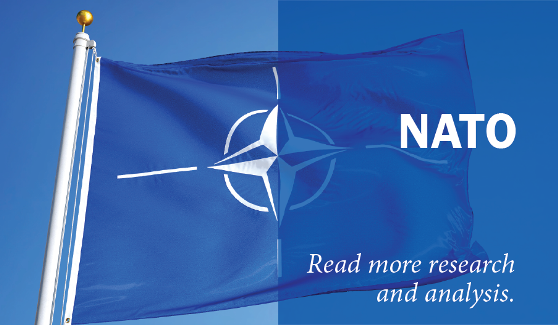 On May 25, the 28 NATO heads of state and government — and pending member Montenegro — will converge on Brussels for a face-to-face meeting on the Alliance's priorities and challenges today. It will be U.S. President Trump's first meeting with all NATO members. The meeting presents a clear opportunity for the president to personally reassure Euroatlantic partners. An easy way to do this would be to reiterate the president's unconditional backing of Article V — something Trump has not done since taking office. But despite arguments by some that changes to Trump's foreign policy over the past weeks signal more "normal" waters ahead, it seems the only predictable element of the upcoming meeting will be its unpredictability. And let us not forget, it is by design.  
President Trump's key appointments including secretary of defense and national security advisor, who push positions often at odds with Trump's past rhetoric, brought some encouragement. These were followed by various visits to Europe by top officials, including Vice President Mike Pence, attempting to inject certainty regarding the U.S. commitment to Europe. When the President seemingly recanted his campaign ways by suggesting that "NATO is no longer obsolete," a collective sigh of relief was heard from Washington to Brussels. However, while the statement did not actually communicate a certainty that the president's position had indeed changed, it did encourage wishful thinking. Just a week before the meeting, reports suggest that the administration is returning to previous talking points on leaving NATO if allies fail to make "a lot more progress quicker." Moreover, given that Trump's Foreign Policy Advisor Stephen Miller — who echoed the president's campaign rhetoric that NATO is obsolete — will be writing Trump's speech for the meeting is not reassuring for allies or for those wishfully thinking that Trump's foreign policy has become "normal."  
Make no mistake, there are several pressing challenges facing the Alliance including cyber, strategic communications, intelligence, deterrence, and the alliance capabilities and readiness. NATO is far from obsolete. In the face of Russian aggression in Eastern Europe and widespread instability to the South, the previous Wales and Warsaw Summits set in motion many collective measures to confront these key challenges. This included increased defense spending and assisting global anti-ISIS efforts. Yet, even with such a broad, pressing agenda at hand, much if not most of the meeting will focus on acclimating Trump to the Alliance, and allies to the new U.S. president. Any actionable conversations and outputs will center on burden-sharing and increased efforts to counter ISIS. Beyond this, it remains to be seen if Trump will be able to reassure the allies, or if his off-hand style will compound uncertainty about the future of U.S. policy toward the Alliance.
-Steven Keil, Fellow and Program Officer, Security and Defense Policy
---
France Sees Little Role for the Alliance in Counterterrorism
Although Macron and Trump ran and won their elections with radically different political platforms, especially on globalization and liberal values, the convergence of French and American defense interests will certainly help find common ground during the NATO Leaders' Meeting. France's goal is to maintain the excellent level of cooperation known under Obama, and to confirm U.S. logistical and intelligence support. Macron has been rather timid on the increase of defense spending so far, which is certain to be an issue, but he hopes that France's operations in the Sahel and Mali, as well as its active participation in the Global Coalition Against Daesh and its fight against terrorism at home will overshadow the raw numbers.
Paris also expects the fight against ISIS to be a prominent topic, both at NATO and in the bilateral Franco–American meeting. Trump thinks focussing on counterterrorism will increase NATO's relevance. The French do not oppose a counterterrorism focus for NATO in general, but have resisted the idea of a more direct involvement of NATO in the fight against ISIS in Iraq and Syria. The hesitancy from Paris to see new out-of-area operations for the Alliance could cause tensions with Washington. Macron is also a robust supporter of European defense cooperation, and will likely start already advancing the idea of a stronger European defense and pillar inside NATO.
-Martin Quencez, Program Officer and Fellow 
---
Romania Seeks a Clarity of Defense Cooperation
Given its geographic position and its history with Russia, as well as the increased influence exerted over countries in the region, Romania is interested in and actively promoting an enhanced presence of NATO on its Eastern Flank. Of most concern to the country is the increased militarization of the Black Sea, with strong military buildup in Crimea and a planned enhanced Russian naval presence, together with Russia's attempts to influence economic, political, and social decisions throughout the region. This year Romania started allocating 2 percent of GDP to its military spending, hence heading to the NATO Leaders' Meeting ever more confident and determined to protect and promote its interests.
Yet, this summit is less about Eastern Flank and the Black Sea, or even Syria, as it is about the Trump administration's view on NATO, in general, and on strategic partners, such as Romania, in particular. Like the other Allies, Romania hopes for clarity on the future of its military relation with the United States, of the U.S. presence in the region, and on its stance on Russia. In an ironic, yet worrying, reversal of roles, Romania expects from the United States lucidity and predictability.
-Alina Inayeh, Director of the Black Sea Trust for Regional Cooperation 
---
President Trump Comes to Brussels
When President Trump visits Brussels for a rapid round of meetings with Belgian, European Union, and NATO leaders, style will likely take precedence over substance. The atmospherics will be especially important given the intense concern in Europe about the place of transatlantic relations in the international policy calculus of the new administration.  European leaders have spent a great deal of time and effort in gauging the best way to engage President Trump. There is a widespread belief that the president places a premium on personal interaction. If so, pre-summit preparation — and these events tend to be very well scripted in advance — goes only so far in defining outcomes.  Much will depend on what President Trump has to say, and how he says it. 
Allies are primed to hear sharp language on defense spending and the need to step up NATO's role in counterterrorism. Indeed, these points have been made, often in pointed fashion, by previous U.S. administrations. They are no longer controversial in the European debate. Above all, NATO partners will seek reassurance that the U.S. commitment to Europe is still driven by a shared stake in European security, rather than a transaction with Europe as the consumer. One hundred years after the American entry into the First World War, and seventy years after the launch of the Marshall Plan, 2017 is a notable year for the president to underscore this vital connection.
-Ian Lesser, Vice President and Executive Director, GMF Brussels
---
Poland Aims for Full Implementation of Warsaw Summit Decisions
As the host of the last NATO summit, Poland is deeply interested in a smooth and a positive outcome from the NATO's leaders meeting in Brussels this week. Polish President Andrzej Duda will meet President Trump for the first time, and will seek U.S. support for Poland's regional role and an invite President Trump to join the Three Seas Summit in July, hosted by Poland for the twelve countries between Baltic, Black, and Adriatic seas. Acceptance of this invitation would be a confirmation of the strength of the bilateral ties, and a strong sign of support for Poland's role as a regional leader.
 What the Polish government will want to see coming out of Brussels, is a clear message of commitment to the Article V — especially given the "NATO is obsolete" comments. Equally important will be NATO leaders' support for the full and swift implementation of the Warsaw summit — which is already very much on the way. Since the NATO summit in Warsaw last year, Poland has clearly become the center of gravity for the defense of NATO's Eastern Flank, especially given the substantial presence of the U.S. Army. A continued presence is something that President Trump and other leaders should support, as it is vital for Poland's and NATO's security.
Poland will not be unhappy about the second priority for the Brussels meeting — a debate over burden-sharing. Poland is one of the five Allies already spending 2 percent and is considering a legislation that would increase the spending to 2.5 percent of GDP over time. While the 2 percent debate is controversial in many European capitals, Warsaw will certainly position itself as an ally of Washington on this issue.
Poland is an active member of the Global Coalition Against Daesh, but has remained somewhat quiet on NATO officially joining as a member. Given that this issue seems to be of particular importance for Washington, Warsaw is likely to play a supportive role, and let the other more skeptical capitals like Paris and Berlin ask the tough questions.
-Michal Baranowski, Director of GMF's Warsaw office