Mayors Delivering Democracy Daily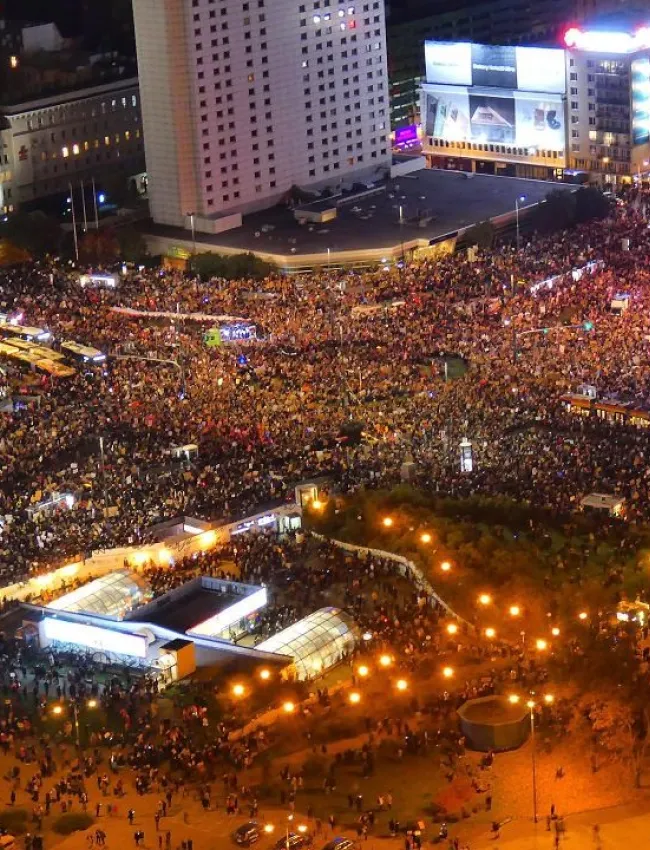 United States Agency for International Development
Foreign Office of the Federal Republic of Germany
Kingdom of the Netherlands
Global Parliament of Mayors
About this event
President Biden will convene a Summit for Democracy on December 9–10 to coalesce goals and actions into a "common agenda" for the renewal of democracy.
As part of the summit, on behalf of the governments of the United States, Germany, and the Netherlands, the Global Parliament of Mayors, and the German Marshall Fund, we invite you to join the Woodrow Wilson Center on December 6 for a conversation about democratic innovation with mayors from the United States and around the world.
This diverse group of mayors is leading action for global policy development and change around the most pressing issues facing democracy today, including corruption, authoritarianism, and social exclusion, as well as climate change, COVID-19, and poverty. The event is part of a larger partnership with additional governments and organizations that are actively engaging democratic innovations and networks of mayors to amplify impact on democratic renewal.
Agenda
Speakers
Ambassador Mark Green, President, CEO, and Director, Wilson Center
Julie Chávez Rodriguez, Director, Office of Intergovernmental Affairs, The White House
Birgitta Tazelaar, Deputy Director-General for International Cooperation, Ministry of Foreign Affairs, the Netherlands
Irmgard Maria Fellner, Director for Cultural Relations Policy and Deputy Director-General for Culture and Communication, Ministry of Foreign Affairs, Federal Government of Germany
Summary
Cities are constantly at the forefront when it comes to strengthening democracy. First, they demonstrate that democracy delivers by providing quality public services and meeting citizens' basic needs. They also push back against the authoritarian actions of even their own governments. And internationally, through cities networks and initiatives they are a force in addressing problems like climate change, racism, and the COVID-19 pandemic. What is one lesson that you have learned about how cities can promote democratic values and processes or prevent backsliding into nationalism, populism, and authoritarianism?
Speakers
Allison Gilliland, Mayor of Dublin, Ireland
Mohammad Ramdhan Pomanto, Mayor of Makassar, Indonesia
Jeni Arndt, Mayor of Fort Collins, Colorado United States
Rafał Trzaskowski, Mayor of Warsaw, Poland
Summary
Perhaps no single issue can undermine faith in a democratic system more than corruption—and the perception among the public that their government leaders are stealing public money for their own gain. We would like to ask each of you to share with the audience one practice that you've adopted to tackle the problems of corruption and lack of transparency and accountability.
Speakers
Joy Belmonte, Mayor of Quezon City, Philippines
Francisco Huamán, Mayor of Lalaquiz, Peru
Peter Kurz, Mayor of Mannheim, Germany
Mwenda-Bantu Munongo, Mayor of Bayeke, Democratic Republic of Congo
Summary
Ethnic, racial, religious, and gender-based division seems impossible to overcome in this age of social media and dis- and misinformation. At the local level, political polarization and extremism can make it seem impossible to get things done and may lead to political upheaval and violence. And as we saw in the white supremacist rally in Charlottesville, Virginia, in 2017, racism at the subnational level has national and even international impact. Yet, cities worldwide have time and again brought people together from all walks of life to find new solutions to critical problems. What would you say has been the single most effective way to be inclusive, to bring people in your communities together around a common purpose and bridge these divides?
Speakers
Ahmed Aboutaleb, Mayor of Rotterdam, the Netherlands
Cristina Díaz Salazar, Mayor of Guadalupe, Mexico
John Giles, Mayor of Mesa, Arizona, United States
Christopher Pappas, Mayor of uMngeni Municipality, South Africa
Summary
What commitments can you make to improve democratic principles and practices—at any level—over the next year? We hope to report on your progress over the year of action prior to the second Summit.
Speakers
Moderated by Nina Hachigian, Deputy Mayor of International Affairs, California Los Angeles, United States