How Ukraine Can Open Its Door to NATO
June 28, 2016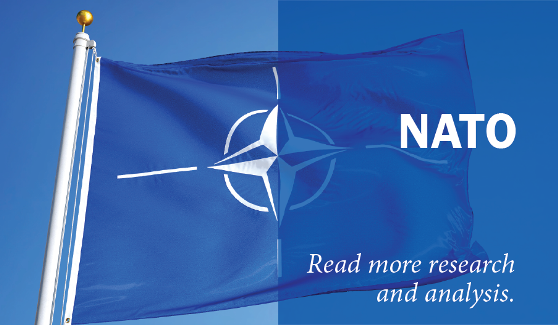 Ukraine's top priority needs to be its domestic policy. Success at home will determine the rest, including strengthening Ukraine's partnership with NATO. To make a case that Kyiv is a reliable partner of the Alliance, it must first start to modernize all fields of government, military, and the private sector. Ukraine must continue to demonstrate to NATO, and itself, that it can carry out reform and fight corruption. If it cannot, Allies' political willingness to invest in the NATO-Ukraine partnership will decline.
To move forward on a common future with NATO, Ukraine should consider the following elements in its overall assessment:
Focus Ukraine's NATO messaging on achievements, not on expectations. Ukraine's narrative inside the Alliance is built too narrowly around its expectations for NATO membership. Communicating about Ukraine's "successful transformation" since Euromaidan — rather than about NATO aspirations — will serve better to counter disinformation and negative perceptions about Ukraine, and will offer measurable and objective arguments to push NATO's door open.
Invest in better strategic communications (StratCom) at home and in public diplomacy abroad. Ukraine is struggling to win the hearts and minds in NATO member states. Better coordinated government communications at home, along with more resources for public diplomacy, will translate into more understanding for Ukraine abroad. To support this objective, Ukraine should further build on the  NATO-Ukraine Strategic Communications Partnership Roadmap and discuss with NATO a new trust fund for strategic communications. 2017 will mark 20 years of NATO-Ukraine relations, an important public milestone to leverage. 
Think what Ukraine can do for NATO, not only what NATO can do for Ukraine. Aspirant member states need to demonstrate their added value to NATO's collective security. Ukraine could share its capabilities for strategic airlifts by including the Antonov An-124 or An-225 aircraft in NATO operations; Kyiv could improve regional security by replicating the model of the Lithuanian–Polish–Ukrainian military brigade with other NATO allies, or support the idea of a standing maritime mission in the Black Sea. Ukraine could share its modern warfare expertise in fields such as the use of military drones in conflict areas, or conducting intelligence, surveillance, and reconnaissance missions in urban environments.
Develop a unique country profile for Ukraine with a center of expertise on hybrid warfare. Such a center should be multinational and engage in three distinct activities. Firstly, it would develop analytical methods, concepts, and doctrine around hybrid warfare, and act as a repository for lessons learned and best practices. Secondly, it could offer education and training through regular courses and the dissemination of information. Thirdly, it should have an operational role by deploying experts to enhance practical actions at the operational, strategic, and political-military level when requested.
Put the modernization of Ukraine's military and defense sector on a fast track. The Ukrainian security and defense sector must be modernized as planned by 2020. Three areas need immediate attention. First, the training and education of military staff needs to be linked to a comprehensive career plan and prospects for promotion. Second, NATO and Ukraine must evaluate the effectiveness of the five NATO Trust Funds, and address existing hurdles. Third, Ukraine's defense industrial base needs better connections with the European and North American defense industry.
Develop more cooperative diplomacy with neighboring countries. Ukraine is geographically positioned to become a hub of knowledge, practical expertise, and networks in the wider region. Kyiv can leverage cultural similarities with Belarus to provide intelligence on the country's domestic situation, and to push for liberal values. Liaise with NATO allies and partners surrounding the Black Sea Basin to face Russian escalation strategies, and consider developing a Black Sea defense cluster, like the BeNeLux or NorDefCo. Relations with Georgia — another aspirant NATO member — deserve more content and attention.