Advancing Local Policy & Practices on Global Issues
The GMF Cities program supports leaders, policymakers, and practitioners in the United States and Europe by facilitating the transatlantic exchange of knowledge for building inclusive, sustainable, and globally engaged cities.
GMF Cities works in selected cities in the United States and Europe that share a set of common challenges and desire to explore solutions through transatlantic exchange. GMF Cities actively stewards transatlantic initiatives that explore key issues through high-impact gatherings, peer exchanges, and applied research. GMF Cities has an extensive and successful history of working cooperatively with public, private, and NGO leaders to apply these insights to improve local and regional policies and programs. In addition to supporting policy innovation, GMF Cities activities also support individual participants in expanding their transatlantic network, growing their policy expertise, and developing their leadership skills.
We work with and for transatlantic cities that:
Further & fortify DEMOCRACY
See that there is AGENCY FOR ALL
Promote JUSTICE – social, economic, & climate
Drive ENTERPRISE & ENTREPRENEURSHIP to social good
Our theory of change in cities involves and even requires…
 Cross-sector collective action around a shared mission tapping all sectors
Recognized importance of public sector involvement to achieve scale & systems change
Driving the private sector involvement & investment toward social good, and
Spreading innovative practices & policies to cities using creative platforms & approaches
As a team, GMF Cities see ourselves as:
Problem solvers on big issues with local participants
Bridge builders to other layers and levels of government
Translators of international dialogue and debate
Developers of research and policy outcomes
Curators of impactful convenings
Provocateurs that bring out the best in civil discourse and local leadership
Explore the initiative pages to learn more about the GMF Cities program's portfolio of work.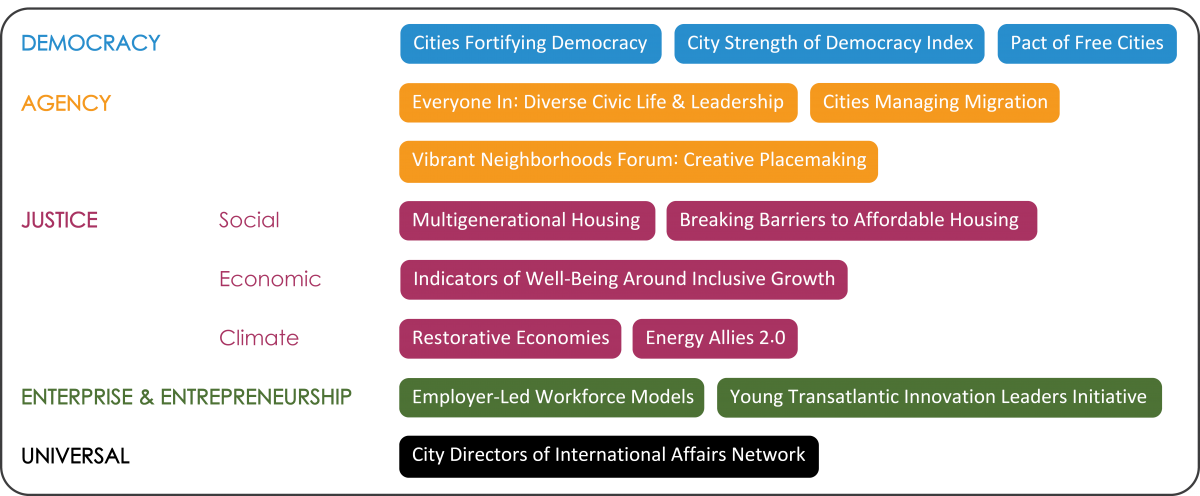 The GMF Cities Team