Ukraine
Amid Russia's war on Ukraine, GMF provides insights, commentary, and analysis on the country's recovery and reconstruction
Anniversaries should be celebratory, but some are painful remembrances of events that elicited profound change. February 24, 2022 will be one that lives "in infamy", for Ukrainians and many others. The past year has witnessed a fundamentally changed global political and economic landscape, with the impact on individual countries, regions, and multilateral institutions as varied as the entities themselves.
Russia's full-scale invasion of Ukraine has retraumatized European countries already haunted by World War I, World War II, and the Cold War. The post-1945 international system had been faltering for some time but its failures have been more evident recently. Unsurprisingly, the countries that shaped the system interpreted Russia's violation of international and humanitarian law as a direct threat to global stability and their own security. For some of those countries the threat remains existential.
Related Work
Image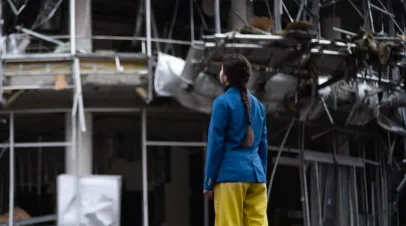 In response to Russia's brutal war against Ukraine, the German Marshall Fund of the United States (GMF) established a comprehensive emergency program...